The Beatles "1+" Video Collection Coming Early November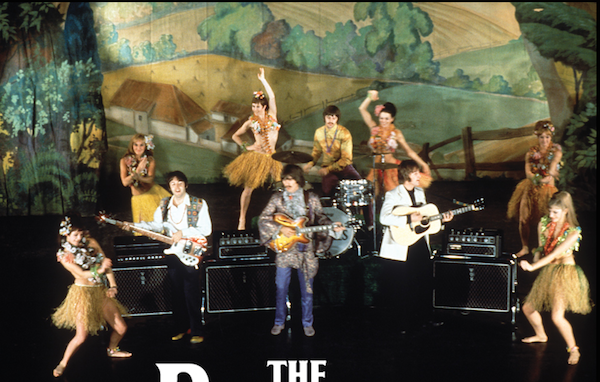 Had enough Beatles? Then don't read this and whine about it. But if you
never
have enough Beatles, this new 27 song singles collection on DVD, Blu-ray, CD and eventual double LP (the latter two audio only obviously) is for you. You will fall in love all over again.
Yes, these are the same 27 songs found on the previous 1 collection, but the audio has been remixed from the original multi-track tapes.
I was invited yesterday to a lower-Manhattan screening room where Apple Corp Ltd.'s Jonathan Clyde explained in great detail what's in the package, how the film and videos came to exist in the first place, and what was done to restore some very faded visuals and to re-imagine the audio.
All of those kinds of details are best covered in a full review that will happen when the package ships, but the hour long presentation guests got to see included split screen comparisons of unrestored and restored footage and the results were remarkable.
The sound has completely been redone under the supervision of Giles Martin, who produced from the multi-track analog tapes (mostly of the recordings we all know and love) new mono (where best), stereo and surround sound mixes.
The "A/B"s we heard between the 2009 remasters (that we know and don't very much like) and the new mixes produced results that were nothing short of "wow". Mr. Martin was faithful to the originals in terms of overall sonics and especially relative track levels, but he's mixed vocals center where they used to be mostly hard-right but he's done so without jarring your imprinted sensibilities.
Every sample we were played was a significant improvement over the 2009 re-master to which it was compared—with improved dynamics, clarity and overall detail.
But the star of the show are the videos—many of which are, by today's standards, primitive but that allowed the four guys to assert their personalities in ways today's videos stifle—assuming the 'stars' have personalities. I can't think of anyone today who possesses the on-screen wit and off-handed yet extreme personality seen in these videos.
In an age of "every image is up online instantly", it's easy to forget that back then, we had only fleeting glances of our musical heroes and even when music videos (mostly if not all originating on film) were prepared they could be seen almost almost nowhere, which is what makes this collection so exciting—though of course some of it was seen, largely in snippets, in "The Beatles Anthology" set, though without the restored picture and sound.
For me, the highlight was seeing "Hey Bulldog" being recorded in the studio. It's one of the only "live in the studio" performances recorded to film and/or video and it's a treat. Another was the concluding, bittersweet video for George Harrison's "Something". John had already announced to the others that he'd quit the band. Each Beatle insisted on filming his segment at home and each features the boys intimately paired off with their spouses as if to say to fans both that the group was over and that it was time for fans to realize the love affair between them and the Fab Foursome was over.
It was not made clear whether or not the Blu-Ray would include uncompressed, high resolution audio in stereo and surround sound but let's hope so! From what I saw and heard, yet another splendid time is guaranteed for all. How almost all of this happened in the space of around six years remains a mystery. It was hardly possible then and it's damn well impossible now. No doubt you can guess what The Beatles were singing while the hula dancers swayed around them.
<!- ------------------------------------>