Beatles Monos Get New York City Debut At Electric Lady Studios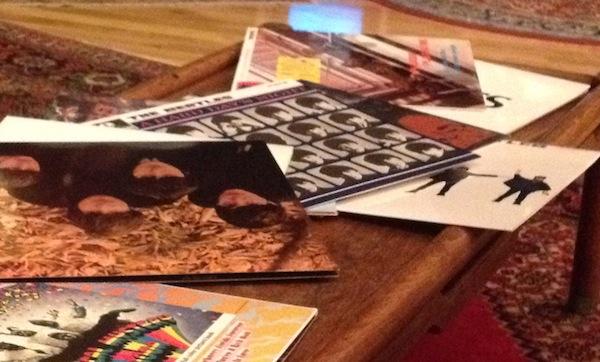 After a successful Los Angeles launch, Universal Music Enterprises and Apple Corps today brought their Beatles mono vinyl "road show" to New York City's Electric Lady Studios.
Among those on hand were mastering engineer Sean Magee, project producer Steve Berkowitz, Guy Hayden, UMe's coordinator of all things Beatles (not his actual title) and veteran UMe publicist Jennifer Ballantyne who I've been dealing with for twenty plus years but never before met.
Also attending was Ortofon America's Louis Dorio who supplied the Quintet mono cartridge and McIntosh's Ellis Reid, who provided the audio system set up in Electric Lady Studios' Studio A.
The star of the show of course were The Beatles mono LPs and the mono box's book.
So, first: the jackets look fantastic—nothing like the stereo box set's unreasonable facsimile. These are fold over laminated, with opaque paper on the back very close to the originals right down to the "Garrod and Lofthouse" printer credit. The reproduction of the artwork appears to be spot-on and though the video shows The Beatles jacket opening to the side, the actual jacket will be "top loading" just like the original, the title will be embossed in raised letters and the version in the box will be numbered. Of course there's no bar code either—at least in the box set version.
The book, which I only got a short chance to peruse is more about the mono story and less about the stereo book's focus on The Beatles' story. The quality is high and it is filled with great photos and memorabilia.
We were assured this was a finished box set of records, not a test pressing set, nothing pulled and inspected first. Steve Berkowitz said he took the records out of the shipping box and played them in Los Angeles and they were flat, shiny and dead silent and that they were. All LPs were pressed at Optimal for worldwide distribution.
I played the EP mono version of "Yesterday" the other evening and noted its exceptional warmth both on McCartney's vocal and the string section. That is how the album version sounds as well. Yet when Berkowitz played "Don't Bother Me" from a much earlier recording it had a totally different balance as did "You Know My Name, Look Up the Number" simultaneous requested by me and CNET's "Audiophiliac" and Stereophile contributor Steve Guttenberg.
So based on how I know this was produced and on this look and listen I think we are in for a real musical and sonic treat next September!
<!- ------------------------------------>