Beverly "Guitar" Watkins R.I.P. October 1st, Played At Last Year's "Blues at the Crossroads"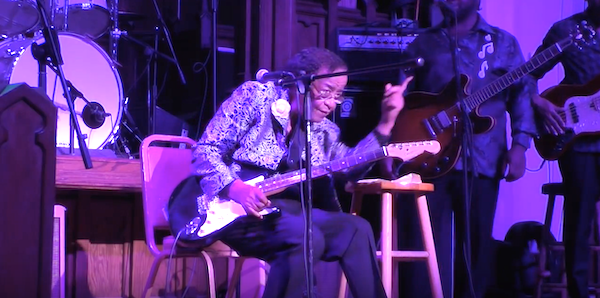 Beverly "Guitar" Watkins passed away in Atlanta on October 1st at age 80. She had a heart attack after previously suffering a stroke. I'd missed the news until reading the
obit
in today's New York Times. If you've not watched this video posted here and on the AnalogPlanet YouTube channel last fall, do yourself a big favor and watch it now. Here's what was written when the video originally posted:
79 year old Beverly "Guitar" Watkins, unknown to most in the audience, puts on a fiery, funky and fierce standing ovation hour-long performance on the first night of Chad Kassem's "Blues at the Crossroads" Blues Festival Friday October 26th.
The Atlanta, Georgia native has had a long, productive career including two successful singles "Dr. Feelgood" and "Right String But the Wrong Yo-You" as a member of Piano Red and the Houserockers. A later group in which she played included Roy Lee Johnson, who composed "Mr. Moonlight" later popularized by The Beatles. You'll hear Ms. Watkins cover a very similar sounding tune in this incredible set.
She's also worked with James Brown, B.B. King and Ray Charles and remains active. Watch her amazing performance here and remember she's 79 years young! While she plays much of it sitting down, when she stands and plays with the guitar behind her back you may find yourself standing and cheering while watching this on your computer. Everyone in the audience did that too.
AnalogPlanet editor Michael Fremer encountered Ms. Watkins in the hotel dining room the next morning and asked how at 79 her hands remain so supple and her rhythmic drive and musical inventiveness remain so fresh. "You gotta find Jesus" she replied with the absolute certainty that displayed on stage the previous evening.
Warning: once you begin watching this you won't stop until it's over so wisely budget your time!
<!- ------------------------------------>