Bill Evans' " The Complete Village Vanguard Recordings 1961" Coming From Concord Music Group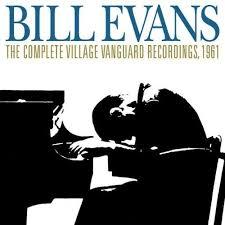 This November 11th Concord Music Group will release a four 180g LP box set
The Complete Village Vanguard Recordings 1961"
. As all fans of
Waltz For Debby
and
Sunday at The Village Vanguard
well know, the two LP's worth of material were culled from afternoon and evening performances on Sunday June 25th 1961 and represented a heavily edited version of what transpired that eventful day—days before 25 year old bassist Scott LaFaro died in a car accident.
18 months of work by Evans, drummer Paul Motian and LeFaro came to fruition that day. These timeless performances in which the trio interacted as an organic whole, with each player at times leading the way rhythmically and even melodically have become treasured by generation after generation of jazz fans. They don't date.
Eavesdropping on the proceedings, especially given the remarkably transparent and pristine recording quality, makes for thrilling listening, particularly on recent double 45rpm editions issued by Analogue Productions.
Reissue producer Bill Belmont perused the Concord vaults looking for and finding every last snippet of originally recorded tape in order to create as complete as possible a documentation of the five sets the trio performed that day.
The performances and the audience reaction, much of which had been either edited or faded out have been restored and sequenced in the original order. "The task," according to Belmont, was to "…find the reels—if they existed—and try and make a reconstruction of everything that was recorded….to try to make the show flow as closely as possible to what had been recorded."
Even the most committed analog diehard will understand that the only way to do this was in the digital domain, so the 4 LP set was strung together in ProTools. We all understand that, right?
However, what will be more difficult to understand and accept that the transfers were done at 44.1K/24 bit. Why? Why? Why? In 2014 are we saddled with an LP set cut from CD sampling rate resolution? Even if the producer and engineer Joe Tarantino, who loaded the material into ProTools (A/D converter not specified) erroneously believed that 44.1k sampling was "transparent" to the source, why not do it at 88.2K or 96K just for the F…K OF IT?
It is almost as if they are trying to prove a point that few of us believe: that CD's sampling rate and the necessary brick wall filtering at 20K required to produce 44.1k files was transparent to the source. Why else in 2014 would anyone produce files at that resolution (other than to make easier decimation for the CD edition). In some ways this reminds me of The Beatles box set production.
In any case, the ProTools files at 44.1k/24 bit were loaded back into ProTools and used by George Horn to cut the lacquers. Who plated and pressed was also not specified. Of course we hope RTI, Pallas, Gotta Groove, QRP or Optimal.
Included in the box is a 12 page booklet containing new liner notes by reissue producer Belmont, the original Orrin Keepnew LP liner notes, reproductions of Keepnews' session annotation ad photographer Steve Schapiro's proof sheets shot at the performances (lucky photographic assignment!) and a "stunning" metallic and black poster of the famous cover.
At Analogplanet.com we are always open to be proven wrong about our digital assumptions. We hope a comparison between these LPs and the all-analog versions issued by Analogue Productions of the edited tapes will prove us wrong, but based on past experience, why the producer chose to digitize the material at 44.1k is an unexplained and frustrating mystery.
One thing to consider: often in cases like this, the original edits were done as much to give listeners the best performances as to shorten the program to fit the LP's limitations, so how much musical value is contained in the restored tracks remains to be heard. However, having the fully restored day and evening's performances will be for many a thrilling experience.
Here is the track listing for The Complete Village Vanguard Recordings, 1961
Disc 1
Side A:
1. Spoken Introduction 00:43
2. Gloria's Step (Take 1, Interrupted) 5:41
3. Alice In Wonderland (Take 1) 6:57
Side B:
1. My Foolish Heart 4:55
2. All Of You (Take 1) 8:14
3. Announcement And Intermission 1:44
Disc 2
Side A:
1. My Romance (Take 1) 7:11
2. Some Other Time 5:02
3. Solar 8:57
Side B:
1. Gloria's Step (Take 2) 6:10
2. My Man's Gone Now 6:21
3. All Of You (Take 2) 8:29
Disc 3
Side A:
1. Detour Ahead (Take 1) 7:17
2. Discussing Repertoire 00:31
3. Waltz For Debby (Take 1) 6:46
4. Alice In Wonderland (Take 2) 8:31
Side B:
1. Porgy (I Loves You, Porgy) 6:09
2. My Romance (Take 2) 7:26
3. Milestones 6:31
Disc 4
Side A:
1. Detour Ahead (Take 2) 7:41
2. Gloria's Step (Take 3) 6:48
3. Waltz For Debby (Take 2) 7:00
Side B:
1 All Of You (Take 3) 8:18
2. Jade Visions (Take 1) 4:12
3. Jade Visions (Take 2) 3:57
4. ...A Few Final Bars 1:15

<!- ------------------------------------>