Blue Note $19.95 Second Batch Well-Pressed By URP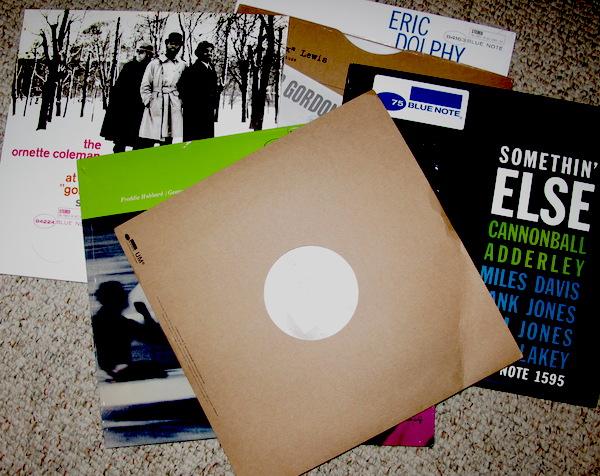 The second batch of $19.95 digitally sourced Blue Notes has arrived and it's going to take time to go through all of them but there were a few surprises, the most pleasant of which is that aside from side two of the iconic
Something Else
(BN1595) looking like "cake icing", visually these records appear to be extremely well-pressed.
It will take some time to go through them all (work doesn't get much better) but these are the consistently best looking pressings I've ever seen from URP, with only an occasional minor dimple and no "bumps" whatsoever. No, I don't regret what I said about the plant during the "Vinyl Lives" seminar at AXPONA with the owner in the audience ("among the worst in the world"), but going forward, if this is how URP will be pressing records, I will happily retract that statement.
Another surprise were the mastering credits. Interestingly the first two Blue Notes, of Albert Ammons and Meade "Lux" Lewis (BN-01, BN-02) authentically packaged in simple brown jackets with pink,black white labels were mastered at Sterling Sound by Ray Janos while the others (except for Eric Dolphy's Out to Lunch, which was part of the first series but delayed) were cut by either Chris Bellman or by Chris and Bernie Grundman.
The only ones I've had a chance to play are the Something Else (in mono with mono jacket), which despite the visual appearance played well and sounded very good and The Ornette Coleman Trio at the "Golden Circle" Stockholm (BST 84224), which sounded really good. I don't have another stereo version with which to compare. I only have an early "New York, USA" mono. I don't believe either Music Matters or Acoustic Sounds has done this one.
The other titles are:
Sonny Rollins a night at the "village vanguard" BN1581
Dexter Gordon Our Man In Paris BST-84146
Herbie Hancock Maiden Voyage BST-84195
<!- ------------------------------------>