Blue Note Announces 100 Classic Jazz Titles on 180 Gram Vinyl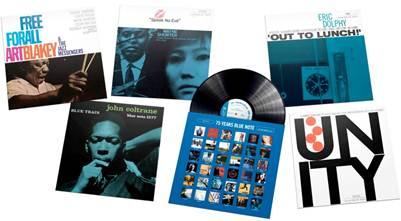 To celebrate the 75th anniversary of Blue Note Records, the label will be reissuing in 2014 100 classic Blue Notes on 180 gram vinyl beginning with five on March 25th: Art Blakey's
Free For All
, Coltrane's
Blue Train
, Eric Dolphy's
Out to Lunch
, Wayne Shorter's
Speak No Evil
and Larry Young's
Unity
.
In addition, the label will issue on vinyl many modern Blue Note releases including Joe Lovano's Quartets: Live at the Village Vanguard, Jason Moran's Soundtrack To Human Motion , Terence Blanchard's Flow, Medeski, Martin & Wood's Combustication and Cassandra Wilson's Traveling Miles.
An EMI contact recently told me that Blue Note label president Don Was was working on a new cutting chain at Capitol Studios, intent upon re-capturing the original Blue Note "sound", which he felt was not being properly presented in the spate of Blue Note reissues done by other labels (i.e.: Music Matters and Analogue Productions). The reissues, probably pressed at Rainbo, will sell for $19.95—considerably less than any of the other reissues, though surely they won't feature their deluxe packaging.
The second part of Mr. Was's statement to the press announcing the reissue series said:
"Ultimately, we decided that our goal would be to protect the original intentions of the artists, producers and engineers who made these records and that, in the case of pre-digital-era albums, these intentions were best represented by the sound and feel of their first-edition vinyl releases. Working with a team of dedicated and groovy engineers, we found a sound that both captured the feel of the original records while maintaining the depth and transparency of the master tapes... the new remasters are really cool!"
However, the first part of his statement said:
"Two years ago, we began remastering the jewels of the Blue Note catalog in hi-def resolutions of 96k and 192k. In order to develop a guiding artistic philosophy for this delicate endeavor, we donned our lab coats, ran dozens of sonic experiments and carefully referenced every generation of our reissues."
Of course the more recent Blue Note titles issued on vinyl must, by definition, be digitally sourced, but considering that the old tapes are in very good shape and transfer well from analog tape, what is the point of issuing vinyl from digital? Reminds me of another recent EMI project.
Obviously the Blue Note team is convinced that its digital transfers are transparent to the source. It will be interesting to compare, say, the digitally sourced version of Larry Young's Unity with the double 45 issued a few years ago my Music Matters. I hope these new, more affordable reissues sound great. More than hearing how transparent and "non-digital" they sound I'm curious to hear if they truly do better mirror the original Blue Note "sound" than do the superb-sounding "audiophile" reissues.
<!- ------------------------------------>