Blue Note Announces Classic Vinyl Reissue Series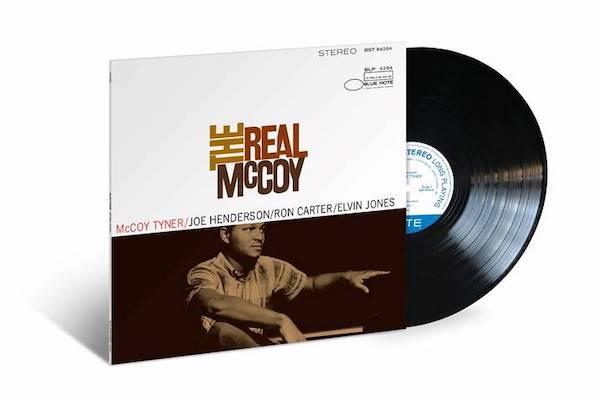 (Blue Note Press Release): OCTOBER 23, 2020—We're proud to present the
Blue Note Classic Vinyl Reissue Series
, a continuation of our acclaimed Blue Note 80 Vinyl Reissue Series which was launched in celebration of our 80th anniversary in 2019. The Classic Series will once again feature all-analog 180g vinyl pressings in standard packaging that are mastered by Kevin Gray directly from the original master tapes and manufactured at Optimal in Germany.
In a review of the BN80 Vinyl Edition of Dexter Gordon's Doin' Allright, AnalogPlanet wrote "this reissue is a success for Blue Note in terms of quality at a great price point, and I look forward to the rest of this excellent and affordable series." In selecting the BN80 Vinyl Edition of Herbie Hancock's Takin' Off as their Recording of the Month, Stereophile awarded the sonics of the pressing 4½ stars writing "The sound of this reissue is strong and articulate, with balance and clarity from all the instruments."
The first 16 titles of the Classic Series will focus on the enduring classics of the Blue Note catalog, kicking off on December 4 with the release of two masterpieces—pianist McCoy Tyner's The Real McCoy and trumpeter Lee Morgan's The Sidewinder—both of which are available for pre-order now. The Classic Series will be on-going, running alongside the Tone Poet Audiophile Vinyl Reissue Series which is produced by Joe Harley.
Classic Vinyl Reissue Series – Release Schedule:
December 4, 2020
Lee Morgan – The Sidewinder
McCoy Tyner – The Real McCoy
January 15, 2021
Horace Silver – Song for My Father
Wayne Shorter – Speak No Evil
February 12, 2021
Cannonball Adderley – Somethin' Else
Joe Henderson – Page One
March 12, 2021
Art Blakey & The Jazz Messengers – Moanin'
Hank Mobley – Soul Station
April 9, 2021 Sonny Clark – Cool Struttin'
Jimmy Smith – Back At The Chicken Shack
May 14, 2021
Dexter Gordon – GO!
Eric Dolphy – Out To Lunch
June 11, 2021
Grant Green – Idle Moments
Kenny Burrell – Midnight Blue
July 9, 2021 Freddie Hubbard – Ready for Freddie
Herbie Hancock – Maiden Voyage
Lee Morgan – The Sidewinder (1963)
Lee Morgan's magnum opus The Sidewinder—recorded in 1963 and released in 1964—was both a comeback and a coronation. The prodigious trumpeter had debuted on Blue Note in 1956 at the age of 18, but personal problems in the early-60s forced him off the scene temporarily. His rebound recording turned out to be The Sidewinder, an assured and energetic set of 5 indelible Morgan originals featuring tenor saxophonist Joe Henderson, pianist Barry Harris, bassist Bob Cranshaw, and drummer Billy Higgins. The album became his biggest commercial success fueled by the irrepressible title track.
McCoy Tyner – The Real McCoy (1967)
In 1967, pianist McCoy Tyner was ready for a new start. He had left the seminal John Coltrane Quartet two years prior and moved on from Coltrane's label Impulse! Records, as well. With his Blue Note debut The Real McCoy, he made his masterpiece and firmly established himself as a creative force of his own. Featuring a world class quartet with Tyner joined by tenor saxophonist Joe Henderson, bassist Ron Carter, and drummer Elvin Jones, the album presented five timeless Tyner originals including "Passion Dance," "Search for Peace," and "Blues on the Corner."
<!- ------------------------------------>