Bob Dylan-"Trouble No More-The Bootleg Series Vol. 13/1979-1981" Coming Nov. 3rd PTL!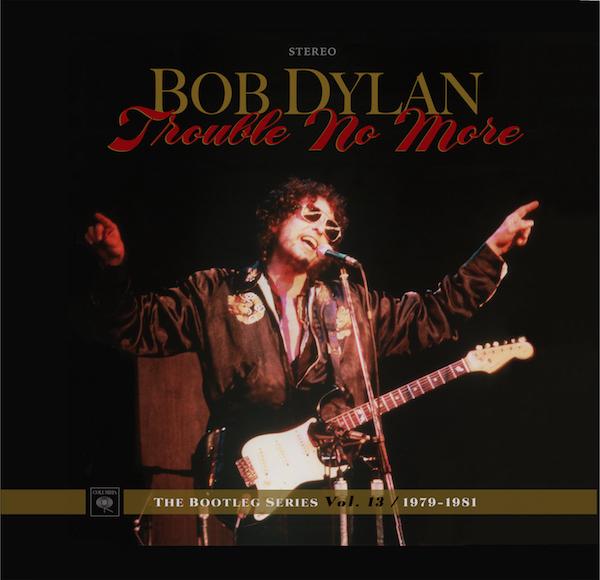 How best to sell to the Dylan-loving fanbase his "Jesus period"? That was the question Columbia Records/Legacy Records asked itself and had to answer in order to present to the public this new set available in a deluxe 8 CD/1 DVD Box Set that's also available as a 2 CD and 4 LP configuration consisting of the Deluxe Box's first two discs.
Dylan's three studio albums from this mystifying period (for most Dylan fans) were Slow Train Coming (1979), Saved (1980) and Shot of Love (1981). None of those tracks are here. As the press release for this new set notes: "These songs were as deeply personal and packed with poetics as any Dylan had ever written, but the force of conviction and power of faith evident in these performances baffled segments of Dylan's fanbase (just as Dylan's "going electric" had alienated folk purists in 1965)."
With the exception of "Ye Shall Be Changed," (released in 1991 on The Bootleg Series, Vol. 1-3), none of the tracks on Trouble No More have been previously released. This collection debuts 14 previously unreleased songs and a multitude of unreleased live performances, rare studio outtakes and more.
The two disc set (CD and vinyl) includes 30 live performances. The Deluxe box includes 31 "rare and unreleased" tracks including soundcheck and outtakes plus unreleased songs (one of which is "Jesus is the One"), two CDs of material recording live in Toronto 1980, two CDs of material recorded live in London in 1981 plus the essential bonus DVD containing "Trouble No More—A Musical Film" plus additional bonus material.
I write "essential" because I was fortunate to be invited to a pre-release screening of the film at Sony's New York City headquarters.
The film presents an absolutely rocking previously unreleased live 1980 concert performance of a clearly inspired and you could say possesses by the holy spirit Dylan backed by a group that included Fred Tackett (Little Feat) on guitar and Spooner Oldham on keyboards plus Jim Keltner (!) on drums, among others (sorry I can't remember the others) plus a three woman backup gospel group (or gospel influenced).
Even if that Dylan period was for you a total bust as it was for me, this concert turned around my head to the point where immediately upon getting home I played the 3 original records that had been played once when released and returned to their original inner sleeves and jackets and not since touched.
However, almost as inspiring as the music was the new material written by writer-critic Luc Sante and performed by Academy Award nominee Michael Shannon (first seen in "Ground Hog Day" with Bill Murray). Shannon, dressed, coiffed and made up to look as if he was sermonizing in 1980, plays a preacher who delivers his message to an unseen congregation that could be a television audience or not. But while Shannon's appearance is 1980 (even the audio sounds as if it was carefully crafted to sound recorded to a Nagra analog tape recorder and and the picture captured on 35MM film), the sermon is 2017.
What was being shown received no advance notice, which left most if not all in the audience wondering WTF they were watching. Shannon sermonizes about obesity and fast food and many other contemporary "moral" issues, while appearing to be an apparition from the past. The monologue was skillfully crafted to appeal to current secular issues that a non-religious audience would nod and agree with, even as they were wrapped in religious cloth.
These mini-sermons are inserted between portions of the concert footage in a way that contextualizes and puts into focus for a secular audience Dylan's obviously genuine religious fervor, which leaps from the screen as he performs these songs positively possessed. By the end I'd been converted. Not to Jesus (he writes on the eve of Rosh Hoshana), but to this period of Dylan's journey. I'm not observing the Jewish New Year tonight but more likely than not I'm betting Bob is. Hopefully the movie will eventually be widely distributed, say on Netflix. The box will then sell better for sure.
<!- ------------------------------------>