Boston's Newbury Comics, Now Into Vinyl Reissues Has New Newsletter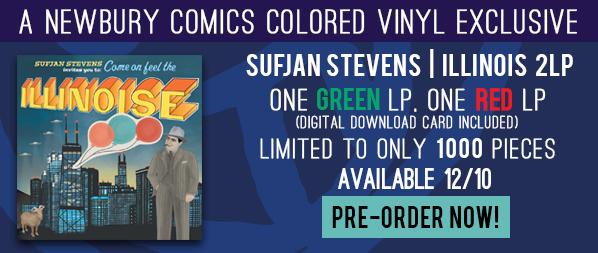 Boston retailer Newbury Comics, a recent entry in the vinyl reissue game, just announced a newsletter to which you can subscribe. The store has already issued two Black Keys LPs, The Talking Heads
The Name of the Band is The Talking Heads
(on maroon vinyl), two Bon Iver albums, one on clear the other on white vinyl and Al Green's
Let's Stay Together
on do I have to tell you what color vinyl?
Next up is a colored vinyl reissue of Sufjan Stevens' most highly recommended (for both music and sound) Come On Feel The Illinoise a two LP set, one record red one green plus digital download card. Colors chosen for Christmas? I don't know. Only 1000 copies will be pressed. Release date is December 10th, but you can pre-order now.
With the exception of the Al Green title, masters were no doubt digital so no need to ask. The Sufjan album's original pressing was problematic (noise) so this reissue could be a big improvement (or not depending upon who cut and from what and who pressed).
Click to subscribe to Brighton Limited Press, the Newbury Comics Newsletter
<!- ------------------------------------>
| | | | | | | | | | | |
| --- | --- | --- | --- | --- | --- | --- | --- | --- | --- | --- |
| | Equipment Reviews | | The Gruvy Awards | | Blogs | Columns | | Show Reports | | News |