Brian Wilson and the Long Journey of "SMiLE" Part 3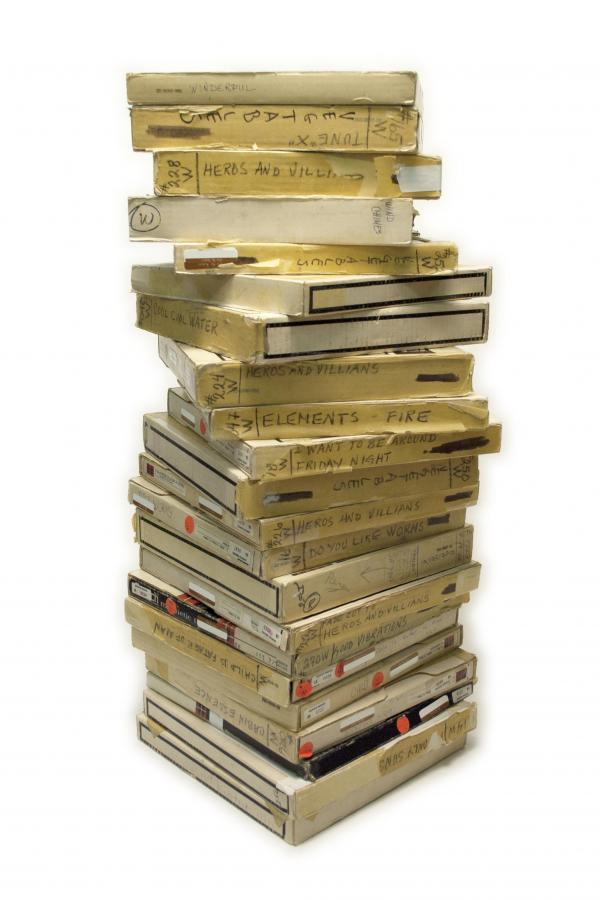 Harvey Kubernik Interviews Brian Wilson Part 3
Q: You presented the SMiLEtracks to the Beach Boys when they returned from the tour. I seem to recall, with the exception of Dennis, there seemed to be some real hesitancy from band mates to really get involved singing to these instrumentals. Mike Love did not like the stuff presented.
A: No he didn't.
Q And some other band members weren't super thrilled, either.
Q: And some didn't like Van Dyke Parks' lyrics.
A: Right.
Q: And the words and music.
A: Well they didn't like it because it was too much of a departure. They said, "it sounds too modern. It sounds too advanced." I said, "I agree with you, you know." When I heard their words I felt a little bit hurt, you know. But not too hurt. No.
Q: But you told them to stick with this.
A: Right!
Q: Did you notice they eventually started listening to you in terms of supplying vocals and weaving in harmonies? They might have been reluctant earlier but they really didn't phone in the vocals.
A:Yes, but not (initially) on the vocals.
Q: So what did you do in the studios?
A: I said, "Come on guys! Get with it! You know, let's get the vocals done." My own role as the vocalist was not diminished on SMiLE.I kept moving forward even though I didn't want to. I didn't like the resistance at all. I didn't like it. I didn't know how to deal with it. I got tired of it. I just got tired of the direction we were going in, you know. I didn't like it.
Q: On some of the sessions, like on a song dealing with fire, you and the players donned fire hats, you were the Fire Chief, and there was a trash can or container where you lit a fire and deliberately caused some smoke in the studio.
A: Right.
Q: Did that act help inform the music?
A: Because I thought I'd be crazy. I was young. That's why I had my little hat. And, I never set fire to any tapes.
Q: Van Dyke in the "Beautiful Dreamer" movie said, "Don't let the marijuana confuse the issue here. If you look at the amount of work that was done and the amount of time it took to almost finish it. It's amazing. Very athletic situation. Very focused. It sure is tedious to have to explain lyrics to people. And it wasn't something I wanted to do for a living."
Q: What do you think of the Smiley Smilealbum that was released in lieu of SMiLE?"
A: It had "Good Vibrations" on it. So it was a good album. I thought it was one of the most peaceful albums I ever heard.
Q: Tell me about writing "Surf's Up."
A: Van Dyke and I wrote that at my house. It was about 11:00 in the morning, and we had a sand box with a piano in it and it took us 30 minutes to write it. Maybe an hour and a half. We just wrote it really spontaneously. We title songs after the lyrics. I never wrote a song on guitar or bass. We were trying to get across the feeling of children. How much their love means to people. Van Dyke Parks is the greatest lyricist I've ever heard. His lyric writing is poetic.
"Leonard Bernstein had me play 'Surf's Up" on TV. He told someone he liked it. A song has to work on the piano before it goes to the studio. On the keyboard you can see what you're writing. You can hear and see it.
Q: You also had a tent on your home premises. Terry Sachen, who co-wrote "I Know There's An Answer" with you and Mike Love on Pet Sounds, worked with you, and put it together. He ordered the fabric.
A: We had a tent. An Arabian tent. Cushions. We would eat sandwiches and smoke pot and just laid around, you know. And, I got some ideas late at night when my wife went to sleep. I stayed up and thought of ideas like that.
Q: In 1967 SMiLEwas shelved, owing partially to difficulties dealing with the creative vision in your head or the resistance to that vision, deadlines, legal matters with Capitol Records, and your desire to compete with The Beatles. It just became something you could not handle.
Yet, a bunch of the same songs soon populated Beach Boys' albums for years. Did you know at least then that the tunes were good enough to be cut and released?
A: Yes. Always knew the songs were strong enough… "Heroes And Villains" and "Surf's Up." Like on "Heroes And Villains." I always liked the way the words played against each other. "God Only Knows…" There weren't songs on the radio with God in the title. Then there were no songs with "Villains" on the radio.
Q: Capitol Records originally touted SMiLEat a sales convention in late 1966. A company promotional film positioned a January '67 shipping schedule that predicted sales of a million units.
It was obvious that you needed a whole lot more time to really work on SMiLEand define it. And, it appears record label deadlines, the music business, personal pressures were among other factors that prohibited you not having another year to finalize SMiLE. It was a confusing period for you and Van Dyke Parks.
What was the main reason SMiLEdid not come out as scheduled?
A: Because Van Dyke and I decided that we were too far into it and we didn't write anything but snippets. Except for "Heroes And Villains," we didn't write whole songs. They were incomplete songs. That's why we junked it. They weren't complete.
Q: I know you placed some of the SMiLEinitiated songs into later Beach Boys' albums. Like "Cabin Essence" on 20/20, and Surf's Up, later emerging as the title of the Surf'sUpalbum. You kept playing and trying to record songs intended for SMiLElong after 1967. In the studio I heard your piano and vocal (version of) "Surf's Up" during a recording date for the Beach Boys' Wild Honeyalbum.
A: Because the songs kept sticking with me.
Q: What was the key for you not to be totally despondent and completely bummed out by SMiLEnot hitting the record stores in 1967?
A: The vocals. I knew they would be heard one day. I don't think about where I was when I wrote them. I mean, when I heard it for the first time off the shelf I had forgotten a lot of it.
Q: When your band mates were touring and you were working on SMiLE, were you planning specific tracks for individual members to put their vocals on?
A: No. Actually, I did not write it for any specific one of guys. I wrote it for myself.
Q: In 1993, along with album compilation producers Mark Linett, David Leaf and Andy Paley for "The Beach Boys Good Vibrations" box set, included were previously unreleased excerpts and different versions of SMiLEsession recordings in the package. Why?
A: I thought it was interesting music that people would like. And it could work really well with the other things.
Q: What do you feel about "The SMiLE" Sessions" finally coming out in 2011?
A: I think it's great. I think it's really interesting music and people will like it.
Q: Any regrets about SMiLEnow?
A: No. None at all.
Q: Carl and Dennis Wilson, your brothers, are not here physically for the 2011 release of SMiLE. You get to call on your family members in a way.
A: Yeah, in a sense. Yeah… You can still hear them. I have felt I am a messenger of music for people. A lot of people, new kids, will discover Carl and Dennis when this comes out. It is the magic of music that you get to discover songs and people again.
(A portion of this interview conducted inside Brian Wilson's Hollywood Hills home first appeared in the 2011 "MOJO 60s" issue)

End of Interview

About the author:
Harvey Kubernik is a Los Angeles native and a Southern California resident. Kubernik has been an active music journalist since 1972, a record producer since 1979, and a former West Coast Director of A&R for MCA Records.
Kubernik's hardcover 384-page book, "Canyon Of Dreams," his history on the Laurel Canyon musical legacy was published by Sterling/Barnes & Noble on October 2, 2009. The volume incorporates over 350 rare and unseen music-related visuals and artifacts and spotlights over 200 Henry Diltz photos. Doors' Ray Manzarek has penned the book's introduction and Lou Adler wrote the Afterword to Kubernik's endeavor.
Kubernik's debut hardcover book, "This Is Rebel Music: The Harvey Kubernik InnerViews", was published in 2004 by the University of New Mexico Press. The author's second book, "Hollywood Shack Job: Rock Music in Film and on Your Screen," was published in January 2007 by the same UNM Press.
Kubernik's literary work appear in several book anthologies, including "The Rolling Stone Book of the Beats" and "Drinking with Bukowski."
In May 2006, Kubernik contributed the liner note essay for the Water Records CD reissue of Allen Ginsberg's Kaddish album, originally produced by Jerry Wexler in 1965 for the Atlantic Records label. Kubernik also wrote the liner notes on the expanded re-release of The Ramones' End of the Century CD in 2002 on the Rhino/WMG label and was project coordinator of the recording set The Jack Kerouac Collection for the same label.
In November 2006, Kubernik was a featured speaker discussing audiotape preservation and archiving at the special hearings called by The Library of Congress.
In 2007, Kubernik conducted the extensive 32-page interview with Brian Wilson utilized in his worldwide concert tour program. In 2008, Kubernik wrote the liner notes for the Sony/BMG Records release of the deluxe edition of Carole King's Tapestry album and also penned the 5,400-word liner note booklet for the Sony/BMG Records 4-CD box set, Elvis Presley '68 Special."
In 2009, Kubernik penned the feature essay and conducted the interview with Brian Wilson for the Genesis Publications book "That Lucky Old Son" collaboration with famed artist Peter Blake published in July. It is a 1,000 limited edition signed book that retails for 750 pounds in the U.K.
Harvey and his brother Kenneth have written "A Perfect Haze: An Illustrated History of the Monterey International Pop Festival" published by Santa Monica Press in October 2011.
<!- ------------------------------------>