Capital Audiofest: Metro-D.C. Area Show Small, But Shows Solid Growth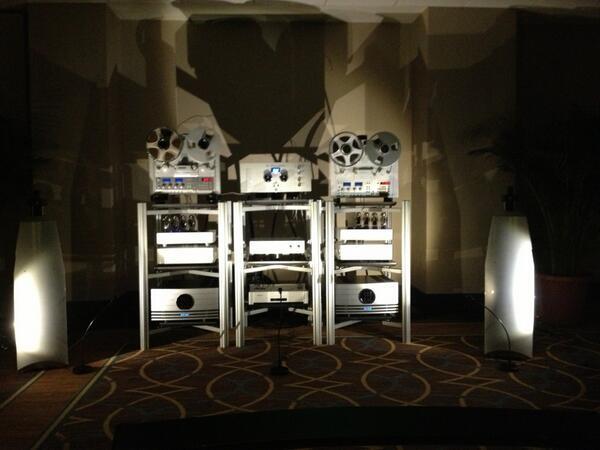 Veteran manufacturers and rookie enthusiasts fueled increased industry participation at the fourth annual Capital Audio Fest held this past weekend, July 26th-28th at the the Silver Spring, Maryland Sheraton Hotel.
Among the veteran manufacturers showing in eight lobby level rooms and on floors 4,6,7 and 8 , many in association with area dealers, were VPI, TW Acustic, Bricasti, Tidal, Tri-Planar, Legacy, MBL North America,, Monitor Audio, Joseph Audio, Miyajima Labs, ChannlD, Janzen Electrostatic speakers, Audio by Van Alstine, Audio Note UK, Robert Lighton Audio, Red Wine Audio, Stillpoints, Raidho, Audio Flight, Purist Audio Design and ProAc among them.
There were also many smaller manufacturers, some familiar, like ModWright Instruments, WyWires, Audio Prana, LKV Research and others, and some unfamiliar like Volti Audio, MiracleAudio, Luminous Audio, Silnote, Border Patrol, GT Audio Works and others.
Among the most impressive "upstarts" was the Ohio based speaker company SVS. They design at home and build to spec in China a line of two channel, surround systems and subs at very reasonable prices. The black lacquer boxes, price points and especially the sound I heard, reminded me of what NHT was doing during its "golden age." For instance, a floor standing 3-way, with MTM configured drivers in the front baffle and side-firing woofers cost $2000 a pair and sounded quite fine driven by a moderately priced Integra receiver Show organizer Gary Gallo rounded up excellent guest speakers: mastering engineer Alan Silverman of Arf! Mastering, AIX Records' Mark Waldrep and AudioExpress's Thomas Perazella.
My friend Art Dudley was there covering the show for Stereophile, so if you want a full show roundup go there. I drove down Saturday morning to see what was new, if anything, in the analog world and I found more than I was expecting! (Photo: United Home Audio's reel to reel tape based presentation, using MBL speakers and electronics.)
<!- ------------------------------------>