Ultrasonic V-8 Record Cleaning Machine Cleans 8 Records in 10 Minutes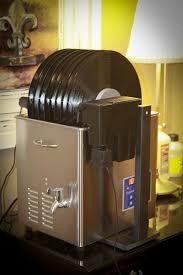 In the Magnolia Ballroom at Capital Audiofest 2013, along with a great selection of used vinyl, David Ratcliff, the inventor of the Ultrasonic V-8 ultrasonic record cleaning machine demonstrated how it works. The device consists of a square stainless steel vat filled with heated distilled water, some isopropyl alcohol and a few drops of Photoflo, which acts as a surfactant into which is placed an ultrasonic element associated with a 7 micron filtered circulation pump.
Eight records separated by thick wooden discs loaded onto a motor-turned spit, kebob-style, rotate in the ultrasonically agitated solution. Eight minutes later, the cleaned records are removed from the spit and put on a dish rack-like drying device. 45 minutes later they are ready to play.
The advantages of the machine are that it cleans eight records simultaneously and at $1495, is reasonably priced. The disadvantages are that you have to wait forty five minutes before you can play a cleaned record and between the vat and the drying rack it takes up a great deal of space.
Visit the ultrasonicrecords website for more information. And watch this:
<!- ------------------------------------>