CleanerVinyl Is a Less Costly Ultrasonic Record Cleaning Alternative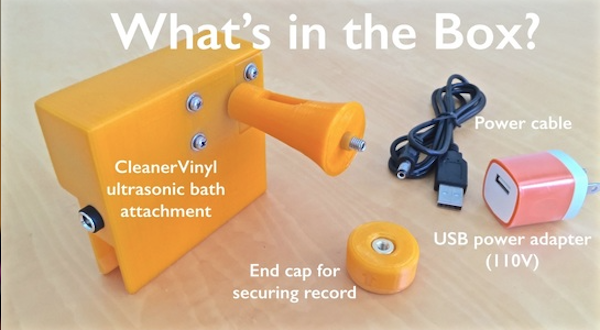 CleanerVinyl
is yet another take on ultrasonic record cleaning.
In this business model, you are responsible for buying the ultrasonic bath (about $150 online) and then CleanerVinyl does the rest, offering you various options or they will "bundle" the ultrasonic bath with its "Cleaner Vinyl One", which consists of a powered 3D printed attachment to which you secure a record that's lowered into the water.
The CleanerVinyl One costs $189 or for $349 the company will ship to you the CleanerVinyl One plus an ultrasonic bath. It's probably worth giving the company the $10 difference. The separate option is more for international customers, the company says.
For an additional $25 you can add the CleanerVinyl Two, that allows simultaneous cleaning of two records. Or instead, buy the CleanerVinyl Pro for $379 that allows you to simultaneously clean up to twelve records. Of course you still have to add the ultrasonic bath.
The company also makes available for $129 the CleanerVinyl Dry that turns the bath into a drying rack. This requires you to first drain the fluid using the included drain tube and then to install the fan.
So the process would be to first put the record (one, two or twelve) in the vat, and let it spin for around fifteen minutes (of course with the cavitation turned on), then drain the liquid via the tube, and then attach the fan and continue spinning for approximately forty five more minutes (more or less depending upon humidity and temperature).
The result is a twelve at a time ultrasonic washing and drying system costing $658 or a single record at a time system costing as little as $350.
How well does it work? I don't have an ultrasonic bath and I'm not investing $150 in order to review CleanerVinyl but I thought you'd like to know about it.
<!- ------------------------------------>