The In The Groove Record Cleaning Roller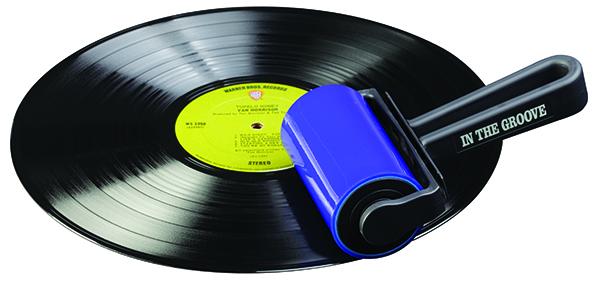 Got pets that shed? You probably have at least one of those pet hair removing rollers with the split replaceable sticky roller. Roll it over your clothing and it picks up the hair. When its covered with hair and/or lost its stickiness, you peel off a layer and throw it way, using the fresh layer underneath to continue hair-removal.
The In the Groove roller is similar except the roller, manufactured from a patented sticky material is said to be good forever. The description claims it was developed by a surgeon to keep "surgical instruments close at hand" but I'm not sure how that exactly works.
The soft, sticky substance is said to be useful for cleaning flat screen TVs, computer screens, iPads, smart phones, you name it. Plus it slices, dices, chops, grinds and peels, give your children great haircuts and is a fishing rod that fits in your pocket and it really, really works!
Most importantly for our purposed, it's said to be really effective for cleaning records. Its soft, sticky surface is claimed to be able to sink down into the grooves and remove not just dust and dirt, but pops and clicks too.
When it gets dirty you just rinse it off under running water and blot dry with a paper towel.
Sounds good! The wet-looking, dark blue roller surface beckons you to touch with your fingers. You just want to if just to see exactly how sticky it is. How can it be sufficiently sticky to pull up dirt and dust yet not deposit a sticky residue on the record surface?
Rather than soil the surface with an oily finger, I chose to use as directed, but not on really dirty records. I don't suggest that for anyone with a good cleaning machine, though if you don't have one, this might be a $19.95 dirty record fix that could suffice until you can afford one. It certainly must be more effective than a brush.
Using the In the Groove as a dirty record cleaner wasn't why I asked for one. Rather, I wanted to see if it would be useful to clean the dirt and dust from new records. Compact Discs are pressed in "clean rooms". Records are pressed in "dirty rooms". New records out of the jacket are almost always dusty and dirty.
Yes, you should first clean new records on your cleaning machine before playing but who can wait? Carbon fiber and other such brushes are great for after a machine cleaning but less effective on dustier records.
So I opened some new records, all of which were dusty, and rolled the In The Groove roller over their surfaces and guess what? As Ron Popeil likes to say "It really, really works!"
You just don't want to press down too hard, or you risk pressing dirt into the grooves instead of rolling it out of the grooves. And you have to be very careful using a large, bulky roller in close proximity to your cantilever. Don't roll with "irrational exuberance" and whatever you do, don't roll with the platter spinning. The roller could get away from you.
After rolling about a dozen records with what I consider to be efficacious results, the roller needed cleaning so I took a chance and touched the surface. It wasn't sticky, just slightly tacky. I never saw any residue on record surfaces, not that you'd see it even if it was deposited so to some degree you have to operate on faith.
I also put the USB microscope on the stylus after cleaning and playing those half-dozen records and saw no evidence that a sticky residue had been deposited.
i decided that the $19.95 In the Groove roller is a really useful, inexpensive product. Not to clean dirty records, but to clean new, out of the jacket records. I suppose were I a kid just getting into vinyl and i couldn't afford a cleaning machine I'd use the In the Groove as a record cleaning machine, but I'm not so I didn't. If you do be prepared to clean the roller often!
<!- ------------------------------------>