Craft Recordings Reissues Big Star #1 and Radio City AAA on 180g Vinyl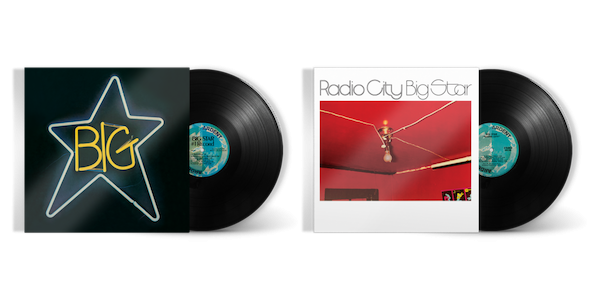 "What happens in Memphis stays in Memphis"—at least until you get these home (unless you live in Memphis!) might be Craft Recordings' slogan for this all-analog pair of Big Star reissues, probably the first all-analog reissues of these two ignored when first released but now highly regarded early '70s albums since Classic Records released them in 2009 AAA on Clarity vinyl.
Craft's new editions to be released January 24th, 2020, were cut using the original master tapes by Jeff Powell at Memphis' Take Out Vinyl and pressed at Memphis Record Pressing. The band formed in 1971 by the late Alex Chilton and the late Chris Bell with drummer Jody Stephens and bassist the late Andy Hummel featured Beatle-esque/British Invasion influenced songwriting and jangly rhythm guitar saturated arrangements of often wistful, melancholic songs that should have gone crazy-big among Beatles-starved rock'n'rollers but that didn't happen, in part because the group's original label, Ardent, wasn't well distributed and in part because the music scene had "moved on"—but not for critics who rightly hailed these two records. On a personal note, I played the hell out of both on my all night WBCN weekend shows. Big Star songs have been often covered by other artists, keeping alive albums that were D.O.A.
A memorable tribute show at New York City's Baruch College late March, 2011 that I attended featured among many others, R.E.M.'s Michael Stipe and Mike Mike Mills, Chris Stamey, Ira Kaplan of Yo La Tengo, Teenage Fanclub's Norman Blake, Matthew Sweet and many others, plus original Big Star drummer Jody Stephens. Encores included The Replacements' song "Alex Chilton" and of course for the finale, Chilton's "The Letter", from his Box Tops days, which he sang at age 16. It was written by fellow Box Top Wayne Carson. Running fewer than two minutes, "The Letter" is among the shortest hit songs ever to top the charts. It's "dragged out" by a jet plane sound effect at the end that Michael Stipe re-created on stage using a hair dryer. Between that show and Beach House's also memorable recreation during a mini-tour in 2014 of Gene Clark's also neglected No Other, the first half of the first decade of 2000 produced rock'n'roll justice! Glad I attended both!
These two albums, both of which are spectrally bright belong in every serious rock collection. So glad to see them brought back directly from the original tapes!
<!- ------------------------------------>