A Day In the Life Of Vinyl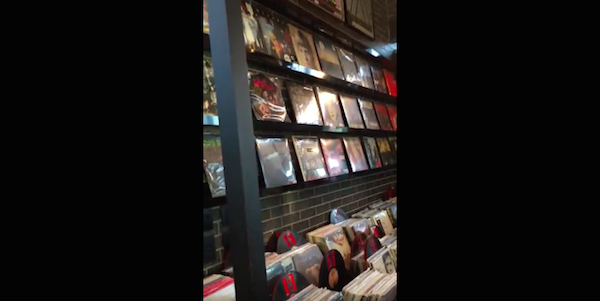 What a day. It actually started yesterday when I exited an airplane and entered the Newark International Airport terminal and spotted a record store!
Yes, there's a record store in Terminal C. It's part of a CBGB "franchise" location with a restaurant, a rock memorabilia store and a record store. What a great way to cap a weekend trip to California to address the L.A. and Orange County Audio Society at its annual "Gala". I'd been invited to speechify about the state of analog 2016. The video will be posted on this website as soon as it arrives.
The record store is small, but well stocked with classic rock and punk. Who ever thought in 2016 one could exit an airplane and buy in the terminal Lou Reed's Transformer? Not I!
So I whipped out my iPhone and interviewed the woman who was then in charge of the record department. You can watch the video below. Not shown is that when I first arrived there the music in the background was The Kinks' "I'm Not Like Everybody Else" and she's singing along!
Also today it was announced that in the U.K. for the first time revenues from vinyl sales surpassed those of digital downloads! How great is that?
I also got into an email fight with a vinyl hater. Here's part of what he sent me:
"You are demented, deluded, and deaf. Records suck, and always have.
You (are) the stupidest motherfucker I have ever encountered. Go shove a tone-arm up your ass".
Now I'm going to put on a record, turn out the lights and have a good "suck-y" time but you can be sure I will not be sitting on a tonearm.

LATEST VIDEO
<!- ------------------------------------>