"Dazed and Confused"—LAAS Audio Show Cancelled (And Not Due to Lack of Interest!)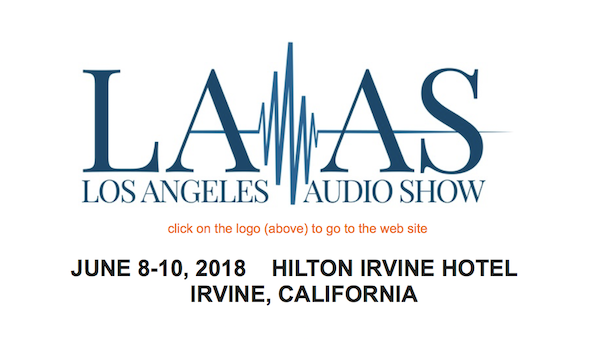 This morning the Los Angeles Audio Show scheduled for June 8th-10th at the Hilton Irvine Hotel was suddenly and without warning cancelled via a somewhat bizarre email show organizer Marine de Rogez-Presson sent to participants.
Los Angeles and Orange County Audio Society President Bob Levi told me in a phone call this afternoon that "the letter came as a complete surprise," leaving him "dazed and confused". He was not alone.
Levi made clear and wished for me to point out that while the Los Angeles and Orange County Audio Society played a significant support role for this show, it was completely under the control of Ms. de Rogez-Presson, who bought the rights from the previous owners following last year's Los Angeles show, which though not without its significant issues, was more or less a success.
This year's show began with an October 26th "save the date" Presson email blast. In December at the L.A. and O.C. annual gala Ms. Presson took the floor and spoke for quite some time about the plans for this spring's show, which had moved back to Irvine and to the familiar Hilton Hotel venue. Presson seemed on top of her game.
A degree of confusion began with the announcement of another Irvine show, "T.H.E. Show", scheduled for the week before the LAAS Show. That was a foolish move, of course, guaranteed to help no one, and hurt everyone, but that's not what caused this meltdown.
Late winter, exhibitor rooms began to fill up and things appeared to be going normally. I was asked by Mr. Levi to host a room with the working title "Michael Fremer's $1,000,000 Dream System". I agreed, though the name needed to be changed to one that was less obnoxious. The show agreed to pick up the cost of the room, which made it more attractive to manufacturers.
Then suddenly Ms. Presson disappeared. Phone calls and emails went unanswered. Since I'd been actively soliciting manufacturers for my room I began getting calls asking what was going on. Of course I had no idea. I called Bob Levi and he too wasn't sure what had happened—at least he didn't let on that he knew what had happened to Ms. Presson.
On April 18th Presson sent around a "personal note" that many found odd and cryptic. It began:
"I am writing to you with a delicate but necessary, and more importantly, optimistic update on the LA Audio Show, taking place June 7-10, 2018. As Robert Evans stated, "There are 3 sides to every story: Your side, my side, and the truth. And no one is lying. Memories shared serve each differently," but he also said that "any man who thinks he knows the mind of a woman is a man who knows nothing," so please allow me to share..."
To address the issue of her disappearance Presson wrote: "At this point, the calls and emails to discuss the whys and whats of other people's actions and statements is counter-productive. I realize there have also been discussions about my 'lack of presence,' and want to assure you that today I am back in the driver seat as I was for the Society and I's most successful 2016 event."
I responded with an encouraging note: "Beautifully written and expressed", but something felt "off." Her note did not explain why she'd "gone missing" but in a follow up phone call she told me in confidence that she was in the middle of a painful divorce—something I kept to myself, but now feel it appropriate to discuss. She said she was back and the show would move forward.
At AXPONA 2018 a number of exhibitors told me they were passing on the LAAS show for various reasons, mostly related to the Munich show being so close and the sense that an insufficient number of west coast dealers would participating. It would be "make or break" show, I concluded.
After AXPONA I again began getting calls about Presson not responding to emails and phone calls. Near panic set in more recently as manufacturers prepped for Munich and didn't know to where to send gear for the LAAS show since no one was returning calls or emails.
Bob Levi sounded somewhat uneasy in a few conversations I had with him but he never let on that things were heading south, nor did he think they were, though he found himself taking on greater responsibilities than he'd originally planned to handle.
Then Ms. Presson again disappeared at a time when her presence was a necessity if the show was to take place. Phone calls and emails went unanswered and more panicked manufacturers contacted me, including the ones who had agreed to participate in the room I was hosting. They were AudioQuest's Joe Harley, Devon Scott of TARA Labs, Dan Meinwald, importer of Marten Audio, Raphael Pasche of CH Precision, Paul Wakeen of Still Points and Mike Latvis of HRS, which was supplying all fhe VXR racks. The planned system was going to be great! We had the only pair of Marten Coltrane Supreme 2 speakers in America that an owner was going to lend us. They've never been shown in America. Here's a picture from a Stockholm show a few years ago:
Stories circulated that Presson had returned to Colorado to handle her divorce, but no one was certain. No one knew to where they should send the gear before the show. Calls and emails went unanswered, fueling the speculation that Presson had had a "meltdown" and fled.
Then this morning came her cancellation letter, which opened with a quote from the "spiritual writer" Justin St. Vincent followed (in part) by this:
Dear Industry Friends,
It is with sadness and regrets that I announce the cancellation of the 2018 LA Audio Show — Orange County. Refunds will start to be issued immediately to those exhibitors who have already paid deposits and/or full remittances for space and other services. These refunds will be in the form of checks and will arrive by USPS Mail to the address provided on contracts. Attendee tickets will be refunded through the system they were purchased.
Once more, I remind you that as Robert Evans stated, "There are 3 sides to every story: Your side, my side, and the truth. And no one is lying. Memories shared serve each differently," but he also stated that "any man who thinks he knows the mind of a woman is a man who knows nothing," so please allow me to touch briefly on what has changed since my last note."
Any sympathy I might have had for Ms. Presson's predicament quickly evaporated. Whatever her issues, she could have reached out for help getting the show produced. But she chose to be secretive and cryptic when she should have been open. No doubt she had some crushing personal issues but she let down thousands of people by being secretive and ultimately selfish.
She referenced "a series of events" but never said what they were. Before her final "holy spirit" quotation from Romans she wrote this:
"It has been an honor and privilege to carry on the legacy of my mentor, Richard Beers. I have sought to do right by him by keeping his traditions and adding innovations I believed to be vital to the future of our industry. It was always my hope that Richard's divided inheritance would be unified again in the end, and for me, it has been evident that this year presented multiple opportunities to end the separation and I could no longer ignore the dangerous reality of our circumstances. It is my sincere belief that while the lessons and blessings earned were worth everything and part of His plan, I must also admit this LAAS should never have been created, to begin with. We should have collectively worked harder to stay unified in our efforts, and I hope that is how you are able to collectively move forward at this time."
The capitalized "His" means, I assume she's referring to God's plan, not Richard Beers' plan. I can assure everyone reading this that God doesn't give a shit about high performance audio and I personally don't give one about Presson's self-indulgent pain. She let down everyone with her self-absorbed behavior instead of reaching out and asking for help from those who might have been able to get the job done.
Meanwhile, if you think she has retreated and is simply "licking her (self inflicted) wounds", you'd be wrong. While damaging the audio industry and the reputations of members of the Los Angeles and Orange County Audio Society, she's been very busy finding Jesus as part of her "healing process".
You'll excuse me for having zero sympathy. Or maybe you won't. At this point I could care less. The bottom line is, the grown young woman we thought was running the show turned out to be a little girl.
<!- ------------------------------------>