The DSA Phono II MM/MC Phono Preamplifier
I reviewed Dynamic Sound Associate's $12,000 solid-state phono preamp in Stereophile's "Analog Corner" October, 2013. It was a "Class A" product all the way other than a few "burps".
One was what I described as "...a midrange-rich whirring that sounded like a distant machine shop—less like pink noise than purple noise." It was far in the background so hardly an issue but when I switched cartridges to the Stein Aventurin, which is based on a Benz-Micro motor the DSA picked up a whirring sound consistent with the Continuum Caliburn's motor located a considerable distance away. For that reason, the DSA Phono II was relegated to "Class B" in Stereophile's "Recommended Components".
The problem solved, DSA claimed (no need to go into exactly what it was), the company sent another sample so I could confirm it, which would gain for the Phono II entrance into "Class A". That's where it will appear in the October, 2014 issue's "Recommended Components" listing.
So while I had it here, I thought I'd give it a short review here, especially in light of the just published Reite Audio review.
One thing's for sure: whether or not you can afford the DSA Phono II, once you'd had a chance to inspect it inside and out, examine its rich feature set and of course listened to it, I think you'd agree it was worth its considerable cost.
DSA, like Reite Audio is a one man operation. Naples, Florida resident Douglas Hurlburt has a masters degree in solid state physics and a PhD in electrical engineering. And he's into vinyl? What is he? A charlatan? I laugh myself silly when reading pompous online posts from techno-geeks asserting their engineering creds to "prove" vinyl's inferiority.
Anyway, Mr. Hurlburt is a long-time a vinyl enthusiast, who has incorporated into the DSA Phono II all of his engineering expertise along with his "wish list" of convenience features. The Phono II includes 3 independently configurable RCA/XLR inputs, each adjustable on the front panel for both resistive and capacitive loading including one input in which you can insert your choice of resistor value and brand on circuit board mounted sockets. Four gain levels—40, 50, 60 and 66dB—can be set from the front panel and there are pushbuttons for mono/stereo, polarity inversion, a high pass filter (rumble) and L-R/R-L—a control intended to approximate azimuth setting, but as the instructions point out, this difference method is not the same as minimizing crosstalk, which is more accurate. Are you liking that so far? In my job I am!
The Circuit
There are four all-FET gain stages, the final three of which operate in differential mode. The input is single-ended only. The dual-mono design uses no global feedback and no transformers though it is capable of up to 66dB gain (not recommended unless absolutely necessary because of added noise—of course operating single-ended you lose 6dB of gain. The output stage employs a separate class-A amplifier for each polarity of the amplified signal, and its fully regulated supply voltages are powered independently of the gain stage voltage rails. DSA claims the unit can output more than 20V peak-peak without clipping.
Because there are no D.C. filtering coupling capacitors in the circuit an occasional "touch-up" of the DC balance and/or offset may be required but it wasn't last time I had the DSA here, nor was it this time.
There's more detail in the Stereophile review, which can be accessed on DSA's website.
In case you are concerned about the convenience features sacrificing signal purity, all of the switching and routing is accomplished via logic-controlled relays. Signal paths are short with boards located next to their functions. the "stuffed" boards are sourced from one company, the chassis from another with final assembly, testing and burn-in accomplished at home. I rightly complained about the overly-bright LEDs and what do you know? The unit I was just sent has a button located under the chassis that regulates the brightness.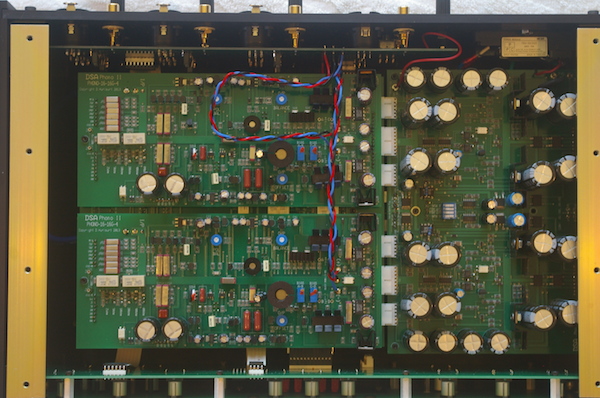 Crystalline Sound
If you like warm and soft the DSA II is definitely not for you, but if you like speed and transparency without glare, grain, edge or etch and you value dynamics (of which LPs are definitely capable) the DSA delivers. You must, however, load carefully and associated gear, especially cartridges have to be carefully chosen. It's all about a grand recipe.
I finished with the Reite Audio the other evening and hooked up the DSA Phono II. Forgetting about build quality and features, what do you get sonically for your considerable expenditure? I re-played some of the same records, including Analogue Productions' new mastering of Belafonte at Carnegie Hall (APF-6006) (review forthcoming) and good as the Reite is (and it is very good), the DSA sets a soundstage that has rock solid stability, alarmingly well-defined dimensional boundaries and Saran-Wrap transparency. Clearly there are shades of black as well as gray because the blackness of the backdrop was notably better than the Reite Audio's and the Swan Song's, both of which were quiet (the Reite more so with the .54mV output Etna).
The Lyra Etna, with its rich midrange worked well here but the Miyajima Labs Zero (mono) was ideal, while the Transfiguration Proteus pushed the high frequency extension envelope on some records but on the right ones the combination was "fasten your seat belt" time. The ideal high resolution mate for the DSA II was Ortofon's Anna—at least in my system.
Conclusion
I'll conclude here with what I wrote in Stereophile: "The DSA Phono II was an accomplished performer: tonally neutral, fast, well extended, transparent, superclean, ultradynamic, and superbly detailed. Its top-end performance was addictively open and transparent, with no hint of glare, grain, or glaze. In the attack/sustain/decay department, the Phono II was fast, precise, and clean on the attack, a bit less than fully generous with sustain and decay. Even properly loaded strings may be a bit less lustrous than some might like. But overall, if you don't like what you're hearing from the DSA Phono II, lay most of the blame on your cartridge or how it's been set up.
<!- ------------------------------------>