The Eagle Has Landed: Phoenix Engineering's High Power Digital Turntable PSU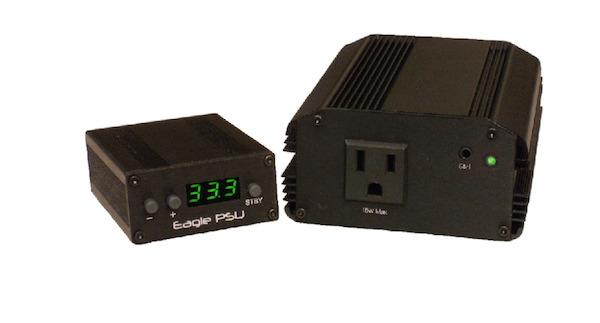 Phoenix Engineering, manufacturer of the
Falcon Digital Turntable PSU and Roadrunner Tachometer
today announced the new High Power Eagle PSU designed to work with both VPI's higher powered motor equipped 'tables and those with dual motor/flywheels—as well as with any A.C. synchronous motor of 15 or fewer watts.
The new Eagle includes all of the Falcon's operating features: 0.01RPM speed adjust resolution, soft start, calibration mode as well as 50/60Hz and 115/240V operation. Like the Falcon, the Eagle is compatible with Phoenix's tachometer (a separate Phoenix Engineering product) as reviewed on analogplanet.
The Eagle includes the same small footprint digital readout and control box supplied with the Falcon. Retail price is $525. Can Falcon owners who buy a turntable upgrade with a higher powered motor buy just the Eagle power supply for a reduced price? We're checking and will update this news item as soon as we hear back.
Update: There is no upgrade path from Falcon to Eagle. According to Phoenix Engineering's Bill Carlin: "Although the Falcon and the Eagle controller look identical, they are not interchangeable. The Eagle controller has all of the high power and HV parts removed so it only outputs 5VPP for the amp. We've had a number of people ask about upgrades, but we really aren't in a position to take back trade ins. The good news is most of them have been able to sell the Falcons on the used market for $300."
<!- ------------------------------------>