The Electric Recording Company Produces Classical Music Reissues The Right Way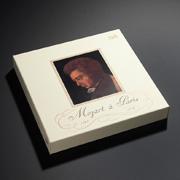 Here's a company that fell well below my radar screen for years until a reader alerted me to its website. The Electric Recording Company and its founder Pete Hutchison is dedicated to reissuing on vinyl much sought after classical music fare from the early LP era, including those of legendary violinist Johanna Martzy as well as recordings by violinists, Leonid Kogan and Gioconda De Vito, 'French School' pianists Yvonne Lefébure and Germaine Thyssens-Valentin and cellist János Starker.. Or as the website describes the musical choices "...iconic 'Holy Grail' recordings by the most revered classical performers."
These records are officially sanctioned and licensed by the labels and include both monuaral and stereo recordings.
The company begins with EMI master tapes, cuts in true monaural (when appropriate) using 1950's Lyrec/EMI tube tape recorders and an Ortofon DS522 mono cutter head. The handcrafted artwork recreates the original using a vintage letterpress process. The releases are strictly limited to 300 copies of each release.
Today the company announced three volumes of Johanna Martzy playing Bach's Unaccompanied Violin Sonatas (ERC001, ERC002, ERC003) and ERC004 "Mozart a Paris" the complete recording of Parisian Mozart compositions (1763 and 1778).
The price is steep: £300 or about $458 per set. However, were you to investigate the current prices of the ultra-rare originals, you'd find that these prices are "bargains"! For instance according to popsike.com the 3 LP set of Martzy's solo Bach violin records sold in 2008 for $4860, in 2010 for $5750, and in 2012 for $5445!
For more information, go to The Electric Recording Company website

LATEST VIDEO
<!- ------------------------------------>