Elvis Presley HBO Documentary Gets RCA/Legacy 2 LP and 3 CD Deluxe Box Release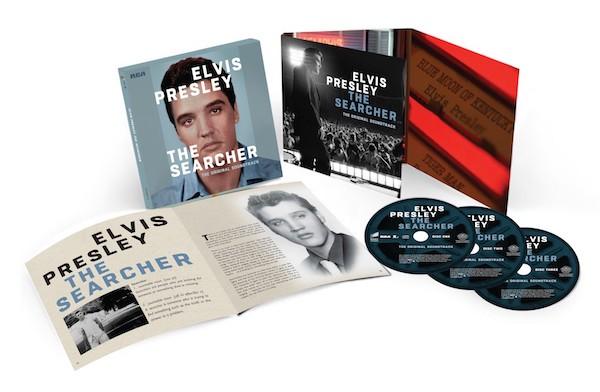 The high drama of Elvis Presley's god-like 1950's rise, followed by his '70s era musical death and resurrection is probably second only to that of his savior (who was not Colonel Tom Parker). Sadly the only Elvis some younger music fans know is the overweight Las Vegas has-been and not the man who single-handedly created the musical template for all who followed—from the biz created wannabes like Fabian and Frankie to the next-gen real deals like Bruce Springsteen and yes, Justin Bieber.
"The Searcher", a three- hour, two-part EP documentary directed by Emmy and Grammy Award winning director Thom Zimney that debuts April 14th on HBO uses rare footage filmed throughout Elvis' life and career to explore his rich, complex and groundbreaking musical vision. Those expecting the usual cheesy "greatest hits" packages will be pleasantly surprised by the mix of the obscure and the familiar found in the track listings (of which there are a few different ones depending upon format).
The heart of the soundtrack, included in all formats, consists of 18 tracks, among which are but a few of his better known hits like "Heartbreak Hotel", "Hound Dog" and "Are You Lonesome Tonight?" as well as the songs like "That's All Right" that established the new genre Elvis arguably created single-handedly.
The deluxe 3 CD box includes 37 additional Elvis tracks plus an additional disc containing selections from Pearl Jam guitarist Mike McCready's original score, Tom Petty and The Heartbreaker's version of "Wooden Heart" and a selection of songs that influenced Elvis.
For more information go here. Thanyouverymuch!
<!- ------------------------------------>