Eric Leefe's Last Call to Rock'n'Roll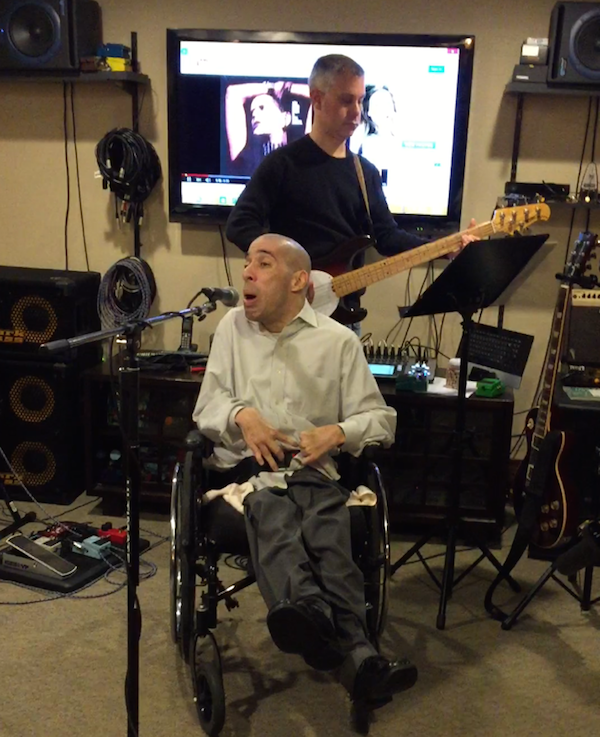 Many analogplanet.com readers are well-acquainted with Eric Leefe's story. For those who are not, I first read about Eric in an inspirational piece by music journalist Jim Beckerman published last summer in
The Bergen Record
.
I decided Eric needed an afternoon in my listening chair so I went to visit him and arranged a visit where I played personal DJ.
The musician and avid music fan had but a Bose Wave radio with a built in CD player with a slot load that, because of his disability (Cerebral Palsy) Eric was unable to use. That struck me as both absurd and unfair so I reached out to analogplanet readers, whose overwhelming generosity was both awesome and hardly surprising given the thoughtfulness of the site's visitors.
Within a short time I was able to deliver and set up for Eric a terrific system complete with a 300 disc Pioneer CD changer Eric can operate by remote control. So now he had access to all 200+ CDs. When I visit, it's almost always on and blasting. Good thing most of his neighbors in the elder care center where he finds himself are stone deaf!.
Unfortunately, CP is a degenerative condition and Eric's health is slowly deteriorating. The rock vocalist who never let his wheel-chair bound condition stop him from fronting a band and playing legendary clubs like CBGBs and Max's Kansas City (where analogplanet editor MF twice did stand-up rock'n'roll comedy), now feels he'll soon lose his ability to sing and perform in public so he asked me to help organize one final show that will also act as a fundraiser to help cover his considerable medical expenses (calling it "Eric Leefe's "Last Call to Rock'n'Roll" was Eric's idea). Though much of it is covered by insurance, Eric says pharmaceuticals are not completely covered.
So, on Monday, May 4th at 9PM Eric Leefe will perform, backed by the local band 6V6 (AP readers more than most know to what that refers!) at Blue Moon Mexican Cafe, 327 Franklin Avenue, Wyckoff, NJ 07481. The show starts at 9PM. We'll be collecting funds at the door but donations are strictly voluntary. There's no charge for admission.
Eric will sing a set of a half-dozen plus rock classics, among them Lou Reed's "Vicious", Bowie's "Rebel, Rebel" and Hendrix's "Red House". The photo at the top was taken at the first rehearsal and it was a productive and efficient meeting of musical minds.
So, if you or any of your friends and/or relatives are in the area and want to help Eric and be entertained as well as draw some strength and inspiration from a guy who has never let the hand he was dealt get the better of him, come on over to Blue Moon. The food's great and so are the "Margies". The next day is Cinco De Mayo, so why not start a day early? You'll leave feeling better even if you don't drink!
<!- ------------------------------------>