Fine Dining and a Side of Vienna Philharmonic String Quartet Monday March 4th. New Yorkers Take Notice!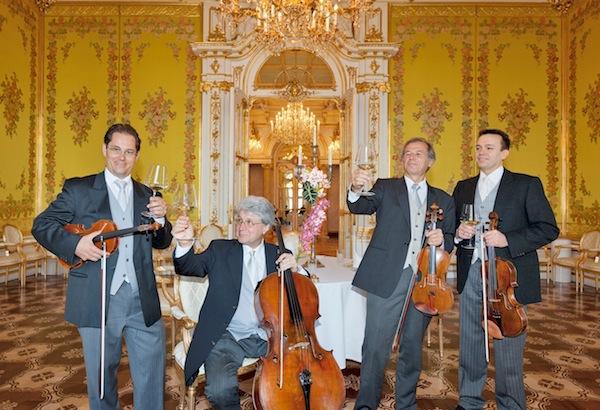 We often talk about "cross-pollination" opportunities in the high performance audio world, like putting a cool system in a high-end furniture store or at trade-shows not associated with audio. It's a good way to interest a different demographic to the hobby.
I was just alerted to this event by a friend who is the oleologist (olive oil specialist) at New York's Eataly, the world's largest artisanal Italian food and wine marketplace, organized along similar lines, at Del Posto, one of New York's premier Italian restaurants—the first Italian restaurant in forty years to receive a four star review from The New York Times (in 2010).
The restaurant has teamed with the Austrian Trade Commission and the Austrian Wine Marketing Board, both of which have donated generously to produce an evening of music, wine and of course fine dining, on Monday March 4th at 7 PM.
The seven course menu of Austrian and Italian influenced cuisine was selected by world renowned Chef Lidia Bastianich and is paired with wines from Austria's finest vineyards.
Ms. Bastianich will host the evening along with Andreas Grossbauer, the Vienna Philharmonic Orchestra's first violinist who will lead a string quartet drawn from the famed orchestra.
The musicians will play as the food is served in the restaurant's opulent private lower level.
This is a rare opportunity for a lucky group of music, food and wine lovers to indulge their noses, palates and of course ears.
An event such as this, but involving fine audio, food, wine and an olive oil tasting was in the works last year but unfortunately it never got past the talking stages. Hopefully that can happen in the not too distant future.
Coincidentally, Del Posto is located directly across the street from the Chelsea Market above which can be found Sterling Sound, one of the world's premier mastering facilities.
If you're going to be in the New York Metro area Monday March 4th and wish to attend Lidia's Philharmonic Taste reserve your (all inclusive) $425 seat before the event is sold out.
Pricey? I attended a Giants football game this winter and the clubhouse access outdoor seat that didn't include food or a string quartet cost $400. Personally, I'd rather eat a seven course gourmet meal accompanied by fine wine and Schubert played by premier musicians than watch a football game in a freezing cold seat accompanied by forty mile an hour wind gusts and surrounded by drunks. But that's just me.
<!- ------------------------------------>