Finest Audio Show Zurich January 9th and 10th, 2021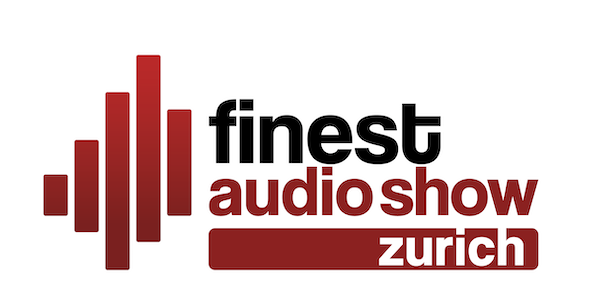 The High End Society, (which also runs High End Munich) today announced the first "live" audio show of the new year, taking place January 9th and 10th, 2021. The name has been changed from HIGH END SWISS to FINEST AUDIO SHOW, which is wholly appropriate and indisputable since for now it's the only hi-fi show on the books.
The show will be held at its usual venue the Mövenpick hotel Zurich Regensdorf "with a modern profile and comprehensive hygiene and infection prevention concept". According to the press release, "After the popular event had to be postponed from October 2020 to January 2021 due to the global pandemic, the new dates at the start of the year also represent a turning point for the trade show.
"The timing is absolutely ideal for a big change", states Stefan Dreischärf, Managing Director of the event organiser. "The FINEST AUDIO SHOW Zurich will emphasize the main focus of our trade show to its audience more clearly than ever before: the passion for excellent listening enjoyment of the very highest quality."
The press release concludes: "A workable and flexible hygiene and infection prevention concept will ensure that the trade show can take place under the changed general conditions with no concerns, and the health of all parties involved can be protected."
Considering that new worldwide coronavirus cases looks like this (the chart actually ends on September 18th. Ironically and coincidentally when I took the screen shot I had the moving counter stopped at around the cancelled High End Munich show):
: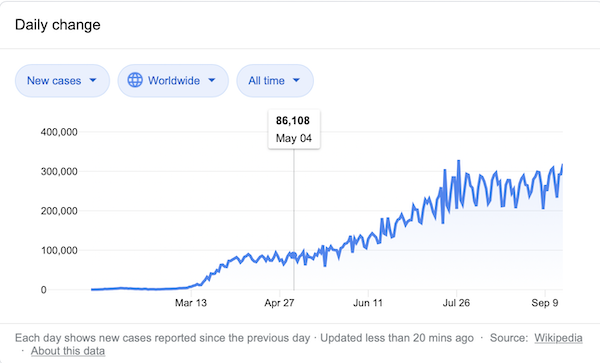 —the show organizers get extra points for guts and optimism. Of course we all wish them well and hope that the show is both successful and safe
<!- ------------------------------------>