Five Labels, Fifteen Cities. One Truck: Secretly Group Announces "Paved Paradise"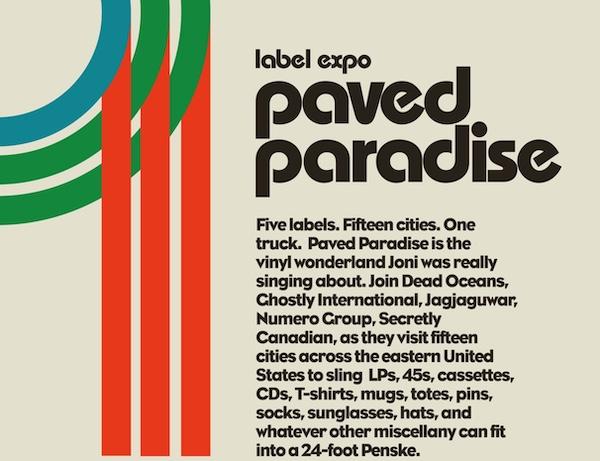 "Today, Ghostly International, Numero Group and Secretly Group record labels Dead Oceans, Jagjaguwar and Secretly Canadian all join forces to announce Paved Paradise, a traveling expo bringing their music to parking lots this fall. Over the course of September 9th-26th, a 24-foot Penske truck helmed by several of Secretly's sonic specialists will visit 15 cities in the eastern United States. From the birthplaces of Secretly, Ghostly and Numero in Bloomington, Detroit and Chicago, to Third Man Records in Nashville, the Rock & Roll Hall of Fame in Cleveland, and a community of breweries, flea markets and independent venues in between, Paved Paradise will take the record store experience outdoors, with special guests and local collaborations set for every stop."
"Equal parts pop-up shop, block party and roadside fruit stand, each day-long Paved Paradise event will pack two tents full of finely-curated LPs, 45s, cassettes, CDs and limited edition ephemera like colored vinyl variants, out-of-print items, vintage goods and miscellaneous merchandise spanning the catalogs of these five record companies operating at the top of their game. In addition to DJ sets and surprise performances from Secretly artists, Secretly staffers like Numero Group Co-Founders Ken Shipley and Rob Sevier, plus Ghostly International Special Projects Director and Brooklyn Flea Record Fair Director Amanda Colbenson, will be on-site to talk shop, make recommendations and share stories behind the records with Secretly friends and family." "In partnership with hi-res music streaming platform Qobuz, Paved Paradise will offer an interactive, high-fidelity listening station in all 15 cities. Ahead of September 9th, the labels will announce more site-specific collaborations, artist appearances, exclusive products and additional programming. With both Jagjaguwar and Secretly Canadian celebrating their 25th Anniversaries in 2021, fans can expect a commemorative kickoff at the company's headquarters in Bloomington."

SPONSORED VIDEO
<!- ------------------------------------>