Five Tom Waits Island-Era Albums Christen New LP Remaster Series From UMe, With Three 180g Black and Color-Vinyl Options Coming on September 1, and Two More Emerging on October 6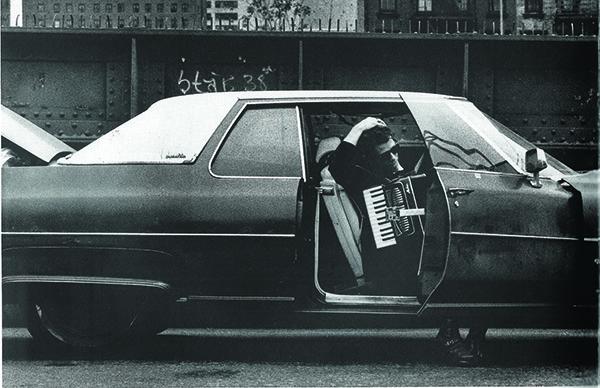 Tom Waits hit a new creative stride in the 1980s, starting with his acclaimed September 1983 masterstroke Swordfishtrombones — a breakthrough "junkyard orchestral deviation" (his words) — that culminated four LPs later with November 1993's The Black Rider. Starting September 1, Island/UMe is re-releasing all five of these key Waits midperiod Island Records LPs via 180g black vinyl and limited-edition color variants with the first three titles slated for September 1, and the remaining two to follow on October 6.
This Island/UMe reissue series is being personally overseen by Waits and longtime songwriting and production partner Kathleen Brennan, and each of the five albums in question have been newly remastered from the original tapes.
The five LPs in this series are as follows. The first three that are coming will be 1) the aforementioned September 1983 LP, Swordfishtrombones; 2) its sprawling and superb sequel, September 1985's Rain Dogs; and 3) the trilogy-completing, tragi-comic stage musical, August 1987's Franks Wild Years, a troika of which collectively kick off the series on September 1 — a date that also happens to be 40 years ago to the day from when Swordfishtrombones was released into the wild.
A month-plus later, we then get the next fine Waits pair: 1) the epic September 1992 song cycle Bone Machine, and 2) the somewhat underappreciated musical fable, November 1993's The Black Rider, on October 6.
The important LP-related stats are these. All five albums were mastered by Chris Bellman at Bernie Grundman Mastering under the guidance of Waits' longtime audio engineer, Karl Derfler. Swordfishtrombones was sourced from the original EQ'ed ½-inch production master tapes, while Rain Dogs, Franks Wild Years, Bone Machine, and The Black Rider were all sourced from the original ½-inch flat master tapes. Bellman transferred all the tapes and remastered them in hi-res 24-bit/192kHz. The lacquers for all five titles were cut by Alex Abrash at AA Mastering.
Each new vinyl edition will come with specially made labels featuring photos of Waits from each respective release era, in addition to artwork and packaging recreated to replicate the original LPs, all of which have been out of print since their initial releases. Neither Bone Machine nor The Black Rider were released on vinyl outside of Europe, so they will be making their vinyl debuts in most of the world.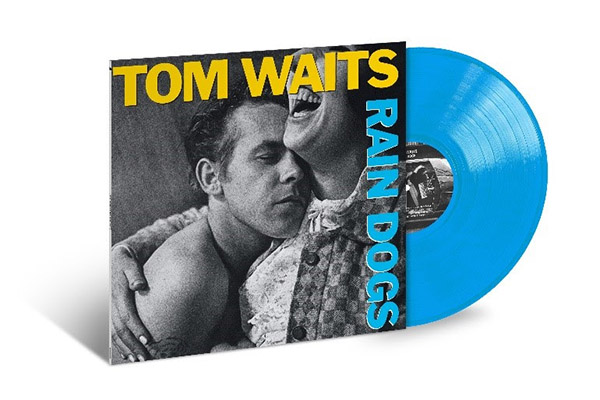 The 180g black vinyl versions each have an SRP of $29.99. The limited-edition color variants each have an SRP of $32.99, and will be available exclusively via tomwaits.com, and UDiscover Music. The color variants are as follows: Swordfishtrombones will be canary yellow, Rain Dogs is opaque sky blue, Franks Wild Years is opaque gold, Bone Machine is translucent milky, and The Black Rider is opaque apple.
The following is a more specific breakdown of what to expect from each album in this important Island-era Tom Waits reissue series, with the core ensuing descriptors of all five album that follow having been culled from the official, related Island/UMe press materials.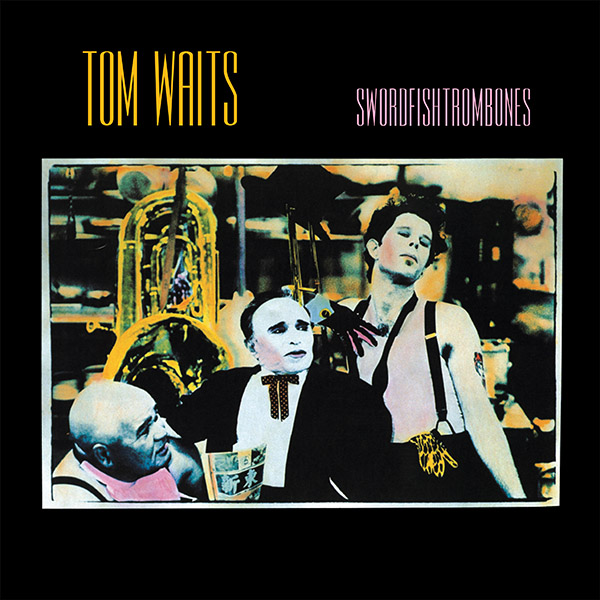 SWORDFISHTROMBONES (1983)
Swordfishtrombones — the title being intended as a winking tribute to Captain Beefheart and His Magic Band's magnum opus, June 1969's Trout Mask Replica — was a Waits-arranged pastiche, a variety of atmospheres from different sound planets. This includes the warped, marching-army-ants music of "Underground," an impressionist chant about people living below cities, but also the poignancy of the spare piano ballad, "Soldier's Things"; the good bar yarn, "Frank's Wild Years" (pre-figuring the non-apostrophied musical-to-come of the same name); the tender, minimalist paean to Waits' wife and muse, Kathleen Brennan, "Johnsburg, Illinois"; and the raggedy anthem to neighborhood chaos, "In the Neighborhood."
The LP's 15 tracks were an embarrassment of inventive riches — and also a shocker, to some degree, as Waits' previous label, Elektra/Asylum, passed on the album. But then, Island Records head honcho Chris Blackwell signed Waits to his label, and the artist's midperiod era soon enough had its tentpole kickoff.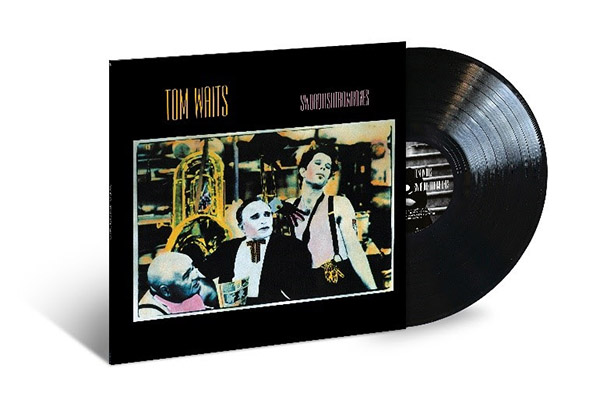 SWORDFISHTROMBONES
180 1LP (Island/UMe)
Side A
1. Underground
2. Shore Leave
3. Dave The Butcher
4. Johnsburg, Illinois
5. 16 Shells From A 30.6
6. Town With No Cheer
7. In The Neighborhood
Side B
1. Just Another Sucker On The Vine
2. Frank's Wild Years
3. Swordfishtrombone
4. Down, Down, Down
5. Soldier's Things
6. Gin Soaked Boy
7. Trouble's Braids
8. Rainbirds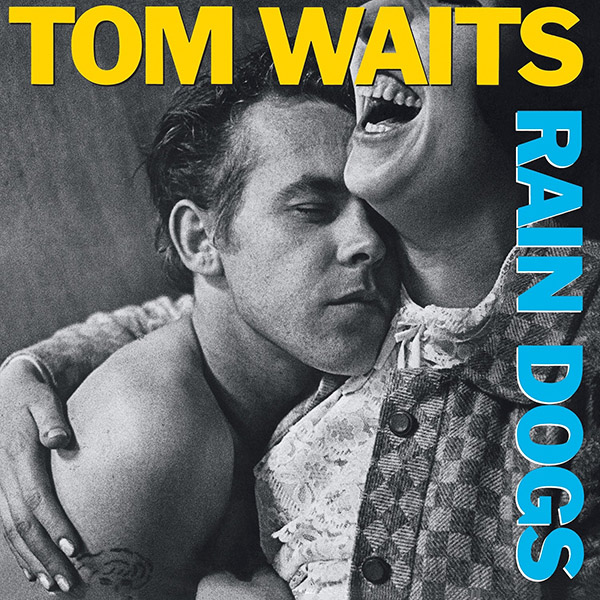 RAIN DOGS (1985)
Considered to be the middle of a de-facto trilogy between Swordfishtrombones and Franks Wild Years, Rain Dogs came second, in 1985 — written in a Lower Manhattan basement and recorded at RCA in New York City. Waits and Brennan moved there in 1984, when Brennan suggested it might be good for creativity. What emerged was a 53-minute, 19-track monster.
Rain Dogs was a kind of mutant, late-20th-century musical Canterbury Tales with a shape-shifting band. There were banjos, marimbas, bowed saw, parade drum, and howling horns (plus Keith Richards and Marc Ribot) on this rollicking, rough-hewn opus — and Waits was using his voice in increasingly weird-and-wild ways. The songs were stories, sagas, laments, breakdowns, character studies, comedies, and cabaret numbers — one being an aching thing that The Rolling Stones should have covered, "Hang Down Your Head," and the other a moving anthem, "Downtown Train," which was later covered by Patti Smith and Rod Stewart.
Waits himself coined the term "rain dog," a reference to dogs who lose their way when touchstone scents are washed away in storms. Among the lost dogs on the album include the gruff, wandering merchant marines of "Singapore," an accordion player in a slaughterhouse in "Cemetery Polka," an abandoned, withdrawn woman in "Time," the old drunks and hustlers of Union Square, and even Waits himself: "Aboard a shipwreck train / Give my umbrella to the Rain Dogs / For I am a Rain Dog, too. . ."
RAIN DOGS
180 1LP (Island/UMe)
Side A
1. Singapore
2. Clap Hands
3. Cemetery Polka
4. Jockey Full Of Bourbon
5. Tango Till They're Sore
6. Big Black Mariah
7. Diamonds And Gold
8. Hang Down Your Head
9. Time
Side B
1. Rain Dogs
2. Midtown
3. 9th & Hennepin
4. Gun Street Girl
5. Union Square
6. Blind Love
7. Walking Spanish
8. Downtown Train
9. Bride Of Rain Dog
10. Anywhere I Lay My Head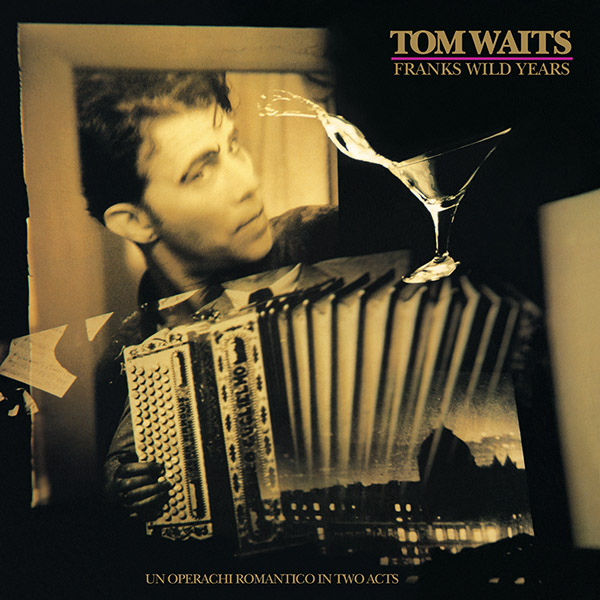 FRANKS WILD YEARS (1987)
Franks Wild Years, the album, is based on the Waits musical of the same name, with Waits in the lead role, performed at Chicago's Steppenwolf Theater and directed by Gary Sinise during the summer of 1986. Recorded mostly in Hollywood, Franks was born from the Swordfishtrombones spoken-word piece of the same name, in which a used-furniture salesman (Frank), suffocating in middle-class existence with a "spent piece of used jet trash" wife and her blind Chihuahua, Carlos, burns down his house. With smoking rubble in his rearview mirror, Frank hits the freeway with the parting quip, "Never could stand that dog."
Waits and Brennan developed this idea further by having Frank be an accordion player escaping the mythical town of Rainville for a calamitous but noble journey to Las Vegas and New York, in search of stardom. While there is no opera in Franks per se, there is a hilarious touch of operatic styling by Waits himself in the song "Temptation." His vocal character varies wildly throughout the LP's 17 songs, including when the gruff, growly singer turns to impeccable Sinatra-esque phrasing on the Vegas number, "Straight To The Top." While Franks featured a 14-member cast onstage, the album is all Waits, yet it suggests a multitude of characters by virtue of his chameleon vocals. One reason: the use of a DMP-5 Fannon transistorized bullhorn bought at Radio Shack for $29.95.
"It closes a chapter, I guess," Waits said when Franks was released. "Somehow the three albums seem to go together. Frank took off in Swordfishtrombones, had a good time in Rain Dogs, and he's all grown up in Franks Wild Years."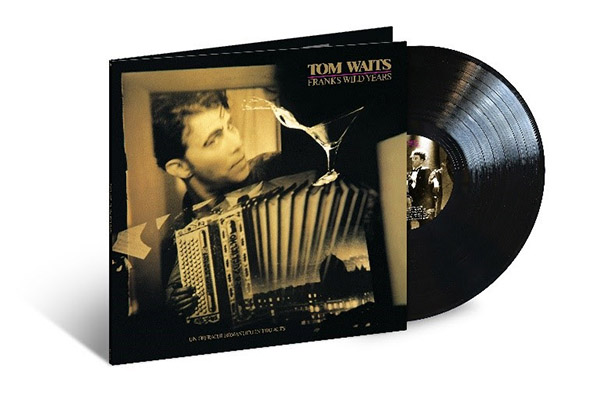 FRANKS WILD YEARS
180 1LP (Island/UMe)
Side A
1. Hang On St. Christopher
2. Straight To The Top (Rhumba)
3. Blow Wind Blow
4. Temptation
5. Innocent When You Dream (Barroom)
6. I'll Be Gone
7. Yesterday Is Here
8. Please Wake Me Up
9. Franks Theme
Side B
1. More Than Rain
2. Way Down In The Hole
3. Straight To The Top (Vegas)
4. I'll Take New York
5. Telephone Call From Istanbul
6. Cold Cold Ground
7. Train Song
8. Innocent When You Dream (78)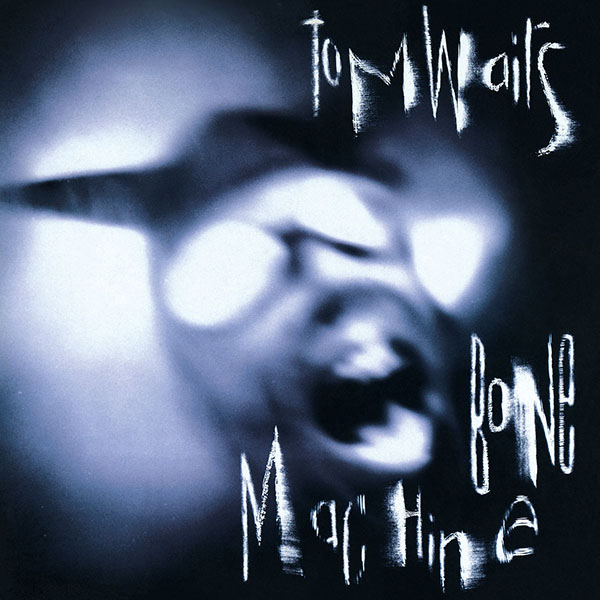 BONE MACHINE (1992)
For Bone Machine, Waits co-wrote half of the album's 16 pieces with Brennan, and its special guests included David Hidalgo, bassist Les Claypool, and Keith Richards (who co-wrote "That Feel").
Recorded in Prairie Sun Studios in Cotati, California — described by Waits as "just a cement floor and a hot water heater" — Bone Machine was a radical redesign of Waits' soundscapes and writing technique. Waits and Brennan seemed to have conjured the record out of dirt, cracked pavement, broken tree branches, and bird song, as their move to a rural area of Northern California heavily influenced the ideas and music of the record.
Waits called the songs on Bone Machine "little movies for the ears." He sometimes wrote them entirely from a percussion pattern, which he played on an array of largely homemade instruments. One, the "conundrum," was essentially a large iron crucifix with crowbars and found metal objects hanging off it. As he explained at the time, "I have a lot of very strong rhythmic impulses, but this is not my world. I just pick something up and I hit it, and if I like the sound, it goes on. Sometimes my idiot approach serves the music."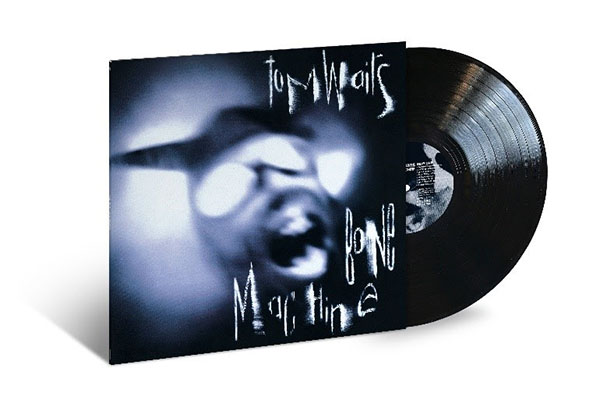 BONE MACHINE
180 1LP (Island/UMe)
Side A
1. The Earth Died Screaming
2. Dirt In The Ground
3. Such A Scream
4. All Stripped Down
5. Who Are You
6. The Ocean Doesn't Want Me
7. Jesus Gonna Be Here
8. A Little Rain
Side B
1. In The Colosseum
2. Goin' Out West
3. Murder In The Red Barn
4. Black Wings
5. Whistle Down The Wind
6. I Don't Wanna Grow Up
7. Let Me Get Up On It
8. That Feel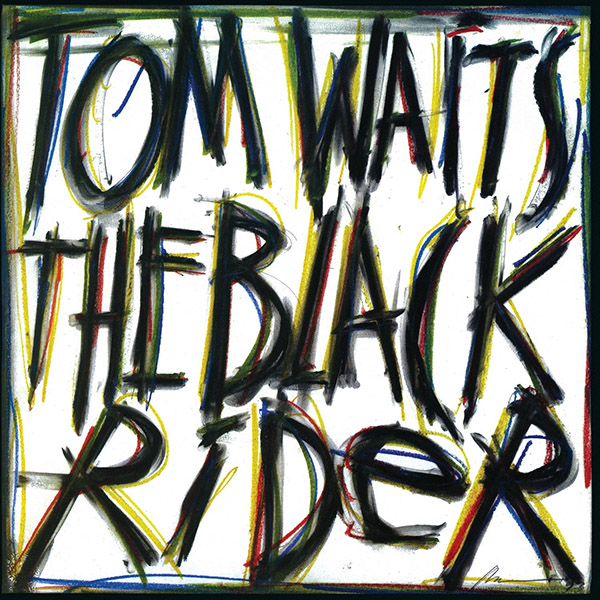 THE BLACK RIDER (1993)
The Black Rider, which was actually conceived as Waits' next project after Franks Wild Years, is an extraordinary melding of the art of three extraordinary persons: namely, Waits, experimental director Robert Wilson, and author William S. Burroughs. (To further clarify the timeframe here: The Black Rider music was written in 1988-89 and recorded in '89 and '93, and the album was released in '93.)
Based on the 19th century German/Bohemian folk tale of a young clerk who makes a deal with the devil (Der Freischütz, an 1821 opera by Carl Maria Von Weber), The Black Rider finds Waits at his most surreal, playful, and musically gnarled. This 2½-hour musical fable (Wilson calls it an opera) premiered March 31, 1990, at the Thalia Theater in Hamburg, Germany, and is still part of standard repertory in Europe. Wilson (famed for staging Philip Glass's opera, Einstein On the Beach) sought Waits out to write the music, and most of the lyrics. Meanwhile, Burroughs contributed words to three songs, and wrote the book. Waits moved to Hamburg to compose in collaboration with his longtime bassist, the multi-instrumentalist, Greg Cohen, and Gerd Bessler of The Music Factory studios.
The weird and madcap musical fruit of this venture was half recorded in Hamburg in '89, and half at Prairie Sun Recording Studios in Cotati, California. The Black Rider is a nearly hour-long rabbit hole of grim narratives, hellacious carnival barking, fragile ballads, the eerie declamation of Burroughs poetry recited by both the author and Waits, plus instrumentals. The "house band," dubbed "The Devil's Rhubato," makes liberal use of horns, viola, cello, oddball keyboards, train whistle, contrabassoon, and sinister bass clarinet. The flavor of the music falls between the extremes of the poignant serenade, "The Briar and the Rose," and Burroughs' spooky "'Tain't No Sin," which features a lyric that inspired Waits' overall approach to the project: "'Tain't no sin to take off your skin / And dance around in your bones. . ."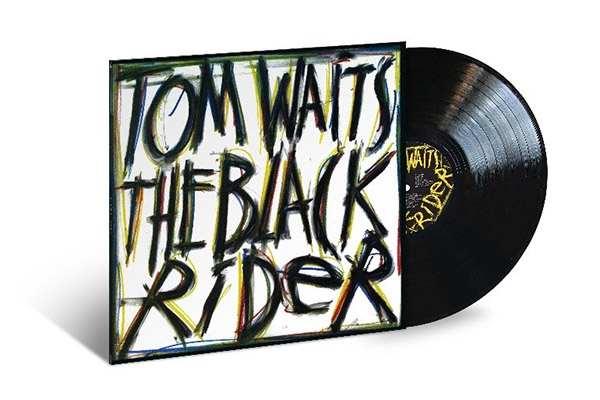 THE BLACK RIDER
180 1LP (Island/UMe)
Side A
1. Lucky Day Overture
2. The Black Rider
3. November
4. Just The Right Bullets
5. Black Box Theme
6. 'Tain't No Sin
7. Flash Pan Hunter/Intro
8. That's The Way
9. The Briar And The Rose
10. Russian Dance
Side B
1. Gospel Train/Orchestra
2. I'll Shoot The Moon
3. Flash Pan Hunter
4. Crossroads
5. Gospel Train
6. Interlude
7. Oily Night
8. Lucky Day
9. The Last Rose Of The Summer
10. Carnival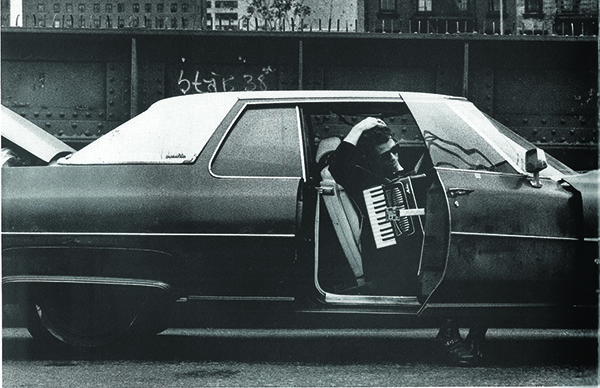 <!- ------------------------------------>