Furnace Manufacturing Builds New 16 Press Pressing and Packaging Plant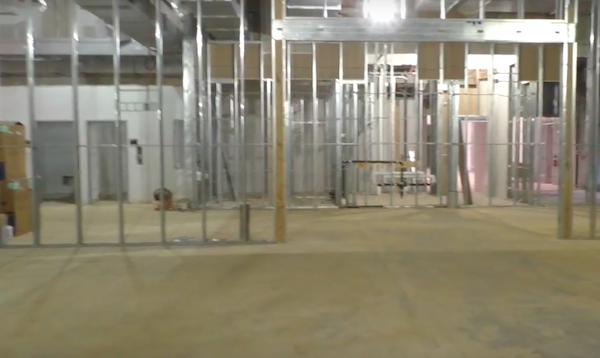 That new record you just unboxed probably came shrink-wrapped or in a perforated sealed bag. Maybe it has a sticker or two on it or it's a numbered limited edition. Watch how all of this happens in this just produced video shot at Furnace Manufacturing with founder Eric Astor. And then go to Furnace's brand new, soon to be operational vinyl pressing plant that will also incorporate the packaging facility, which has outgrown its current location. Furnace began in the 1990s as a production and packaging agent for indie and major labels—perhaps you're unsure about what that exactly means. After watching the video you will—and perhaps you'll come to appreciate an LP production cost you've not before considered.
As the vinyl market grew, Furnace forged a relationship with European pressing plants Pallas (Germany) and Record Industry (The Netherlands). This relationship helps labels press overseas, while saving them money by shipping the record back to America in sleeves instead of jackets.
Furnace then gets the jackets, stickers, inserts and other materials from the record labels and does all of the assembly and shrink wrapping (or loose fitting perforated poly bag packaging), adding stickers and for limited editions, a gold embossed number.
So, for example, the Beck Sea Changes double LP you'll see in the video, probably had lacquers cut in America and shipped to Pallas for plating and then pressing, after which the finished records in sleeves were shipped back to Furnace for insertion into American-made jackets and then sealing in perforated poly bags. The records then get boxed, palleted and shipped off for distribution. As you'll see, the process is more complicated and costly than you might imagine.
More recently Furnace partnered with Pallas and added its own built from scratch, back-engineered Toolex Alpha presses to Pallas's pressing infrastructure as you'll learn in the video shot the weekend before Thanksgiving at the company's Northern Virginia headquarters.
But Furnace has outgrown its current space and needed to move to a larger one. At the same time, founder Eric Astor saw a need for even greater pressing capacity and so decided to combine the move with the addition of a brand new record pressing plant that when it's completed will have 16 presses.
This video begins at Furnace's current location on a less than "full capacity" Friday afternoon, which is good since if everything was up and running the noise would probably make it impossible for you to hear anything being said, and ends at Furnace's brand new enormous facility that will combine all of the packaging and shipping logistical operations with the new pressing plant.
You can be sure AnalogPlanet will return for the grand opening either before the end of the year, or early 2018.
The vinyl resurgence is real.
<!- ------------------------------------>