Furnace Mfg. Finds and Buys Ten Toolex Alpha Record Presses!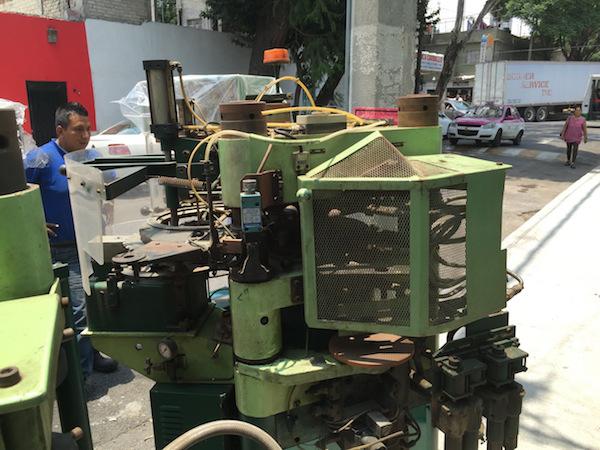 (analogplanet.com exclusive, August 25th, 2015)
: Do you remember years ago when Apple was on the ropes? The press loved to predict "struggling Apple"'s demise. Then a funny thing happened: Apple became wildly successful.
But the press couldn't let go so "struggling Apple" became "once struggling Apple". The same dynamic is playing out with vinyl. For years we were barraged with "vinyl is dead". Then it became a "slight uptick". Then it became a "resurgence" but still a tiny niche.
Finally, when the popularity of vinyl and the sales increases could no longer be denied, the cynics began with "Vinyl's success will be its demise as overtaxed pressing capacity will produce long delays and then an upper growth ceiling".
Even after GZ Media announced it had built new presses and had put them online, the negative stories about pressing capacity continued. More recently analogplanet reported on new pressing plants in Oregon and Brooklyn.
Fairfax, Virginia-based Furnace Manufacturing has since 1996 been involved in vinyl production but as a packager of records pressed at Pallas Group of Diepolz Germany. By pressing in Germany and packaging in America, Furnace has been able to save labels money while offering the highest quality pressings and state-of-the-art packaging.
Furnace has thrived with this business model, but today it announced it is taking the big plunge, headlong into domestic vinyl production with the acquisition of ten, fully automated Toolex Alpha presses similar to the ones Pallas uses in Germany.
As is always the case with record press acquisitions, there's a back-story worth telling. Furnace, which has been looking for record presses for the better part of a decade, hit a "motherload" of sorts, finding in Mexico City, ten Toolex-Alpha presses, seven of which, I believe are for 12" LPs, while three are for pressing 45s.
Furnace staffers traveled to Mexico City to oversee record press loading and shipping and had quite an adventure that included machetes, protesters and a "genuine kidnapping scare" not to mention a logistical nightmare.
Even presidential candidate Donald Trump chimed in: "I thought Mexico was already sending the 'worst of the worst' and now comes record presses? My first act upon taking office…will be to send these "boat anchor babies" back to Mexico" (joke).
The Furnace crew arrived in Mexico City to find that neither forklifts nor pallet jacks were available to maneuver the one-ton machines onto the trucks. The team managed moving the presses out of the ramshackle storage facility and onto small metal dollies using grit and sheer determination.
Once out in the open, the presses, strapped to pallets, were hoisted by a small crane onto two fifty-three foot long tractor-trailers that in order to reach the neighborhood where the presses were stored had to navigate through gridlocked Mexico City traffic and through massive protest marches (unrelated to the press removal!). Fortunately the local police cooperated by shutting down the streets so the large tractor-trailers could reach the loading area.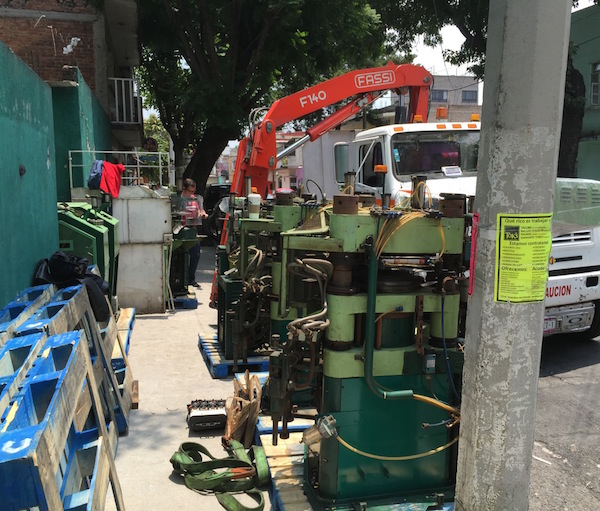 Presses 'out on the street"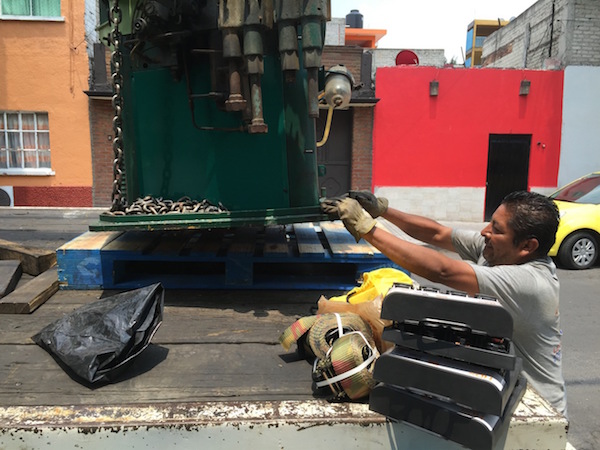 A press being gently lowered onto a pallet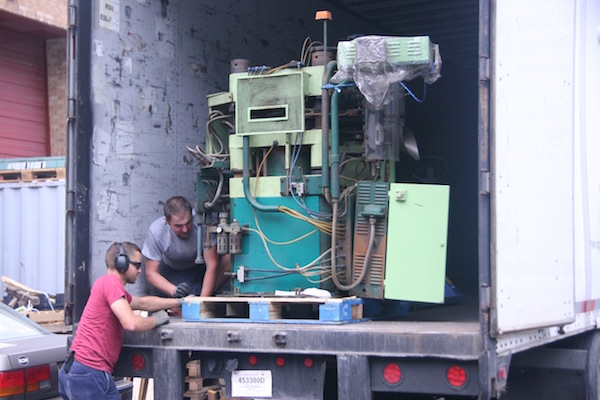 A press safely loaded onto a tractor-trailer
On day two, Furnace staffers heard that questions were being asked about the value of the equipment and told to not speak English in order to avoid drawing attention to their activities.
Said Production Coordinator Alex Reimer, "The loading of the machines was difficult. We had to navigate through neighborhoods and streets not meant for tractor-trailers and load heavy equipment with unconventional tools and manpower. In our short time in Mexico City we met late night fire breathers, a wine angel, a jacked up guy on a Harley asking a lot of questions about our presses and a lot of awesome new friends who helped us get all ten presses loaded and secured against all odds. It was a lot of work, but it's a great story and I'm excited to have been a part of it."
The crew that muscled the presses out of storage and onto the tractor-trailers
Later that evening the trucks headed down bumpy roads towards the Laredo, Texas border crossing. After clearing customs the machines were offloaded and re-loaded onto American trucks for the trip to Furnace's Fairfax, VA headquarters.
The presses arrive at Furnace's Fairfax, Virginia headquarters
Packaging Manager Mark Reiter added, "The experience of tracking down and bringing these record presses home has been amazing. We had some tense moments. Hiding from (rumors of) kidnappers was one, unexpected late night taxi detours through Mexico City back alleyways was another. We had an unforgettable time and met some amazing people. Rolling up the back of the trailer when they arrived here at Furnace MFG and seeing our presses safe and sound on our home turf was a great feeling."
However, now comes the difficult part: Furnace must first find the perfect location in which to build the pressing plant—both geographically and physically. It won't be leasing the space you can be sure, nor is it likely to be located in the expensive Washington, D.C. metro area where Furnace is now located.
Once the location is set, the presses will move again and the serious work of installing the considerable support infrastructure required to operate a pressing plant will begin. That includes huge boilers, a roof-mounted temperature exchange cooling tower and of course a great deal of electric power. The presses will need to be completely overhauled and refurbished as well.
About the press acquisition, Furnace President, Eric Astor said "It's almost impossible to find record presses out there in the wild. To find late era, automated machines is unheard of. We're excited to build a world-class record pressing facility in the USA to help "feed the beast". The industry needs additional vinyl capacity, shorter lead times and a laser focus on quality. I'm certain that we'll achieve these goals once we breathe life back into these machines."
<!- ------------------------------------>