George Harrison's All Things Must Pass Gets the 50th Anniversary Reissue Treatment August 6th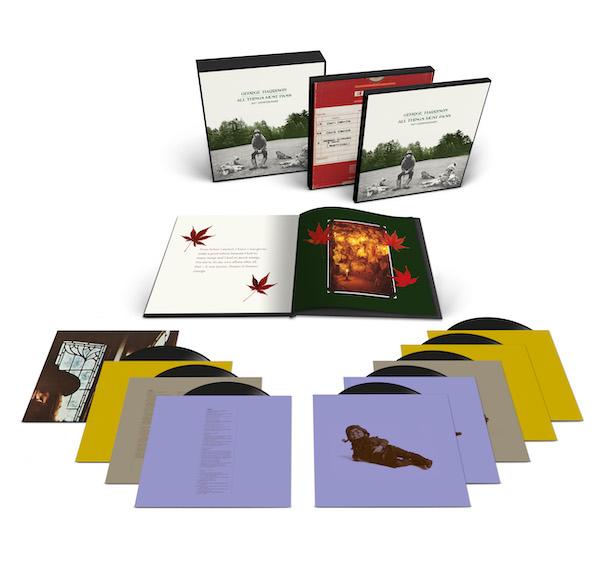 How would you like your
All Things Must Pass
?. Of course there's the original 3 LP set produced by George Harrison (who died in 2001 at age 58) and Phil Spector, which if you have on an original British Apple pressing sounds very good. The American pressing? Meh.
In 2001 Apple released a 30th anniversary Harrison supervised a digitally remastered edition by Jon Astley with engineering credit going to Ken Scott, one of the two original credited engineers. That was the one with the fanciful re-imagined colorized cover and the really re-imagined inner cover. In that remastered album's liner notes Harrison wrote, "I still like the songs on the album and believe they can continue to outlive the style in which they were recorded," adding however, "it was difficult to resist re-mixing every track (none were). All these years later I would like to liberate some of the songs from the big production that seemed appropriate at the time". When I want to hear this album I reach for the original U.K. pressing every time.
Now for the 50th we get yet another remixed and remastered ATMP released in a "stunning suite" of versions, this time by Paul Hicks, whose excellent track record (no pun intended) remixing John Lennon albums provides optimism for a successful outcome. The press release claims "the new mix transforms the album by sonically upgrading it - making it sound brighter, fuller and better than ever before." Maybe not good news if you liked getting lost in the original's murky undertow but maybe this re-mix will be more successful than the previous one.
The "Super Deluxe" edition pictured above, "collects 70 tracks over 5 CDs or 8 LPs including 42 previously unreleased demo recordings, session outtakes and studio jams." But there's even a more "complete" edition, a "very limited edition "Uber Deluxe" (that) includes 8 LPs and 5 CDs in a specially designed wooden crate along with elaborate expanded scrapbook, laser cut wood detailing from (an) oak tree in George's garden, 1/6 scale replicas of gnomes featured on iconic cover, lithographs and more..."
<!- ------------------------------------>