Giles Martin at The Power Station Berklee Introduces "The White Album" Remix, Outtakes and Demos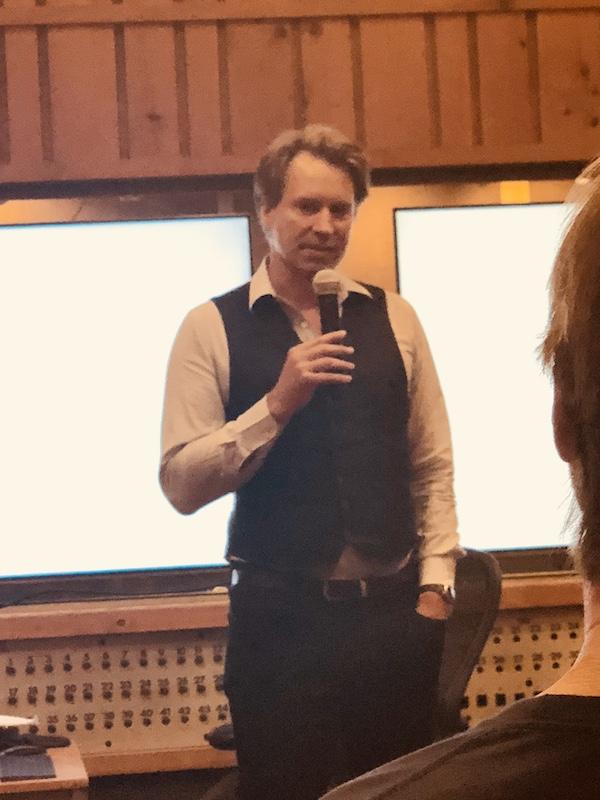 November 9, November 9, November 9: On November 9, Apple Corps/UMe will release multiple deluxe editions of The Beatles, the seminal self-titled double album affectionately known, due to its stark packaging, as "The White Album."
All configurations will include producer Giles Martin's 2018 stereo mix of the album, assisted by Sam Okell at Abbey Road Studios and based on its original stereo mix by George Martin and the Beatles.
At today's event Mr. Martin first played demo tracks from the oft-bootlegged "Esher demos", recorded in the basement of George Harrison's Kinfauns on 4-track reel shortly after the Beatles returned from India in May 1968. Some demoed tracks such as "Not Guilty," "Sour Milk Sea," and "Child of Nature" did not make the cut to the album; however the latter became John Lennon's "Jealous Guy" and the group eventually gave "Sour Milk Sea" to their newly signed artist Jackie Lomax for his Apple Records debut. Mr. Martin played some of those tracks along with demos of "Ob-La-Di, Ob-La-Da" and a few others. Seven of these demos were previously made available on Anthology 3, but the others remained previously unreleased until now. All formats were mastered by Miles Showell at Abbey Road, with two sets of lacquers for the core album (one for Optimal and the other for QRP) being cut at half-speed..
In addition to the new stereo mix, 3CD and 4LP releases will come with 27 tracks from the "Esher demos". For the true Beatlemaniac, a deluxe box of 6 CD's and a Blu-ray disc will be offered. Along with Giles Martin's 2018 mix, there will be 3 CD's of studio jams, alternate takes, rehearsals, and outtakes from the album and its associated singles. The Blu-ray will contain new 5.1 and stereo mixes with a new transfer of the original mono mix, all in high-resolution 96kHz/24bit audio.
The discs are housed in a slipsleeved 164-page hardcover book with introductions from Paul McCartney and Giles Martin, track-by-track details, and pictures of the band, tape boxes, recording sheets, and print ads. To replicate elements of the original LP's package, four individual photos of the band and the fold-out poster with photo collages and lyrics will be included. If that's too much for you, a more affordable standard 2LP set with the album remix only will be part of the reissue campaign.
In his discussion, Mr. Martin sought to contradict the accepted belief that this was a "break-up" album, though he did mention Ringo's leaving and returning to the band, adding that without the fourth member, there really was no band.
Martin also said the surviving Beatles and Yoko Ono were involved in the mixing process, which was done twice and completed last December after it was decided that the original remix was not satisfactory.
It would be foolish to draw any firm conclusions based upon what we heard in Power Station Studio C other than that unlike the Sgt. Pepper's… remix the goal was not necessarily to reproduce the mono mix but in stereo. Martin discussed the difficulties involved in remixing the album, which was more of a "band document" than a "production" like Sgt. Pepper's…. . The tracks were played back from computer on a pair of JBL floor standers, not sure of the model, but the sound appeared to be more "forward" in the midrange and higher overall in midrange energy, but that could have been the speakers. Another listener commented that Ringo seems to get louder (and better) with every remix, something Martin did not deny.
The remix of "Long, Long, Long" seemed to indicate that Martin chose to eliminate the atmospheric reverb behind Ringo's toms, but again that could be because of the playback. Overall staging also appeared flatter and more immediate but best to wait for the real thing reproduced on a proper hi-fi as opposed to a studio operation.
Pro-Ject Announces White 2Xperience SB Turntable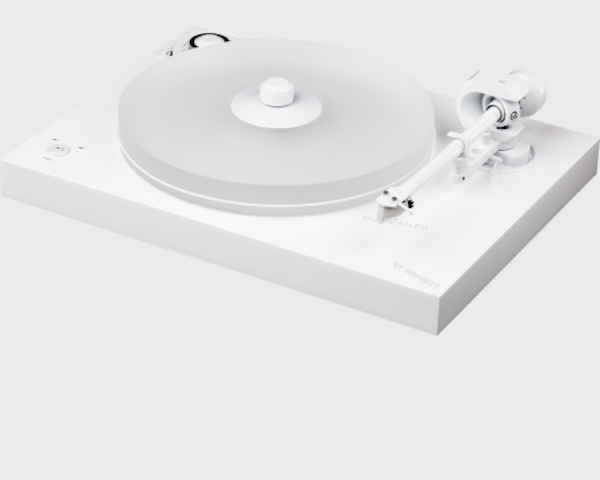 On Monday (September 24), Pro-Ject announced a new spin on their 2Xperience turntable to celebrate Apple Corps/UMe's upcoming reissues of The Beatles' 1968 self-titled double LP, which many fans know as "The White Album." The belt-driven turntable, which will retail at $1,799, is limited to 1,000 pieces and is almost all white. It features the 9" CC Evo tonearm, pre-mounted Ortofon 2M White cartridge (made custom for this turntable), diamond-cut drive pulley, inverted tonearm bearings, MDF chassis, and a heavy acrylic platter advertised to "improve sonics." There will also be a white record clamp and electronic speed change from 33 to 45 rpm. With it's plinth design modeled after the album cover and limited availability, Pro-Ject hopes this will become a true collector's item for Beatles fans, much in the vein of their Sgt. Pepper's... 2Xperience turntable.
For those who thought and think the original mixes cannot be improved upon, the session material and Esher recordings should still be of great interest to Beatles fans.
<!- ------------------------------------>