Giles Martin Talks About His New 50th Anniversary "Sgt. Pepper's Lonely Hearts Club Band" Stereo Remix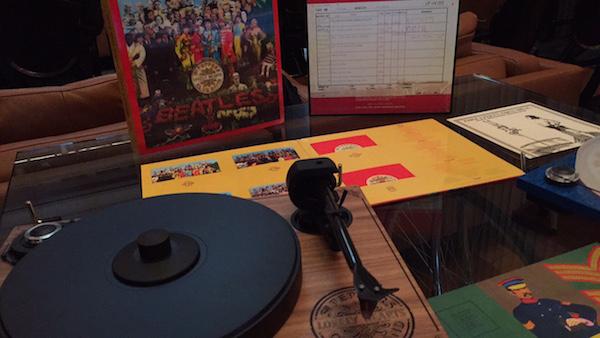 Today at The World of McIntosh Townhouse Producer Giles Martin Introduced his new "Sgt. Pepper's Lonely Hearts Band" 50th anniversary stereo mix. Apple Corp and UMe introduce the new 50th anniversary box.
The set includes multiple CDs and DVDs containing the new mix in stereo on CD plus alternative tracks plus DVD containing high resolution and surround sound versions. Also included: double vinyl and a hard cover book. The release date is May 2016.
What's been done is precisely what you'd expect from Mr. Martin and Apple Corp.: something that enhances the legacy of The Beatles rather than exploit it.
Martin and Apple Corp. decided to produce a stereo re-mix that was true to the mono original, which was the mix in which The Beatles participated. The stereo mix, produced by others, does not conform to what The Beatles intended in a number of ways, plus it takes creative liberties in areas like pans (the "fox hunt" for example)..
Martin re-created the record in the high resolution digital domain, using original first generation multitrack elements that on the original had been mixed down a few generations on their way to being included in the final mix from four tracks. Martin's goal was to center vocals while generally remaining true to the mono mix, though in stereo. He also gave the bottom end some serious "wallop' that he claims was on the tapes.
After listening, a cynic might say the enhanced drum and bass sound might have to do with who are the two living Beatles. I'm not that cynical. The mix sounds fantastic. I went to the afternoon session. Elvis Costello and Danny Bennett (Tony's son) attended the earlier one (damn).
The two "Sgt. Pepper's..." turntables were commissioned by Pro-Ject.
Please excuse the hand-held iPhone video. (The original video was blocked on YouTube because of copyright issues. Here it is again with music muted. Hopefully this will work.
<!- ------------------------------------>