Gizmodo Won't Post My Comment So I'm Posting It Here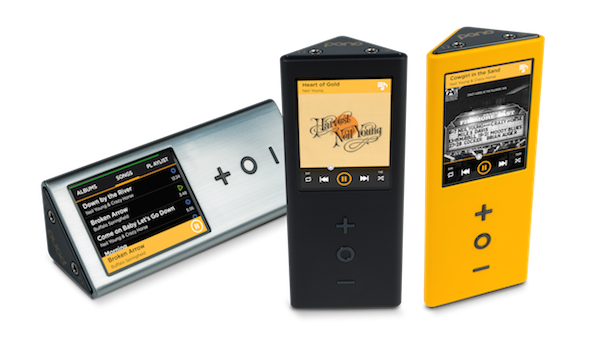 Mario Aguilar, a Gizmodo blogger with a history degree and little if any meaningful audio listening experience, recently posted a story on that site titled
"Don't Buy What Neil Young is Selling"
in which he condemns Neil Young and his Pono player.
His second sentence is "You shouldn't buy it". In other words, he leads with his conclusion. What a putz.
But that's just for starters. He bases his heavy-handed conclusion on his limited knowledge and understanding of the subject and his reliance on a study by E. Brad Meyer and David Moran of The Boston Audio Society that's been thoroughly debunked.
Aguilar claims that both the study by Meyer and Moran and "math" prove that we cannot possibly hear the difference between 16 bit/44.1K sound and high resolution audio. He also claims that CD resolution was chosen based on "math" and science and that therefore its perfection cannot be challenged. Therefore, at best Neil Young is simply naive and being fooled by his own brain or he's a charlatan.
Aguilar embeds a clip of Tom Petty, Dave Grohl and others commenting after hearing a very convincing car demo Young put together. "Generous" to a fault, Aguilar writes he doesn't think these musicians are lying—they are just victims of "...confirmation bias, that natural impulse to hear or see what it is you want to hear or see..." when in fact "science and math" prove that CD sound is "perfect" and if you don't like it you don't like "perfection".
In other words, you don't know what you're hearing and can't trust your hearing because you are "prejudiced." It's a wonder we survived for tens of thousands of years using our senses not subject to A/B/X testing because only then could we know what we're actually hearing, seeing, smelling and touching. Is that a tiger behind you? Can't say until I perform that tiger A/B/X.
After reading this piece of phony scientific upchuck written by a know-nothing, I attempted to post something that I knew was over the top, but you know what? The reason audiophiles are held in esteem one step lower than pedophiles is because we lay back and take it (bad metaphor in that context but true). We need to fight back every time we read this crapola.
So I posted what I posted and awaited for moderator approval that never came. I emailed the editor of Gizmodo and he told me to wait because it takes time for the moderator to approve. But that never came.
Fortunately I had the foresight to do a screen save of what I tried to post. It took three screen saves to get it all so here they are. Yes, I called the guy an idiot. That's because he is an idiot. An idiot spewing mis-information and opinions that's he's wrapped incorrectly in science. He accuses Neil Young of "peddling junk science" but that is precisely what he does in his piece so here's what I attempted to post: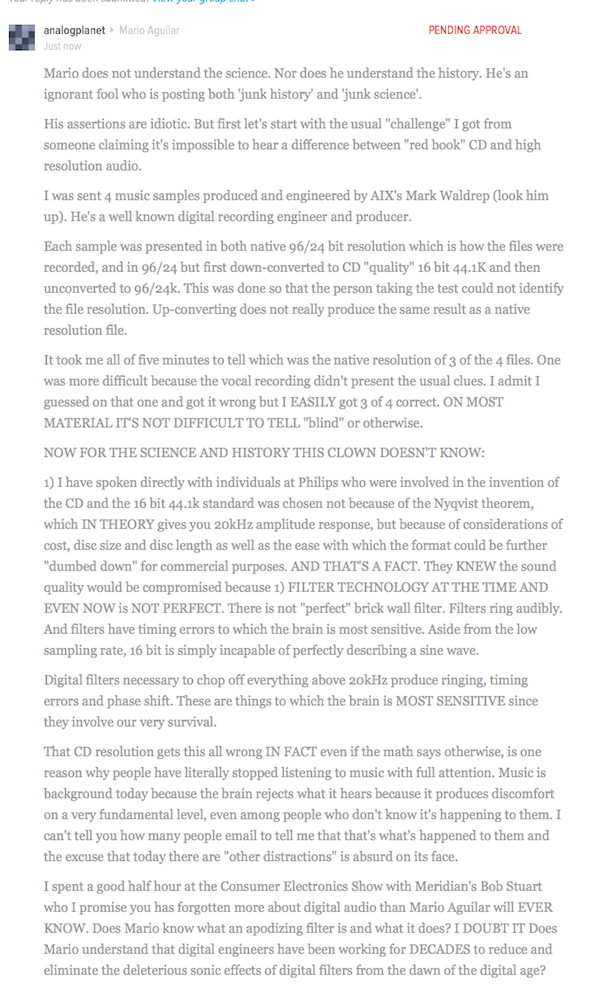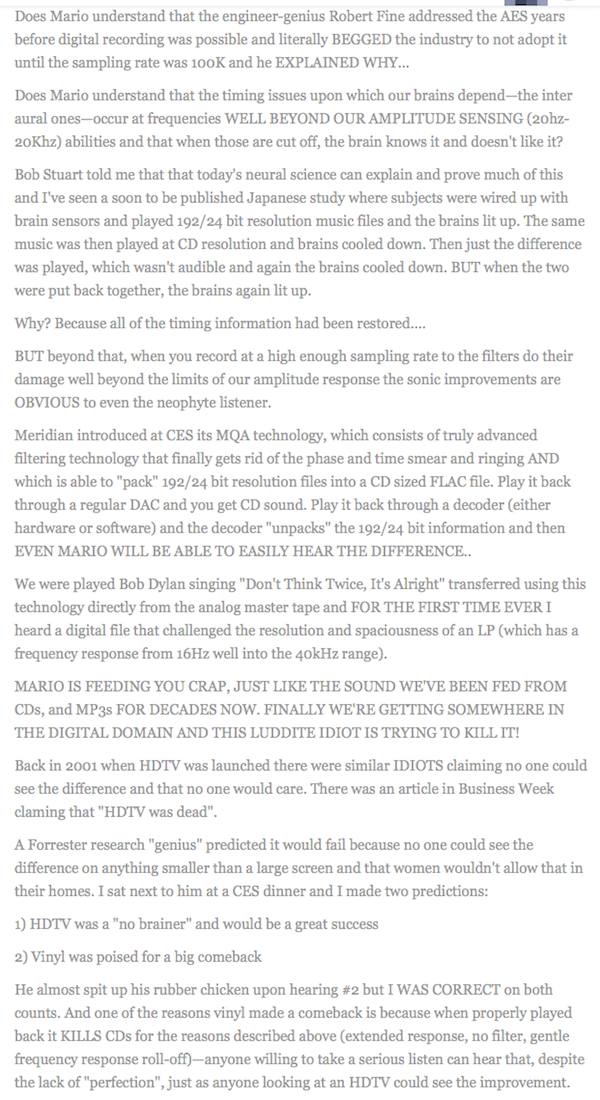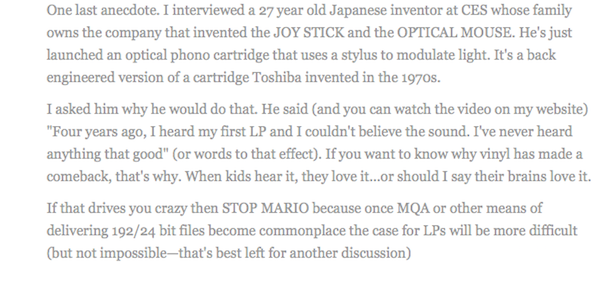 While I'm at it, let me tell you about E. Brad Meyer the "audio enthusiast" who co-published that aforementioned paper: some years ago I was invited by The Boston Audio Society to address the group about how the "TRON" soundtrack was produced. Brad, who always struck me as a very nice and decent fellow, gave me his address outside of Boston and I drove up there. Brad does not live in just a nice house or a McMansion. I'd say it's closer to a mansion with a cut stone circular driveway. The interior was filled with antiques and fine art. His wife told me to go out back where I'd find him either at the tennis court or the swimming pool.
After lunch we walked to the two story building on the property where Brad works and has his listening room, located on the second story in a Faraday cage (to reject RFI/EMI) and on springs (as I recall).
So here's what this wealthy "audio enthusiast" has for a system: a pair of Snell Type A speakers with subwoofers connected via heavy gauge lamp cord to a DBX preamp and DBX amplifier that Brad proudly said he'd bought at a bankruptcy sale. The build quality is similar to a NAD 3020—good for the price but cheap. For a digital source Brad had as I recall it, the original Sony CDP-101, which based on his measurements was "perfect" in the 1980s and still "perfect" today. He had his AR-XA turntable out for me, fitted with a Pickering XV15 cartridge.
He first played for me a Taj Mahal album. When I immediately said "Brad, that record is stereo but it's playing in mono, he responded "Good catch! I forgot I'd strapped the cartridge pins to play a mono record" (forgot probably because he'd not used the turntable in years).
The point I wish to make is that here's a very wealthy guy who claims to be an audio enthusiast yet his system is dated and thoroughly mediocre. Even if you believe if it measures "perfectly" it sounds perfect, in a home full of beautiful furnishings, artwork etc. wouldn't you also appreciate a finely crafted piece of audio gear and appreciate it even if just for how it looked and felt—even if you didn't believe it might provide a sonic improvement?
What is with appreciating the finer things in life except for the field in which you claim to be an enthusiast in which case you proudly own mostly junk and/or outdated or mediocre gear? What is wrong what that picture?
Does Brad listen wearing a hair suit? I don't get it. It's a condition of some kind that I don't understand but it goes a long way towards explaining why anyone would take the time and make the effort to "prove" that CD sound was indistinguishable from high resolution audio when the ears that we know and trust tell us it is so?
Why would you not exalt in finally being able to move beyond a 20kHz brick wall filter that rings, and produces time and phase smear that close to the audible band? Why would you not want to extend the response well past the limits of human hearing when you know that instruments produce harmonics and overtones that go well beyond the limits of human hearing and when you know that the timing information that we have relied upon for our very survival occurs at frequencies well beyond what our amplitude perception is? Why would you exert effort to stop the clock in 1982?
Let E. Brad Meyer and David Moran and the entire BAS live in the world of "CD perfection." Who cares? The problem is lemmings like Mario Aguilar use their mental pooper scoopers to pick up this stuff and spread it on the Internet. It's a big problem. We all have to fight this every chance we get.
<!- ------------------------------------>