Gold Note PH-5 Phono Preamp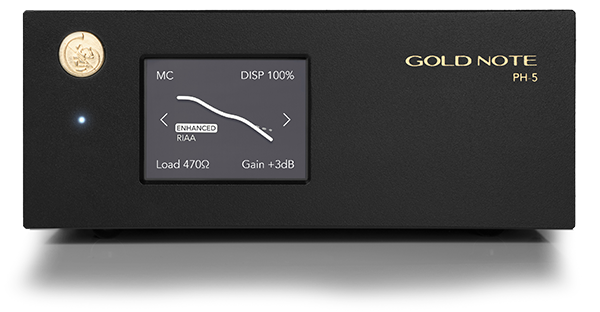 As a dedicated vinyl user and analog-centric equipment reviewer, I'm well-versed in the setup procedures required to get the best from my record collection. That typically means scouring the fine print for loading and capacitance specs when setting up a moving coil (MC) cartridge, aligning interconnects to input and output jacks, and attaching that sneaky ground wire to a phono preamp's back-panel screw-down nut.
Cartridge alignment is equally important — and, these days, I actually enjoy the process. Another decision I face is whether to use my heavy-duty Judy power cord, or to go with the typically puny cord supplied by the manufacturer. (The latter usually wins, as that's what the consumer will receive and typically use.)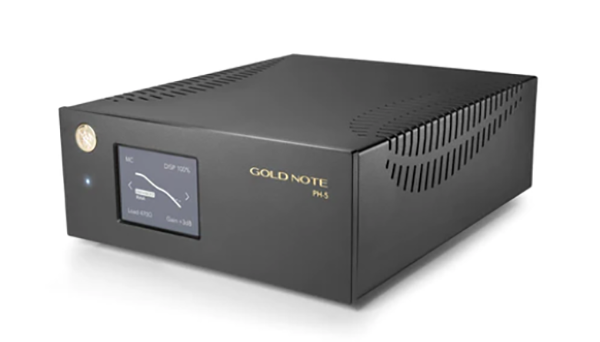 So, you could've knocked me over with Ringo's drum key when I unboxed the Italian-made Gold Note PH-5 phono preamp (SRP: $999). Its fascia greeted me with only a glass touchscreen control panel — no dip switches nor bleeping LEDs, stepped dials, or illegible notation. (That said, a small single LED does indicate power status.) Once powered, the PH-5 presented the full-on sensory experience at a touch of its display control window.
This is one clever device. But employment of a touchscreen, no matter how smart or easy to use, made me wonder, "Is there some kind of digital machination operating within the PH-5 to allow its touchscreen accessibility?" Let's find out.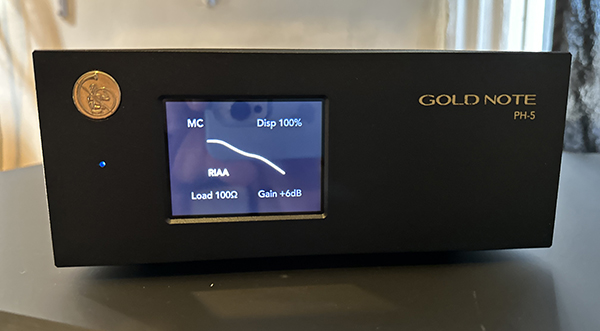 Features & Specs
Regarding the PH-5, the Gold Note site states, "The digital interface is combined with a full analogue heart: indeed, the signal path is made through discrete audio-grade components and sealed single switches, and it's optimized to shorten the distance and minimize possible interference. Every setting selected through the touchscreen is applied to the audio signal switching its path through the usage of relays."
The PH-5 offers myriad adjustments. Power is enabled or "unpowered" by firmly holding a fingertip on the touchscreen for 1 to 2 seconds. Nine input impedance choices start with 10ohms, and continue on with 22ohms, 47ohms, 100ohms, 220ohms, 470ohms, 1kohms, 22kohms, and 47k ohms. Its four gain options are –6dB, 0dB, +3dB, and +6dB. Also alterable by fingertip are pressure, choice of MC or MM cartridge, and display brightness.
Capacitance for moving magnet carts is set at 220pF. And something I've never seen in a phono stage at this price point — never mind its easy useability — the PH-5, like its more expensive PH-10 sibling, offers three different equalization curves! And just what are these curves, exactly? "The PH-5 allows a selection of the most appropriate equalization curve for each vinyl record, directly on the touch display: RIAA, Decca London, and American Columbia," states the Gold Note site. "Thanks to our proprietary technology inspired by Georg Neumann (the producer of the famous Neumann Disc Cutting Lathe), each curve can be 'Enhanced' to extend the frequency response up to 50kHz, improving even further the stage, dynamics, and resolution when required."
Though unexplained in the PH-5 manual, "Enhanced" mode is enabled by holding one's finger on the current curve setting until left and right arrows appear. (You can see those arrows in the PH-5 photo at the very top of this review.) Tapping an arrow leads to each curve's Enhanced function.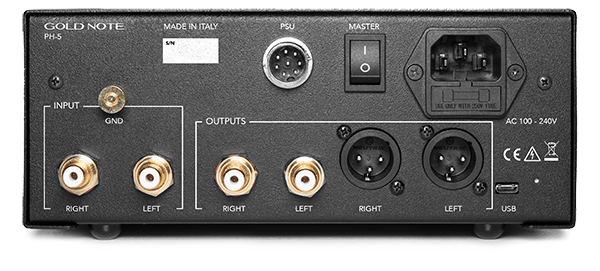 That covers all front panel control options of this attractive, streamlined unit. Around back of what appears to be the PH-5's steel chassis and enclosure, connections include a single pair of RCA inputs and ground screw, two pairs of output jacks — RCA and XLR — a DIN input for Gold Note's compatible external power supply, master power switch, IEC input, and a small USB input for firmware updates.
Setup
I used a lot of gear in this PH-5 review, including (deep breath) a Thorens TD 124 turntable with Jelco 350 S tonearm and Kuzma CAR-30 MC cartridge; a VPI Avenger Direct turntable with a VPI Fatboy Gimbal tonearm and VPI Shyla MC cartridge; Shindo Haut-Brion, Pass Labs XA-25, and Mytek Brooklyn AMP+ power amps; PrimaLuna EVO 400 integrated amp; and Volti Audio Razz and Harbeth Super LH5plus XD loudspeakers.
Cabling included AudioQuest Black Beauty (RCA), Triode Wire Labs Spirit II (RCA), and Analysis Plus Silver Apex (RCA, Neutrik) interconnects; Analysis Plus Silver Apex (speakers), Auditorium 23 (bananas); and Triode Wire Labs Obsession NCF (AC).
Accessories were a Pro-Ject VC-S2 ALU Record Cleaning Machine (RCM); Audio Desk Systeme Vinyl Cleaner Pro, Hunt Mark 6 Carbon Fiber Record Cleaning Brush, and an IsoTek EVO3 Aquarius line conditioner.
And then — it was serious listening time!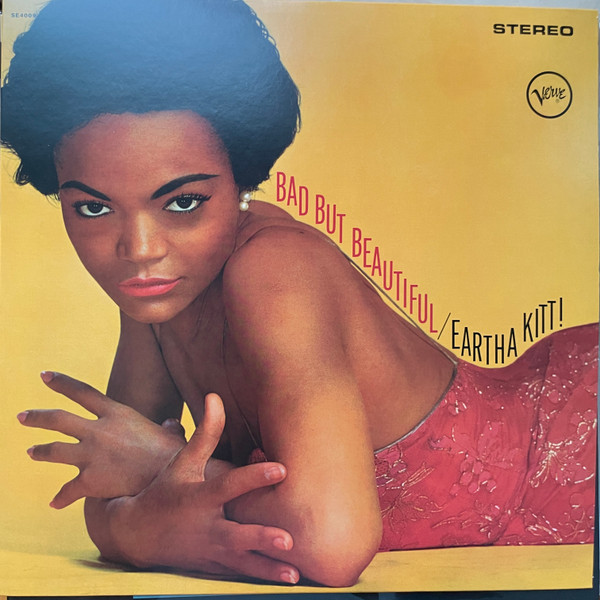 Listening Sessions
I evaluated the PH-5 with releases from the Verve By Request series, two of them manufactured at Jack White's Third Man Pressing in Detroit, Michigan (my hometown!). Though the cardboard album jackets are a mite thinner than I would like and the records are packaged in ordinary paper sleeves, I've found Verve By Request pressings to be clean, clear, and resolute — and a good alternative to expensive early pressings, even if you could find any of them.
From this series, I cued up Blossom Dearie's Blossom Dearie (Third Man Records TMR-936, mastered at Sterling Sound), Eartha Kitt's Bad But Beautiful (Third Man Records TMR-937, lacquers cut by Joe Nino-Hernes and Ryan K Smith, mastered at Sterling Sound), and Yusef Lateef's Psychicemotus (Verve Records B0037579-01/Impulse! A-92; mono catalog number, but stereo pressing, and no remastering information available) — all of whom provided a solid swath of vinyl sound from which to evaluate the PH-5.
For good measure, I also played Donald Byrd's Fuego (1960 Blue Note 4026 "New York USA," "RVG" stamped) and Stanley Turrentine's The Spoiler (1967 Blue Note Liberty 84256 "RVG").
The recommended load impedance for the Hana Umami Blue MC cartridge I also swapped in at times for this PH-5 review is a lowish 80ohms. I set the RIAA curve to 47ohms at first, and I found pushing it to 100ohms intensified bass weight and a larger sound, overall.
I was instantly and most noticeably taken with the PH-5's clean, smooth, lucid delivery. There's nothing aggressive, harsh, or biting from this Gold Note phono preamp. The PH-5 is uncolored, more transparent, and flat-sounding than, say, some tubed-phono stages. It never lacked for richness, though that was not the design goal for this unit, I believe. Rather, the PH-5 is voiced to sound neutral, allowing for greater transparency and speed.
Allied to its knack for fetching microdetail and its well-balanced sound and reasonably deep soundstage, I was ready for cueing up even more vinyl. The PH-5 pulled gobs of ambient detail from the late, great Tony Bennett's Sounds for the Jet Set (Columbia CS 9143), Eydie Gormé's Don't Go to Strangers (Columbia CS 9275), and Dexter Gordon's Dexter Calling (Blue Note Liberty 84083), especially the burr-like textures of Gordon's tenor saxophone.
And on one of my all-time favorite LPs, The Miles Davis Quintet's Relaxin' With The Miles Davis Quintet (Prestige 7129), the PH-5 drew ultra-micro-detailed versions of Miles' muted trumpet tones, John Coltrane's tough saxophone textures, and Paul Chambers' sinewy upright bass.
Images were a little smaller than with other phono stages I've had in-house, but the PH-5 is superbly quiet, drawing fine transparency and speed while it brilliantly illustrates the music and production. Instrumental body was also quite good. But, admittedly, I longed for the weight of my twice-as-expensive Tavish Audio Design Adagio phono preamp, while the PH-5 was more true to the recording — transparent and detailed.
The PH-5 presented fine scale and depth, its upper tier resolution one of its standout traits. When I engaged RIAA Enhanced, upper treble resolution and air dramatically increased, while slightly diminishing ultimate low-end spread and performance.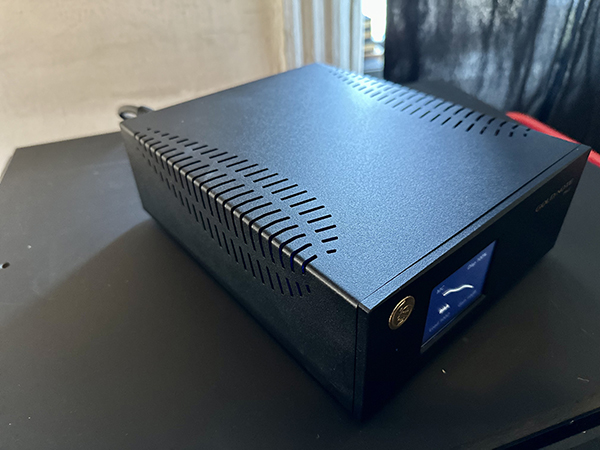 Conclusions
The Gold Note PH-5 phono preamp is flat-sounding, coherent, neutral, and transparent — a fine piece of gear that also manages to pull emotion and character from a myriad of vinyl recordings. It seemed engineered to pull the most music from the widest array of production scenarios, and is perfectly suited to the listener who enjoys everything from jazz and classical to electronic music — my copy of Edgar Froese's Aqua (Virgin OVED 20) fared well, for example — and indie-pop too, as Father John Misty's God's Favorite Customer (Sub Pop 73SP1245X) also delivered in the right way. I wouldn't say the PH-5 is particularly sweet, but it is true. Some want dazzling colors and supercharged sounds; some want to hear what's on the record. The PH-5 achieves the former, beautifully.
Traveling a few hours by air for comparison, the Italian-made Pathos In the Groove MM/MC phono stage with external power supply (and a bit more pricey, at $1,895), was more spacious and shapely sounding, but it lacked the PH-5's sense of control and smoothness. Meanwhile, a German-headquartered company, Vincent Audio, lent me their PHO-701 hybrid phono preamp for review here last month. It too also had an external power supply (and a more comparable $799 SRP). The PHO-701 presented more frequency peaks than the lucid PH-5, and sounded more recessed overall, and less well-controlled. It also lacked the refinement and transparency of the Gold Note phono preamp.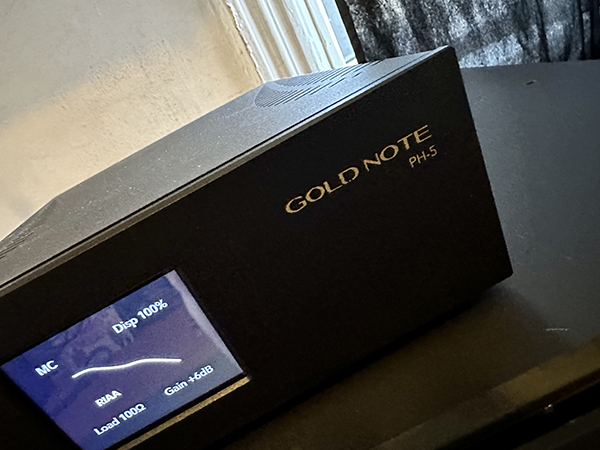 Just as it is a golden age for vinyl reissues, the current hi-fi customer has a wide array of fine-sounding equipment to hear at every conceivable price point. At the attractive and memorable price of $999, the Gold Note PH-5 phono preamp deserves serious attention. It produced a coherent, controlled, natural, highly resolving sound that was free of ear-jabbing frequency peaks, yet was dynamic and tonally succinct. Its consummate transparency and well-balanced, well-ordered overall sound made it a perfect fit for all types of music, as well as various types and levels of equipment. Italy may be hot as blazes at this moment in the height of summer here in 2023, but the PH-5 is a cool customer with a natural, music-loving sound. In short, the Gold Note PH-5 looks to be quite the golden choice for your next phono preamp.
For more about Gold Note, go here.
To find an authorized Gold Note dealer, go here.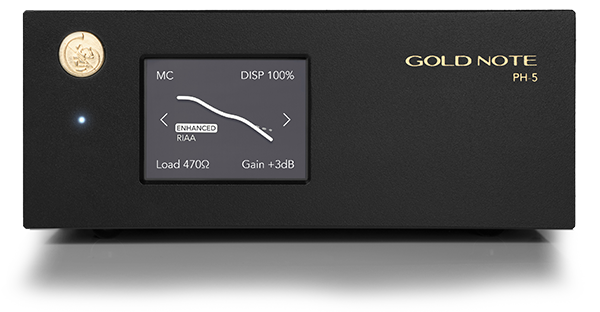 GOLD NOTE
PH-5 PHONO PREAMP ($999)
Specs
Inputs: One pair (RCA), with ground plug
Outputs: One pair (RCA), one pair (XLR)
Input sensitivity: 0.1mV (MC), >10mV (MM)
Input impedance: 10ohms to 47kohms (nine steps)
Gain: MM: 40dB; MC: 60dB (0dB, +3dB, ±6dB)
Capacitance (MM): 220pF
Output impedance: 50ohms
Infrasonic filter: 10Hz, 36dB/octave
Frequency response: 20Hz to 20kHz ±0.3dB (Enhanced mode, 20Hz to 50kHz ±0.3dB)
THD: <0.05% @1kHz
Signal-to-Noise Ratio: 89dB
Dynamic range: 105dB
Dimensions: 8 x 3½ x 10in (w/h/d)
Weight: 2.64lb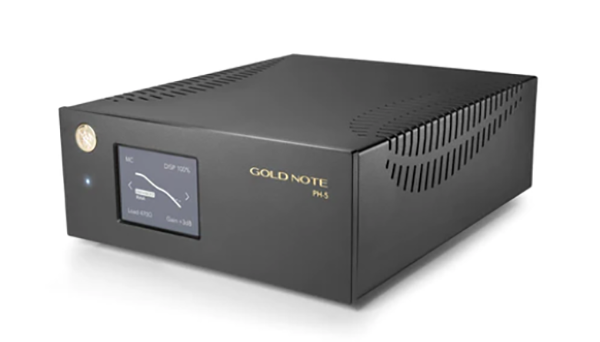 <!- ------------------------------------>