Hand to Hand Combat!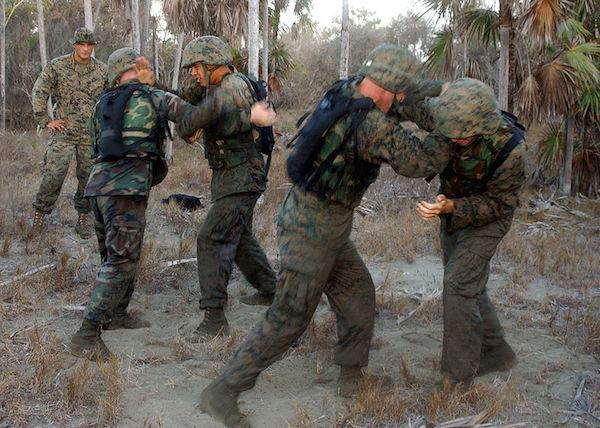 I got into it in the discussion section of a ridiculous
Rolling Stone
story. Why did I waste my time doing so? Because this is
hand-to-hand
combat folks! Get your hands dirty!
Michael Fremer Andy.... • 4 minutes ago
Andy, you did not insult my "religion". My beliefs are based on facts including the fact that vinyl has a much wider bandwidth than does CD. I am about to publish a paper by an E.E. demonstrating using MATH that vinyl actually has theoretically wider dynamic range than CD..but back to your claim:
Peak limiting and other processing has long been used as much for artistic purposes as well. Rock music doesn't sound very good without a bit of dynamic compression to add some "punch" but that's a different issue.
The fact is there's no reason today for technical reasons to dynamically compress music cut to lacquer. And most properly done vinyl reissues have no limiting whatsoever other than what may have been used originally for artistic purposes.
Ironically the loudness wars are causing CDs to be dynamically compressed while the vinyl version of the same music is not.
I participated in a mastering panel with Bob Ludwig and Doug Sax where Sax played for the audience the vinyl and CD versions of the same reissue and the vinyl clobbered to CD for that very reason and also in my opinion because vinyl just sounds better than CD.
I cannot stand listening to CDs. I was primed to love them when they came out but couldn't believe how awful they sounded and how everyone was saying how great truly awful sounding reissues sounded.
Today the same people say "Oh yes those original CDs did sound bad because (list of excuses here) but now....." And guess what? I still find them sounding pretty bad especially when I compare to the original vinyl.
Vinyl did not "fail" in the marketplace Andy! History shows that formats last around 30 years. Actually cassettes displaced vinyl first and that's because of portability. Then came CDs, which were oversold as having superior sound and durability.
Cassettes faded because of the 30 year rule and because track skipping is impossible. And because high speed duping is bad for sonics.
CDs are now fading. Why? First the 30 year rule. And what replaced it? MP3s. That's CRAZY. It's going to a worse sounding format! But that was also true of the switch from vinyl to cassette, and in my opinion from cassette to CD but CD was more convenient. MP3s are too and they take up less storage space.
Second CDs are fading because they are not all that durable. If you don't exercise the same care as required for vinyl they scratch and once scratched they either don't play or they skip of the reflective layer oxidizes over time and they become unplayable.
The WSJ estimated a few years ago that there are 2 BILLION DOLLARS worth of unplayable CDs in America. The Library of Congress is spending a fortune preserving CDs now before they become unplayable. And of course the packaging has always been awful.
I watched CDs take over. I happily bought up all of the dumped vinyl that sounded better and was much better packaged. I saw the success of CD as a mass delusion and predicted back then that a spinning digital disc was doomed as soon as digital storage became feasible.
That is now and CDs are fading. It was and is a terrible format physically and sonically. Yet today the move to higher resolution digital audio is being fought by a rear guard action by know nothing computer writers who parrot the little they know about sampling rates to "prove" the perfection of 16bit 44.1K audio. It's laughable.
Your final paragraph is wrong on all counts, as much as for whatever reason or reason you wish to declare vinyl a 'dying beast'. If it's "dying" why did Stoughton Press, which manufacturers LP jackets just invest 2.5 million dollars in a state of the art Heidelberg printing press? If it's "dying" why did United in Nashville double it's vinyl pressing capacity (it was previously the largest in the country). If it's dying why did Pallas in Germany and GZ in the Czech Republic just add brand new presses (yes new ones not refurbished).
If it's "dying" why are the other pressing plants operating at full capacity and moving to double shifts?
It is NOT "dying"! It is growing. If you wish to predict it will eventually fade and die go ahead but I predict you will be wrong just as I predicted in the 1990s that vinyl would make a strong comeback.
I was correct. I told execs at MCA (now Ume) not to sell its pressing plant because they'd need it. I was correct. I told Warner Brothers execs in the 1990s not to sell its Olyphant, PA plant because it would eventually be needed. I was correct though they thought i was nuts.
I told Howard Stern on his show in 2001 that vinyl was poised for a big comeback....I was CORRECT!
And why? Because a $399 Pro-Ject Debut Carbon can do things sonically that no CD player manages. The brain LIKES the sound in ways that it does not like CD sound.
Young people exposed to this sound LOVE IT. I get the emails from them daily. They like the sound, they like the packaging and they like the entire experience.
Ironically this market is growing the same way MP3s did in the 1990s: virally. It's not being pushed by corporations. They are following as they did in the 1990s with MP3s.
I have 40 and 50 year old records played hundreds of times that sound way better than any CD reissue. They are quiet, and not at all noisy and/or worn out because they've been properly cared for.
The records kids are buying now if properly cared for will still sound great in 40 years after I'm dead and buried and when that happens a younger generation of vinyl fans will get my collection and those of other boomers who took care of their records.
We agree that vinyl will be a niche market. So what? So are Apple computers, so is fine wine, so is gourmet food so are high performance cars and exotic watches.
The only difference is that a $399 turntable can give a pretty good taste of what's possible. That's very affordable. Pro-Ject sold 250,000 turntables last year. Yes, that's niche compared to the general population but so what?
The goal for me has been to see vinyl survive and prosper. Mission accomplished. I have a friend in L.A. who has befriended many very famous and very young musicians. They visit, they hear a good turntable and the next thing they do is buy one and start buying records. They flip out! They get it after one play.
That is what's happening and that is why vinyl sales are growing. Not because it's a hipster fad. Andy, I couldn't care less what format people use to consume music but I find it fascinating to read the comments under all of the vinyl comeback stories.
The negative ones are so filled with bitterness. I'm left thinking maybe these people aren't enjoying all that much their digital listening.
I know my website's readers (demographic tending younger all the time) are having a great time listening to records!
<!- ------------------------------------>