Here It Comes Again: Nirvana Collection from UMe This Time at 45rpm (updated 7/9/15)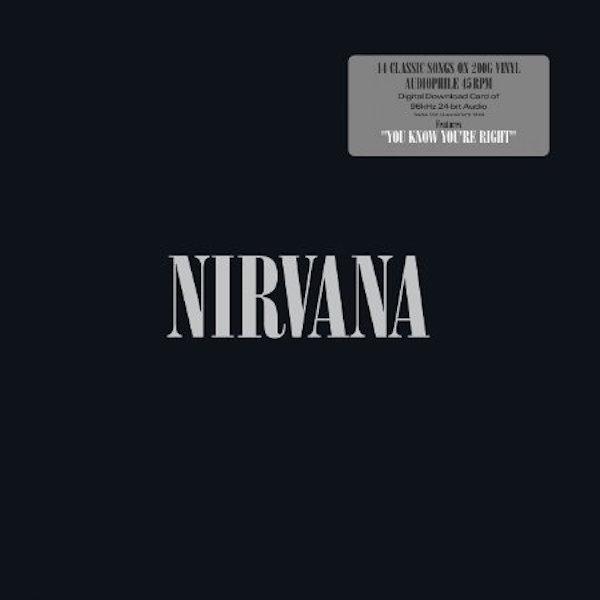 First released in 2002 on CD and double LP, this collection of familiar Nirvana tunes plus the then previously unreleased "You Know You're Right" is again being reissued with some new production twists.
The 14 tracks include all of your favorites (that you perhaps already own). The previous vinyl set was in a single sleeve jacket. This one is a gatefold, but more significantly it's at 45rpm and pressed on 200g vinyl as well as a less deluxe set on 150g vinyl.
If you buy the 200g records you get a 96k/24 bit download. Buy the 150g set and you get 320kbps MP4 audio. The compilation will also be issues as a Blu-Ray Pure Audio at 96/24 plus three DTS-HD Master Audio and Dolby TrueHD.
No doubt in my mind that the LPs were mastered from the high resolution files. Nirvana only produced a few albums before Kurt Cobain's passing. So do you need this compilation? Well if you didn't buy Never Mind when Mobile Fidelity issued it some years back, or you missed the spectacular, rocking, ORG Music reissues from a few years ago, cut from analog tape and pressed at RTI and now out of print, this is probably a good way to go. Certainly better than the original Sub Pop vinyl more than likely cut from a CD.
The real lesson here is: he/she who hesitates loses. Those ORG Music reissues were the best.
Received an email today with mastering details from UMe, which we very much appreciate:
"We used highest resolution digital files as noted below for each song. Final assembly and lacquers were cut by Chris Bellman at Bernie Grundman Mastering. For the lacquer cutting process only, the last two 44.1kHz 16-bit sources "All Apologies" and "The Man Who Sold The World" were up res'd to 96kHz 24-bit so all audio was a consistent resolution to cut from. For the Blu-ray Pure Audio edition these same two tracks remain as 44.1kHz 16-bit files."
YOU KNOW YOU'RE RIGHT
Recorded by Adam Kasper
at Robert Lang Studio Mixed by Adam Kasper
96kHz 24-bit Mastered by Bob Ludwig at Gateway Mastering Studios Previously unreleased
ABOUT A GIRL
Recorded and mixed by Jack Endino
Drums: Chad Channing
96kHz 24-bit Mastered by George Marino at Sterling Sound Licensed courtesy of Sub Pop Records
(p)1989 Sub Pop Records
Originally appeared on Bleach
BEEN A SON
Recorded and mixed by Steve Fisk
Drums: Chad Channing
96kHz 24-bit Mastered by Chris Bellman at Bernie Grundman Mastering Licensed courtesy of Sub Pop Records
(p)1990 Sub Pop Records
Originally appeared on "Blew" EP
SLIVER
Recorded and mixed by Jack Endino
Drums: Dan Peters
96kHz 24-bit Mastered by Chris Bellman at Bernie Grundman Mastering Licensed courtesy of Sub Pop Records
(p)1990 Sub Pop Records
Originally appeared on "Sliver" single
SMELLS LIKE TEEN SPIRIT
COME AS YOU ARE
LITHIUM
IN BLOOM
Produced and recorded by Butch Vig
Mixed by Andy Wallace
96kHz 24-bit Mastered by Bob Ludwig at Gateway Mastering Studios Originally appeared on Nevermind
HEART-SHAPED BOX
PENNYROYAL TEA*
Recorded by Steve Albini
Mixed by Scott Litt
96kHz 24-bit Mastered by Steve Rooke at Abbey Road Mastering Studios Original versions appeared on In Utero
* previously unreleased single mix
RAPE ME
DUMB
Recorded and mixed by Steve Albini
96kHz 24-bit Mastered by Steve Rooke at Abbey Road Mastering Studios Originally appeared on In Utero
ALL APOLOGIES
THE MAN WHO SOLD THE WORLD
Produced by Nirvana and Scott Litt
Mixed by Scott Litt
Guitar: Pat Smear
Cello: Lori Goldston
44.1kHz 16-bit Mastered by Bob Ludwig at Gateway Mastering Studios Originally appeared on MTV Unplugged in New York Courtesy of MTV Networks
<!- ------------------------------------>