This Is How It's Done: Analogue Productions Readies the Stevie Ray Vaughan Catalog Cut Using Master Tapes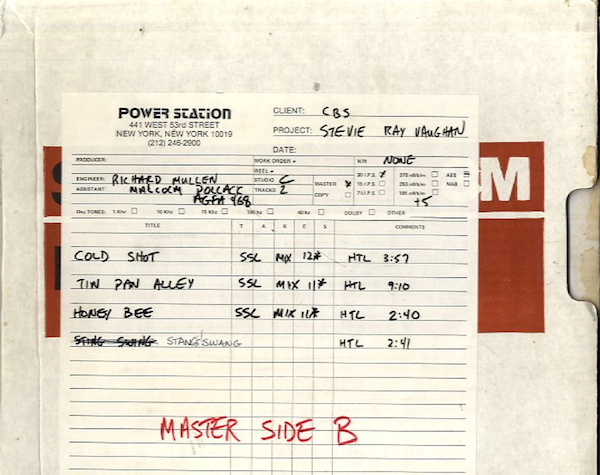 With all of the reissues coming from questionable sources or proudly proclaiming their "digital-ness" ala The Beatles Box, we're fortunate to have labels like Analogue Productions, Mobile Fidelity, ORG, IMPEX, Rhino and the others cutting lacquers from analog tapes.
Acoustic Sounds' Chad Kassem sent this image of the master tape box from Couldn't Stand the Weather one of the many Stevie Ray Vaughan albums his reissue label is currently readying for release, pressed at his Quality Record Pressings pressing plant in Salina, Kansas. That's a form of vertical integration we like!
I have heard some truly miserable vinyl reissues from labels like Vinyl Lovers and ZYX some of which didn't even sound like the same music when compared to original pressings.
I've also heard test pressings of these SRV albums and they will rock your world!
So, we are lucky to have these companies that are doing things correctly lavishing vinyl goodies on us all year long. Sometimes we wish they'd stop long enough for us to catch up, but then we come to our senses and say "more please!" even when the shelves are stuffed.

LATEST VIDEO
<!- ------------------------------------>