Boys Don't Cry by Rumer LP Sweepstakes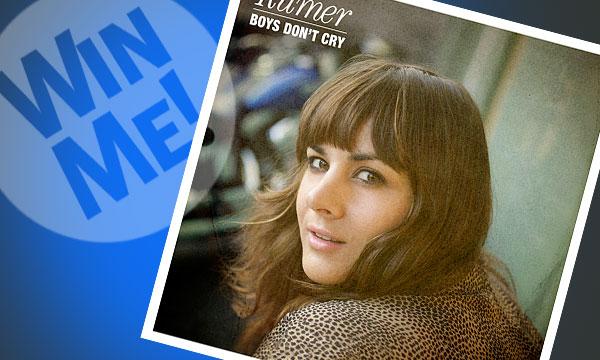 Register to win one of 25
Boys Don't Cry
by Rumer LPs (MSRP $24.98 each) we are giving away.
According to the press:
"We seem to be, in England, capable of bringing these singers out like Adele, Duffy, and Amy Winehouse and Now Rumer. People with extraordinary voices. They don't come along that often and then you get one that comes along like Rumer's. Just extraordinary, a beautiful voice. She's going to be a huge star." – Sir Elton John

"It is so nice to have a singer just sing a song without the frills and the diva tricks. Rumer really delivers the goods." – Burt Bacharach

"Rumer is wonderful, a real gutsy singer." – Carly Simon

"Rumer (born Sarah Joyce) has one of those timeless, jazz-soul voices--like Norah Jones, Amy Winehouse, and Adele--that makes you stop and pay attention." – Vanity Fair

"We have a feeling she is about to break out into a league of her own very soon." – Nylon

"A singer sure to become a stateside star later this year." – New York Daily News

"The most exciting new talent of the moment." – The Observer

"Stunning… the world really does need her songs." – The Telegraph

"The hype is justified – this new singer is the real deal." – The Sunday Times

"She's more than a new discovery…the best act we've heard in ages." – The Guardian

"Clearly well on her way to stardom… Rumer is stunning." – The Independent

The best new voice of the year – MOJO Magazine
To enter the sweepstakes, all you need is an account on this website. If you don't already have one, click on the link labeled "register" at the bottom of this announcement or "Create new account" in the right column (under the ads). Then, enter a username and a valid e-mail address, and click on the "Create new account" button. A message will be automatically sent to the e-mail address you specified, which will include a link to activate the account.
The final step (and only step for those who already have an account) is to log in and leave a comment right here on this announcement—any comment will do, as long as it's not profane or spam. Then, when the sweepstakes closes, a lucky commenter will be chosen at random to receive the prize. So post a comment, and good luck!
For complete sweepstakes rules, click here.
[This Sweepstakes is now closed.]
<!- ------------------------------------>