longlivethequeen Wins the AudioQuest DragonFly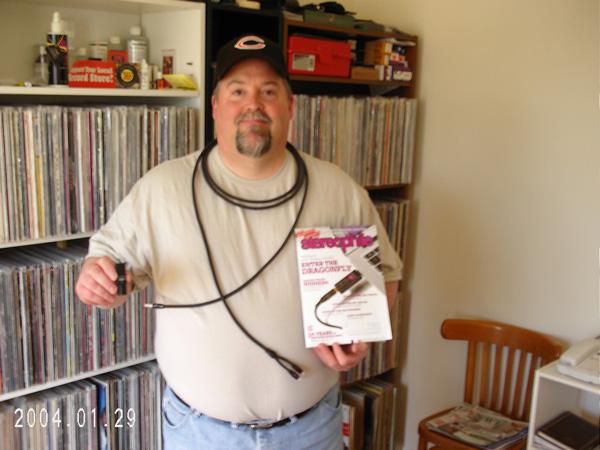 longlivethequeen
, our randomly selected winner in the AudioQuest Dragonfly and Sydney interconnect
sweepstakes
seemed let down by our offer at first.
"Digital huh?"
But the random winner generator cannot be denied.
Now it seems Jon Pearson of La Grange, Illinois can't keep his hands off his prize. The Sydney not only makes a great interconnect but a stylish necklace, as modeled here by Pearson alongside the Stereophile October 2012 issue featuring Art Dudley's review of the DragonFly. Jon! Just because it's digital doesn't mean you can't use it. We may live on an Analog Planet, but it's just a tiny part of this hi-fi galaxy. Plug it in!
Just joshing. I'm sure Jon knows exactly what he's doing. Thank you very much for your participation Mr. Pearson. We truly appreciate it.
<!- ------------------------------------>
| | | | | | | | | | | |
| --- | --- | --- | --- | --- | --- | --- | --- | --- | --- | --- |
| | Equipment Reviews | | The Gruvy Awards | | Blogs | Columns | | Show Reports | | News |