IMPEX to Issue on 180g Vinyl "Famous Blue Raincoat" From Jennifer Warnes' Analog Mix Tapes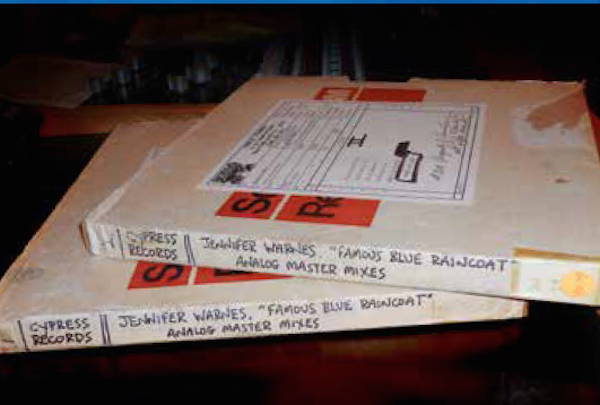 IMPEX Records recently announced the forthcoming reissue of Jennifer Warnes' classic album
Famous Blue Raincoat
cut by Bernie Grundman from using Warnes' own personal analog mix master tapes.
Originally released in 1987 on Cypress Records and then by Private Music after Cypress folded. It was later reissued by Classic Records on 180g vinyl.
The album is a true "audiophile classic" plus being a just plain great record that suffered over time from overexposure. Warnes covers Leonard Cohen songs including of course the title track. Guests musicians include Cohen himself as well as Van Dyke Parks, Michael Landau, David Lindley, Stevie Ray Vaughan, Fred Tackett and many others.
IMPEX claims this is "the first time in over 30 years, an exclusive 33-rpm all-analog (italics mine) vinyl LP of her groundbreaking classic."
The record is scheduled for release "late summer 2015", IMPEX catalog number IMP6021. The announcement leaves open the question of what Classic Records used for its vinyl reissue and also, I've been told by numerous people that the original Cypress Records CD is marked with a "DDD" SPARS code.
So is Ms. Warnes' analog tape a mix down from a digital multitrack? If so it's not quite accurate to call this vinyl reissue "all analog", though I'm speculating on all fronts here.
The lead engineering credit goes to Csaba Petocz who has engineered many extraordinary records. I was going to contact him to get the lowdown on how this album was actually recorded, but it turns out he passed away from cancer two days ago.
My long time acquaintance Joe Chiccarelli posted this on the gearslutz website:
Csaba was my friend , my collaborator and my teacher in all things important in this world. His passion for life and his relationships was beyond extraordinary. It was reflected in his work and appreciated by all that came to meet him over his brief lifetime.
For all those who aspire to be great engineers and producers his work with Metallica, John Michael Montgomery, Aretha Franklin, Alanis Morrisette, Cracker, Al Stewart, Larry Carlton, Morrissey, Elvis Costello and so many others was always top shelf. It's the way he lived life -- wanting and savoring the best in everything and everyone. It's really worth a listen to appreciate his work and how much he cared and strived for excellence at every turn of a knob.
I learned so so much from him. Not only about record making but the things that really matter. The way he respected artists and gave himself fully to them and their music. The way he valued his friendships and interactions with everyone he met. The total Love and Respect he had for his wife.
He is deeply missed by so many. For those who didn't have the pleasure of knowing him I know his work will become an inspiration."
The original mix was by George Massenburg so I emailed him about the multitrack and received this reply: "Sony 3324 by Bill Youdelman for the most part". Not to worry: that's how Roxy Music's Avalon was recorded. The master was mixed to 30IPS analog tape.
Patricia Barber's albums were digitally recorded by Jim Anderson and they sound fantastic on vinyl so does it really matter how this was originally recorded? What's more important is how well it was recorded and in this case very well, but it is not 100% accurate to claim this reissue will be "all analog".
<!- ------------------------------------>