It's Store! It's a Home! It's a Home and a Store!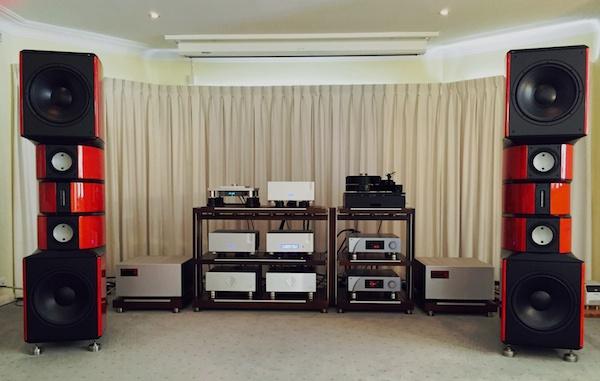 Audio/video dealer Jeff Knox has set up shop in his home and his wife Cherie is okay with it. He is one lucky fellow.
While in Australia I visited two from-the-home dealerships. It may be more common in Australia than in America. On the final night of the trip in Sydney I was taken by Telos Audio Distributor's Mark Doehmann to Knox Audio where I met Knox and his lovely, hospitable and tolerant wife and I re-connected with some of the Melbourne show attendees including Australian audio critic Edgar Kramer.
Knox also invited over some friends/customers (I get the idea that they are difficult to tell apart) so it was as much a party as an informal get-together.
Knox sells a plethora of brands but his "showrooms" this evening had small Evolution Acoustics in one room and the large MMThree speakers in the other, powered by Soulution 701 mono blocks. The rest of the system included the AMG Viella turntable and 12J2 tone arm plus MySonic Labs cartridge Ypsilon VPS-100 phono preamp and MC L step up transformer, Ypsilon preamplifier and CD transport and DAC. There was some other gear on the rack but I can't recall what it was—probably home theater-related.
Knox sells Aesthetix, Boulder, darTZeel, Jeff Rowland, Marten Design, Thrax, Unison Research, Vitus Audio and many other brands. He had both the Audio Deske and KLAUDIO ultra-sonic cleaning machines, which he uses in a dual machine ritual beginning with the Audio Deske and ending with the KLAUDIO. I'm good with either one thank you!
I'd never before heard the appx. $70,000 Evolutions so that was a treat. As you might have guessed the soundstage was BIG: tall, wide and deep. The speakers were well-integrated, which couldn't have been easy for the designer to achieve given that there's a pair of Acuton ceramic drivers and a ribbon tweeter in a D'Appolito MTM array plus two big-ass woofers. Dynamics were good too, and the system managed to disappear leaving a convincing picture.
The overall sound, while eminently enjoyable was on the slightly dry side. I could have used a more generous and luxurious sustain and a longer, more graceful decay but overall if you'd plunked down the really big bucks to have such a system I don't think you'd be watching too much television (though the room did have a drop down screen and front projection system too).
Everyone was so friendly and engaging and way into audio that it made for a really great Australian send-off (not that I'm yet finished with show coverage...but almost).
<!- ------------------------------------>