Is Kyron Audio's Kronos the Best Sounding System You Will Ever Hear?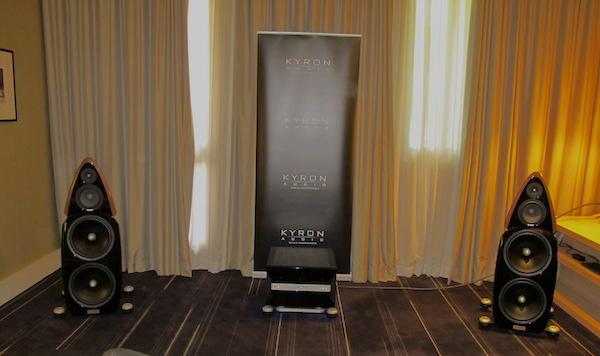 Kyron Audio's Kronos system consisting of a pair of open baffle 3 way speakers and a dedicated amp/preamp in a single box is everything I can honestly say I hate about audio: the amplifiers are Class "D", the system uses DEQX™ digital room correction and there's enough processing going on here to befuddle a mainframe.
Yet this designed and built in Australia system (the company's less expensive system) produced some of the best sound I have ever heard anywhere from an audio system.
I don't usually use superlatives and I'm usually most cautious around a digitally equalized system and especially one using full-range Class D" amplifiers (these NCore® power amplifiers from Hypex Audio in The Netherlands were designed by Bruno Putzeys, whose Mola Mola preamplifier we wrote about in RMAF coverage).
Everything about this screams at me "you should hate this!" but analogplanet.com readers, I sat down and went through track after track ripped from the Caliburn turntable at 96/24 resolution—songs I've played dozens of times at shows and of course live from the turntable—and what I heard from this system absolutely astonished me. There was nothing 'digital' about the presentation. Nothing. The top end was about as perfectly rendered as I've heard from all of these tracks as was the detail resolution. Response was top to bottom full-bodied though the speakers did not go all the way down. The bigger system does that. This one though is good to well below 30Hz and with no box, it was fast, ultra-clean and spectacularly transparent.
Instrumental textures and timbres were as accurate and realistically portrayed as I've ever heard them. The amount of true detail revealed in very familiar records was unprecedented. I swear I don't usually blather like this as anyone who knows me can attest but there was no denying what I heard.
I went back to be sure and I'm sure. I played the rip of Richard Thompson's "The Angels Took My Racehorse Away" from Henry The Human Fly his first solo LP (UK Island) recorded by John Wood at Sound Techniques and I've never before heard the drum sound so realistic and life-like and I mean never. But that was just the start of what I heard from the many tracks I played. The rip of a lacquer of "Night in Tunisia" from the Blue Note album of the same title was downright astonishing. "Can't You Hear My Knocking" just about made me faint. I'll stop now.
The designers Leon Suter and Lee Gray combine technical and musical experience and have produced something that is extraordinary and very, very special. The Kronos system complete with amplifiers, speakers and cabling will cost around $100,000 when it comes to America. When that is, is not yet clear but it will be soon. You will need to hear this. And I will need to hear what "live" vinyl playback sounds like before I would know if it's really as transparent as it sounds here.
I am blown away but fortunately my jaw didn't drop (string together your least favorite audiofool clichés here).
<!- ------------------------------------>