Where There's A TechDAS Air Force One Turntable There Must Be Other Good Stuff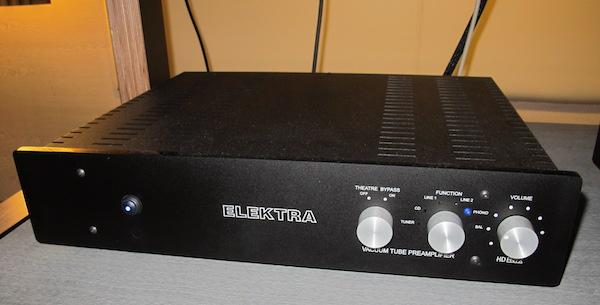 Vinyl simply wasn't a major event at this show, though it was there. When I noticed the Pure Music Group was demoing the TechDAS Air Force One turntable with the Thales Simplicity II tonearm I figured the room might have some other interesting analog gear.
Upon entering I encountered Pure Music Group's Warwick Freemantle—a more perfect Aussie name I could not imagine. In addition to the turntable, his company imports EMM Labs, HRS and Silent Running Audio racks, Thales, Lyra, Mola Mola and other premium brands some of which were in the room, including a pair of Accuton ceramic driver equipped $22,750 Guader Akustik Cassiano speakers.
However, along with the flashy imports was a plain looking black with silver knobs preamplifier that reminded me of some of the now discontinued Herron Audio products. It turned out to be a local product, the Elektra Pnyx preamplifier, a hand-built, DC coupled, fully balanced tube preamplifier utilizing four 6922 dual triode tubes. It features 7 inputs including theater bypass and an upgradable phono card that sells for $3900.
The system featuring the Air Force One, Thales Simplicity II tonearm and Lyra Etna combo plus the equally plain looking Elektra Reference HD power amp (250W per channel into 8 ohms, 500 into 4 ohms) driving the Guader speakers, sounded refined, transparent and altogether pleasant. We compared an older Mo-fi reissue of Louis Armstrong & Duke Ellington with one from Classic Records and the differences were apparent (the Classic won).
It was a nice sounding system and a pleasant room visit. I never did get the amp's cost but a $3900 tubed, balanced preamp with a built in phono section sounds like a good local stop though the phono section in the system that we heard was the RCM THERIAA from Poland.
<!- ------------------------------------>