Jack White's Contributions to Tyler's IGOR Barely Used (AnalogPlanet Exclusive)
In my earlier review of Tyler, the Creator's magnum opus
IGOR
, I note that Jack White plays with a less distorted tone than usual the guitar solo on album closer "ARE WE STILL FRIENDS?". This information comes from Tyler's Apple Music album release concert and remains the "official" word on the subject (the album credits make no mention of White, even though Tyler announced White's musical presence on the LP two days after its release).
However, White told me at his house last week that he is barely present on "ARE WE STILL FRIENDS?" despite Tyler's prior statement. White described working on the album as "weird:" Paraphrasing Jack's comment, which was not recorded: [Tyler] sent me this song, and I worked on it for 12 hours. When I sent him what I did, he never responded. I didn't know what happened to it until the album came out. Upon release, my engineer Joshua V Smith and I listened to the song three times and we couldn't hear much of what we recorded. I have a short backing vocal buried in the left channel at one point, but that's it. The guitar solo isn't mine. I don't think he liked what I turned in."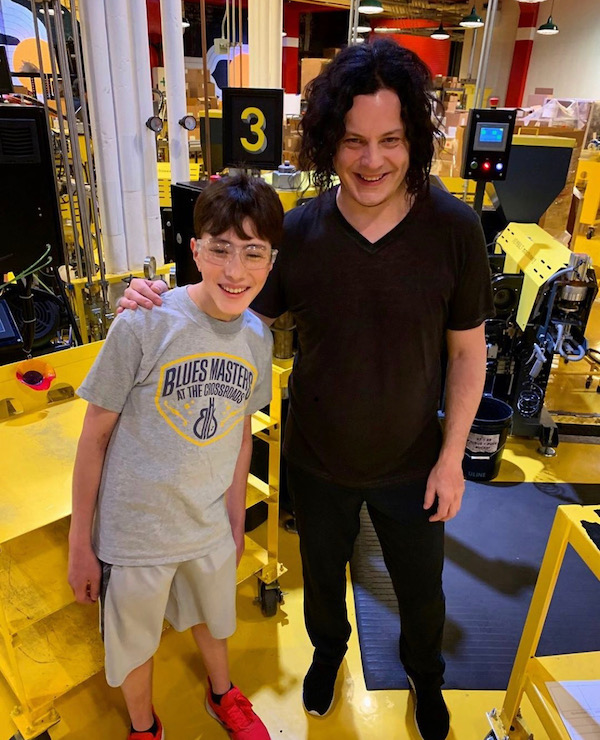 At the time of writing this we have no clues as to whose guitar solo it is (although we will update if we hear anything from Tyler or his associates). Mixing engineer NealHPogue also publicly said that when mixing even he wasn't able to tell who's who on
IGOR
. No wonder DJ Khaled (who threw a temper tantrum in the Epic Records offices when his trash album
Father of Asahd
debuted behind
IGOR
on the
Billboard
200) calls the album "mysterious shit." I mean, you know exactly who's on Khaled's boring, generic album and the guest rappers and producers know for certain that they're going to be on it! Here, it can be the opposite.
Jack's situation with Tyler is quite reminiscent of 070 Shake's situation with Kanye's Wyoming albums last year - Shake recorded a lot of vocals during those sessions, which would magically appear (or not) on the albums at literally the last second (Kanye is infamous for finishing albums late, at the last minute, and afterwards they're-released) without her immediate knowledge. I don't know when Jack submitted his work on "ARE WE STILL FRIENDS?" or when Tyler finished it, but there might be hints to the latter's answer hiding in plain sight: Mike Bozzi, who mastered IGOR at Bernie Grundman Mastering, has previously mastered albums at short notice such as BROCKHAMPTON's iridescence, finished only a week and a half before it dropped. Also, internal Sony Music documents planning Summer 2019's releases showed that a new Tyler album was expected before July, meaning that they likely didn't have a concrete release date yet. Lastly, the album's announcement came on fairly short notice, not to mention that no vinyl was available on release date (showing that there wasn't enough time to press a record between its completion and release). We can only speculate at this point, but it wouldn't be surprising given the above—in addition to the way hip-hop albums are typically released these days. Anyway, none of this detracts from the album's brilliance, which I explain in my review linked at the top. I guess I really enjoy "mysterious shit…" but don't we all from time to time?