Jazz Great Lee Konitz, R.I.P.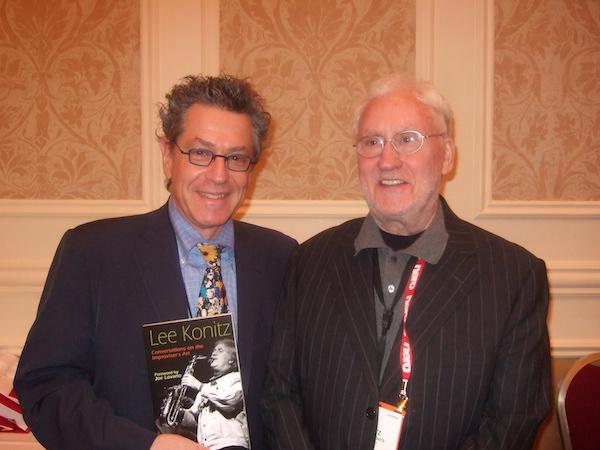 Alto saxophonist, improv great Lee Konitz who was associated with every style from bebop to avant-garde and especially cool jazz died today at age 92 a victim of the coronavirus.
Konitz had a long association with pianist Lennie Tristano, played on Miles Davis' Birth of the Cool and also and also played on albums produced by arranger/composer Gil Evans. Konitz was better known as a joiner, playing with a wide variety of musicians, rather than as a group leader. He was also fond of improvs around standards. He picked up a clarinet after hearing Benny Goodman. Following the Birth of the Cool sessions he went to California and joined forces big band leader and arranger with Stan Kenton. He later became enamored of playing duets..
In 2009 he was named a National Endowment for the Arts NEA Jazz Master.A sampling of his records include Lee Konitz Inside Hi-Fi (Atlantic 1258) issued in 1956, recorded by Rudy Van Gelder in his Hackensack, NJ home studio, Chet Baker, Lee Konitz In Concert (India Navigation IN 1052), recorded by Bob Cummins in 1982 at Ornette Coleman's Prince Street, N.Y.C. loft (with Ornette "smiling, jumping around with his video camera") and more recently Strings For Holiday, A Tribute to Billie Holiday (Enja 9304-1) recorded March 18th and 19th, 1996 at the Chung King Studios NYC by Jim Anderson live to two-track 20bit digital using a DB Technologies AD122, and mixed to analog tape from which the LP was mastered at BAUER Ludwigsburg, Germany. It's Lee on alto backed by a string section with Matt Wilson on drums. I think I'll play that one now. Of course this is a ridiculously limited discography, but these are the ones on my shelf that I could find.
The photo was at The Consumer Electronics Show, Las Vegas, January 9th, 2008 where Lee played a short live set at the behest of Mark Levinson for a demo of something or other that I can't recall.
R.I.P. Lee Konitz.
<!- ------------------------------------>