Jersey Guitar Mafia Performance Magic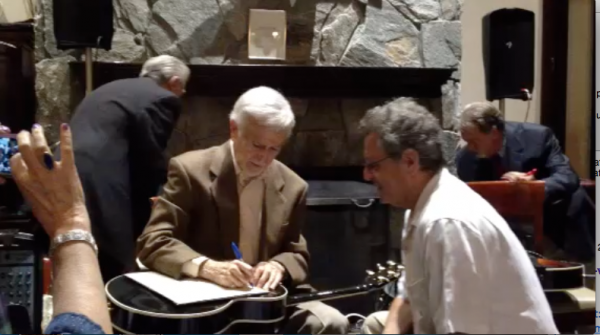 They came to play and boy did they! Led by long time Les Paul Trio member Lou Pallo (Haledon, NJ, 77), and joined by Al Caiola (Jersey, City, NJ age 93!), Bucky Pizzarelli (Paterson, NJ age 87) and Frank Vignola (from Lon Guyland but forgiven and the kid on the block at 47), the quartet produced sublime music and demonstrated throughout guitar virtuosity that was always mesmerizing and occasionally thrilling.
Billed as an evening of Italian music, the event began with standards like "O Solo Mio" (Elvis turned it into "It's Now Or Never") and "Volaré" but eventually Pallo moved to standards that the full house at Calandra's Mediterranean Grill in Fairfield, NJ ate up (along with the meal).
For those unfamiliar with Caiola, he played the guitar lines on the original theme song from "Bonanza", on Glen Campell's "Galveston," on Ben E. King's "Spanish Harlem" and "Stand by Me," on Simon and Garfunkel albums, on Bobby Darin's "Mack the Knife", on Percy Faith's huge hit "Theme From a Summer Place"—one could go on for days listing his amazing credits. Oh! And he also played on Buddy Holly's "I'm Gonna Love You Too", "It Doesn't Matter Anymore" and "True Love Ways". Can you imagine the memories?
So to see the 93 year old still vital and playing well was a special thrill, though seeing all of the old guys still doing it and so well was a unique pleasure few in attendance will soon forget. I don't mean to short change either Pallo or Pizzarelli, whose careers are equally distinguished and whose credits are equally mind-boggling, but you'll have to look those up.
Towards the end of the evening Vignola brought up his playing partner Vinny Raniola and the two speed merchants put on a dazzling demonstration. After the show some Analogplanet readers introduced themselves and one was kind enough and thoughtful enough to present me with an Al Caiola album so I could get the legend's autograph. We have the best readers!
<!- ------------------------------------>