Lyn Stanley's Impressive New York Debut at The Metropolitan Club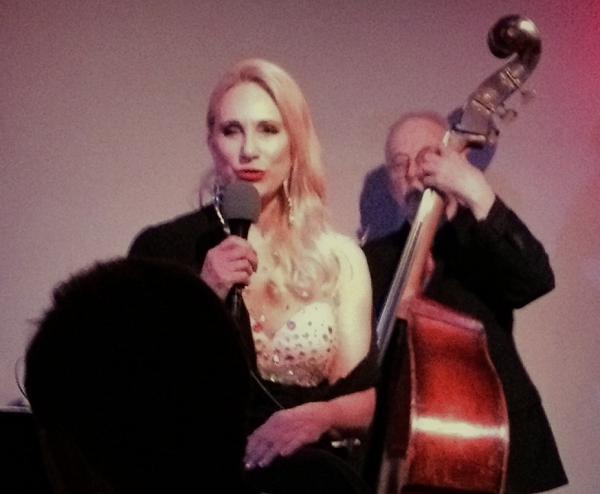 Backed by a stellar, award-winning trio of musical director and pianist Mike Renzi, bassist Jay Leonhart and drummer Dave Ratajczak, Lyn Stanley greatly impressed in her New York debut at the intimate Metropolitan Club, billed as an "Internationally acclaimed jazz cabaret".
The trio helped lift Stanley to melodic and phrasing heights well-beyond what she achieved on her impressive debut album.
While Ms. Stanley showed some early performing discomfort in the form of nervous smiling and excessive crowd pleasing and eye darting, she quickly settled down and got comfortable on stage. That achieved and fully invested in the songs, she delivered a solidly entertaining set of songs from her debut album and from her soon to be released new one called Potions consisting of material written and made famous during the 1950s.
After a heartfelt telling of her first encounter and subsequent friendship with jazz pianist Paul T. Smith and his wife Annette Warren (Smith backed Bing Crosby among others and for years Ella Fitzgerald including on her legendary Verve "Songbook" series)—both of whom strongly encouraged her singing career—she performed a version of "The Man I Love" that made clear the transcendent interpretive heights to which Ms. Stanley can reach, even if she didn't get there on every tune.
She put in a solid hour plus performance with only "The Thrill Is Gone" failing to gel. Her version of "Love Potion Number 9" was sassy and playful as was her take on the mischievous "What Am I Going to Do With a Bad Boy Like you?" from her first album. Even "I Just Want to Make Love to You", which was a bit too salacious for this reviewer's tastes on that album became more playful and with Renzi and company's backing, took on just the right tone.
In the notes for the debut album critic Don Heckman pulled his punches somewhat declaring Stanley a "potentially significant new talent". I think had he seen this show he'd have thrown rather than pulled the punch.
Like the great Mel Tormé, Ms. Stanley, effectively and pleasingly crosses the line between jazz and cabaret singer. Her choice of material, of back-up musicians and even her insistence upon the best engineers and studios (Al Schmitt, Capitol) indicates a performer willing to invest in herself and in the music she loves.
She was far better live last night than she was in the recording studio a few weeks ago at the session I attended where she had some pitch issues. Her success last night under live performing pressure speaks volumes about Lyn Stanley's talent and her bright future as both a recording artist and stage performer.
(Both Renzi and Leonhart backed Mel Tormé on Mel Tormé and Friends Live at Marty's so after the show I talked with them for a moment about it. Renzi said he and Leonhart were talking about the album before the show).
<!- ------------------------------------>