Stones Roll, Gather Some Moss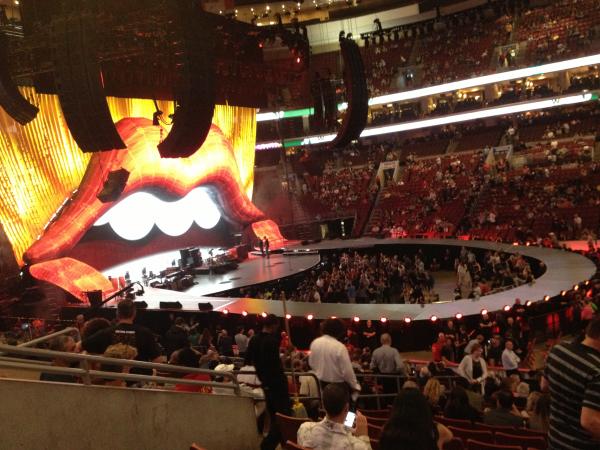 The Rolling Stones rolled into Philadelphia's Wells Fargo Center Tuesday night for the first of two shows. There was no opening act. The house lights finally dimmed more than an hour after the 8PM "lip" call (there was no curtain) but the full house, aged from teens to the seriously addled, didn't seem to mind.
Fans were treated to two hours of "vintage" Rolling Stones, beginning with a rather creaky "Get Off My Cloud" wherein Mick cautiously warmed up his voice, holding the song's already limited melody to what sounded like one note, while Keith, Ron, Charlie and crew worked to lock down the groove.
"It's Only Rock'n'Roll (But I Like It)", further tightened the groove and Mick's voice began to loosen but "Paint It Black" was a bit ragged rhythmically, with Keith meandering and punching.
But then they did "Gimme Shelter" with Lisa Fischer covering Merry Clayton's epic "rape, fire" part and the energy she brought to the tune caused the group to catch fire. Fisher's vocal pyrotechnics helped lock the groove and moved Mick to another level.
After an effective "Wild Horses", Brad Paisley joined Mick for a shit kicking "Dead Flowers" that included a hot guitar solo that clearly met with Keith's approval.
Despite the heavy lifting already endured by Mick he managed a super-clean falsetto throughout "Emotional Rescue" a song the group rarely performs in concert.
The show was winding down somewhat now for dynamic effect, with two new tunes: "Doom and Gloom", which was great, and "One More Shot", which wasn't.
Then it was time to break out the cowbell, of which there was just the right amount, for a rousing "Honky Tonk Women" that turned into a sing along with Mick, who the took a well deserved break so "Keef" could take center stage with Ron Wood for a moving "You Got the Silver" and a deliriously sloppy "Before They Make Me Run."
Mick returned with former Rolling Stone Mick Taylor for a "Midnight Rambler" wherein Mick demonstrated that despite the wrinkles and skeletal appearance he can still summon the magical "it" that so few performers today possess. He moved and sang like a man half his age, with an irony-free commitment you also rarely see these days and the crowd, sensing this, went wild.
"Miss You" was well-handled and then the place ignited as Keith broke into the crunch-chords of "Start Me Up" and both he and Mick gave two of the best performances of the evening. Stoked, the ensemble nailed "Tumbling Dice" and "Brown Sugar," ending the show with "Sympathy For the Devil, Mick dressed in what looked like the gorilla suit from "GRRR" minus the gorilla head.
After a perfunctory empty stage with techs fussing and appearing to be breaking the set down, the 24 member Philly-based Crossing choir took the stage—12 on its right flank, 12 left, with each group led by its own conductor and it was time for "You Can't Always Get What You Want" and if most of the crowd was thinking what I was at that moment it was, "I want the Rolling Stones in 1972, but they're trying so hard, I'm getting what I need."
After a decent "Jumping Jack Flash" Mick Taylor returned to the stage for "(I Can't Get No) Satisfaction". Judging by the crowd's reaction when the show was over, everyone left very satisfied!
I first saw the Stones On October 30th 1965 in post-football game afternoon concert at Cornell's Barton Hall. I saw them again on July 2nd 1966 at the Forest Hills Tennis Stadium, though the show was cut short because of poor security. Brian Jones was mobbed, a guy tried to perform an unnatural act upon Mick, who beat him over the head with a tambourine and when we had to leave early my date was pissed and I got zero satisfaction that evening.
Saw them again July 18th, 1972 at The (non-airconditioned) Boston "Gahden" on a steamy summer evening. Stevie Wonder opened (which in those days was actually "controversial" since why would you have a "soul" act opening for a rock act?) and then we sat and waited and waited and waited and no Stones.
Security started passing around Frisbees and we knew something was wrong. The crowd got restless and there were some altercations with the "pigs". People were arrested, mace was sprayed.
At around 11PM as I recall it, Mayor Kevin White took the stage and did a masterful job of manipulating the crowd. He started in his thick Bostonian Ted Kennedy-like Brahman accent: "There's a problem: The Rolling Stones were arrested this evening in Warwick Rhode Island!" (BOO BOO BOO). But I got them bailed out for you (YAY, YAY, YAY) and they are on their way. I know some of you are concerned about getting home because the "T" (Boston's trolley system) closes at midnight. Well, we're going to keep it open for you so you can get home!"
Apparently the heat and general unrest had caused some rioting Boston's black communities and so White added for dramatic effect: "Now I have to move the police that are beating up and macing people here, and move them across town so they can beat up and mace people over there!"
I ended up producing one of my most famous radio commercials based upon this called "Mayor White's 'City in Flames' Speech" and if I can find it I'll post it here because you will enjoy it! And soon thereafter appeared The Rolling Stones, in all of their demonic power, opening with "Brown Sugar" and ending with "Street Fighting Man."
I saw them again October 9th, 1981 at the L.A. Memorial Coliseum. As I recall it a barely known guy named Prince was booed off the stage.
Saw them again at Giant Stadium October 16th (the 2000 Year Old Man's birthday) and wasn't expecting much but it was yet another great show. Back then they opened with "Satisfaction" and ended with "Brown Sugar". My favorite memory was when two young girls in the row in front of me turned around and asked me to stop dancing because I was "shaking the whole place." I was flattered and told them to fuck off. I was there to dance.
That was the last time and I was thinking then that this may be the last time, I don't know. Obviously I was wrong.
Last night's show was far better than I was expecting after watching Scorcese's "Shine A Light" Blu-ray. That was okay, but the performance last night was actually better. The band was better and Mick especially was in much better voice and he danced and pranced around like a kid on the big, ringed stage.
I can't imagine they'll tour again and not sure if they should. Charlie Watts is 73! Mick is pushing 70 and Keith, though almost 70 looks to be 100!
This night in Philadelphia backed by Chuck Leavell, Darryl Jones, Bobby Keys, Tim Ries, Bernard Fowler, LIsa Fischer and Matt Clifford they proved they are still great! Grizzled, yes, and great! I'm glad I got to grow up and old with The Beatles and the Stones....and Bowie and Mott The Hoople too!
I was thinking: this band is 50 years old. So for a 20 year old sitting in the audience now, this is old stuff! How old? Think about it: were it 1967 when I was that young, and a 50 year old band played, they would be from 1917!!!!!!!!!!!!!
<!- ------------------------------------>