John Hartford---Catalogue---Flying Fish 259---The Records You Didn't Know You Needed #9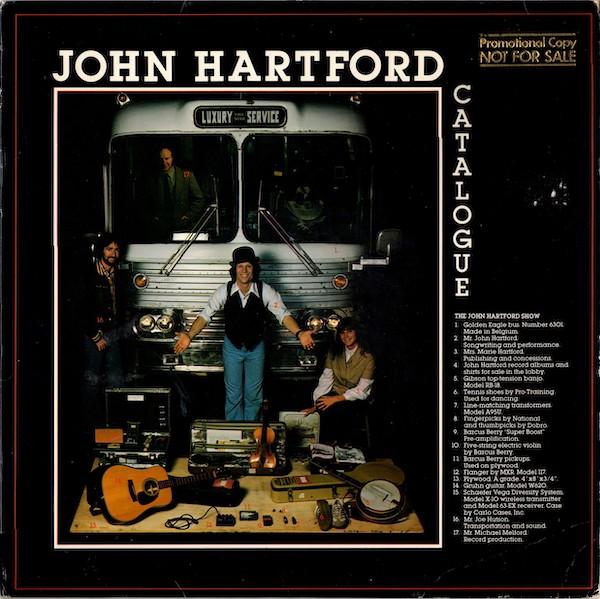 John Hartford (1937-2001) wrote "Gentle On My Mind" which won four Grammys, was chosen by BMI as the #16 Song Of The Century, was in 1990, the fourth most played song in the history of radio, has been covered by dozens, including Elvis, Sinatra and REM and by 2017 had been downloaded 250,00+ times. He was a regular on The Smothers Brothers, The Glen Campbell Goodtime Hour and the Johnny Cash TV shows. Between 1967 and 1970, he recorded seven albums for RCA which are an uncategorizable mixture of folk, rock, country, bluegrass, easy listening, psychedelic-folk and just plain oddness. If that wasn't enough, he got hip credentialled by playing on The Byrds'
Sweetheart of The Rodeo
LP.
So what did he do when the "Gentle On My Mind" mailbox money started being delivered? Hartford did what many artists say they will do when they become financially successful, but don't. He just did what he damned well pleased for the rest of his life, devoting himself to steamboats and bluegrass/old time music. In 1971, he recorded Aero-Plain which is regarded as one of the very first "newgrass" albums and in 1972, he recorded Morning Bugle with jazz bassist Dave Holland. Playing bluegrass festivals, country bars and folk clubs, Hartford built up a small but devoted following. In 1981, when he recorded Catalogue for Flying Fish, I suspect most of his record income was made by selling off the stage or at a table near the exit. The record is well named because eight of the twelve songs are from prior Hartford albums and it seems to have been intended to be a newly recorded "Best Of" to be sold at gigs. Surprisingly, "Gentle On My Mind" wasn't included, but he had recorded it on a Flying Fish LP four years before.
This is a solo album and Hartford sings and accompanies himself with his excellent guitar playing, old time fiddle and banjo, and dancing feet percussion. Like he did when performing live, he plays and sings standing on a piece of plywood while clog dancing in his unique style. The fiddle tunes "Jawbone", "Forty Years A Gambler", and "Kiss My Plywood" are authentically played "old time" style without any Nashville or jazz influence; the fiddle and feet percussion creating propulsive, insistent dance rhythms. He even takes some feet solo breaks on "Kiss My Plywood". "Sail Away Ladies" is a banjo piece, superbly played with intricate dance rhythms, some nice scat singing and mouth percussion accompanied by those ever grooving feet.
The other songs feature Hartford's deadpan, unaffected singing of lyrics that range from slightly odd to eccentric, and all the way to downright strange. "Good Old Electric Washing Machine Circa 1943" features his imitations of the new machine-a dull hum, and then the old one- a rhythmic snorting and grunting. "My Face," lyrically wouldn't be out of place on a 13th Floor Elevators album: "My Face I don't mind it, I stand behind it, it hangs beneath my hair." "I Would Not Be Here" is a shaggy dog story account of a long chain of coincidences and improbable events that ends with "...a man who managed the drug store that sold the prescription that cured the sunburn that he caught way last summer." "My Rag" is a virtuoso guitar piece with a vocal that teaches the listener how to play it, naming the chords and even telling where to place the capo. "California Earthquake", "Natural To Be Gone" and "A Simple Thing As Love" are all fine folk rock style songs with occasional lyrical oddities that were recorded on his RCA LPs with pop overproduction. Here, with only guitar or banjo accompanying Hartford's unpolished singing, they have the strangeness and portentousness of mountain folk songs. It is high praise to say that all the music on the album is unlike anything else you could listen to, but I must warn that Hartford's "stoned hippie playing at the barn dance" music may be for some just too unique.
This is sonically a truly amazing recording and one of the best studio recordings of a solo, singing instrumentalist I have heard. The liner notes state the album was "recorded direct to two track on a Scully analog tape recorder." This is unclear, but probably means no overdubbing was used and the microphones were run directly into the recorder and not through a mixing board. Hartford's voice is beautifully captured as a physical, human sound in the middle of the soundstage and you can hear the resonance of it in the room. The thinner "head" sound of the high end of his voice and the more powerful chest sound of his lower voice are obvious as are his slight movements around the microphone. At one point during "Jawbone," Hartford begins to hum some low notes that resonate in his chest and takes a few deep breathes that you can hear in his nose. The physicality is eerily lifelike.
The banjo is wonderfully recorded, the strings popping and plangent, with all their overtones and ringing. The bottom string of the guitar is easily distinguishable from the higher ones and its sound reverberates in the air slightly longer, just the way it should. The fiddle is heard higher in the soundstage than the guitar and banjo which are located where they should be below the voice. Oh, we can't forget the feet which are nicely recorded and heard at the bottom of the soundstage, with the left clearly distinguishable from the right. The sounds and different tonalities of the various parts of his shoes striking the plywood are easily heard and it is clear that he is dancing, not stomping.
Recorded by Paul Moss at Cinderella Studios in Madison Tennessee, this album casts a powerful spell. When it ends you feel like you've spent 33 minutes in a room with a funny, quirky and enormously talented human being. Clean copies of Catalogue can be purchased for very reasonable prices (less than $10). It has never been issued on CD.
<!- ------------------------------------>