You Have a Lovely Voice Paul, But Artie Has a Fine Voice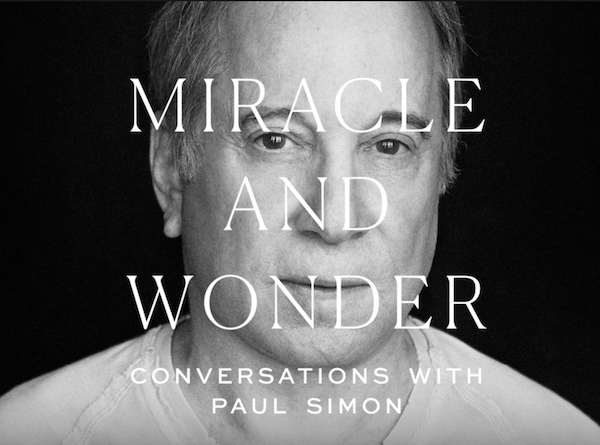 Pushkin
co-founder Malcolm Gladwell and his friend Bruce Headlam, co-founder of music podcast Broken Record (under the Pushkin umbrella, in which they share hosting with Rick Rubin), team up to converse with and attempt to "explain" Paul Simon's genius in "Miracle and Wonder", a lengthy, impeccably produced multi-chapter audio biography they rightly call a "book".
Simon is open, accessible and of course fascinating to listen to in a non-confrontational format recorded during nine sessions produced in among other locations, Hawaii and in Simon's Connecticut guest house recording studio. You can hear how much Simon enjoys the conversations as Gladwell has a way of probing without being confrontational.
The result is a portrait—almost a self-portrait so forthcoming is Simon—in which the singer/songwriter talks about his formative years growing up in Queens with this friend Art Garfunkel, his deep relationship with his musician/father who unlike Paul could read music, his mother's stinging comment that's this story's headline, and of course a discussion of the music including how his brilliant Graceland came to be at a time when the creative arc of most talents at his age had long before peaked.
Gladwell and Headlam inject their own post production analyses, which adds a fascinating dimension. They posit correctly that growing up in Queens was a key to Simon's eclectic early musical inspirations—the Everly Brothers, Doo Wop, Brill Building '60s pop and the rest—but they circle around and never hit the Queens nail directly on the head because neither grew up there, though Simon offers many hints.
He went to Brooklyn to see the formative music at the Fox Theater. He went to Manhattan, then center of the music business, where he first encountered Brooklyn's Carol Klein (King)—graduate of James Madison High. Nothing but the dead and dying back in my little town. If you grew up in Queens back then (I did, Jamaica High School '64) you had no identity. Brooklyn was from where the greasers came, and the Dodgers too. Manhattan kids were sophisticates and of course on the other side of the Queens border was the moneyed class on Longuyland. If you were from Queens you looked elsewhere for any kind of identity. Gladwell and Headlam's analysis of what defines Simon as a musical genius is spot on and sure to add dimension to your own fandom.
Simon, guitar in hand generously shares and demonstrates his musical inspirations and the producers add never before heard live studio versions of many songs. Happily there's a generous portion devoted to an interview with Simon's long time recording engineer (really in many ways producer) and my friend Roy Halee, who explains many of the sonic tricks he devised to make Bridge Over Troubled Water sound as magical as it still does.
Simon talks about the difficulties political and otherwise involved in making Graceland and how the song about Elvis's mansion came to be.
There are also cameos from Sting, Herbie Hancock, Renee Fleming and others that are interesting but the constructive glue that holds together the entire ambitious enterprise are the on point analyses and well-governed enthusiastic fandom expressed by Gladwell and Headlam.
Paul Simon fans should not miss Miracle and Wonder: Conversations with Paul Simon. AnalogPlanet readers can use this code:
MAW40 now through March 25th 2022 and receive a 40% discount for one purchase on the Pushkin website of Miracle and Wonder.
<!- ------------------------------------>