John Lennon's "Imagine" Re-imagined For New 2 Audio Blu-ray + 4 CD Box Set and Double Vinyl Edition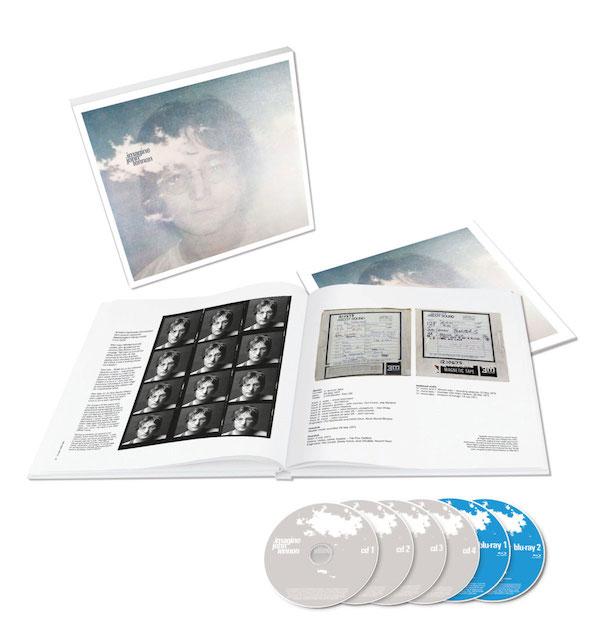 Imagine
, the follow up to John Lennon's raw, at times vitriolic and still packing a punch Plastic Ono Band 1970 solo debut—an album heavily influenced by primal therapy and coming to grips with personal childhood issues—is considered by many observers today to be his most enduring, though when originally released some of the overt and impossibly idealistic political posturing was wrongly thought by many critics to doom the album's long term artistic viability.
For purists and "originalists", nothing other than an original American pressing mastered by Sam Feldman at Bell Sound will do, and that record remains the original "document" of that turbulent time. A 2000 digital remix/remaster issued by Mobile Fidelity on vinyl (MFSL 1-277) added nothing to the original but subtracted plenty, so much so that Yoko went back to the original for the 2010 catalog reissue series "John at 70".
For this new project, produced under Yoko Ono's supervision, the core idea was to produce re-mixes that were "totally faithful and respectful to the originals" while being "sonically clearer overall" with an increase in clarity to the sound of John Lennon's voice (though it's well known that Lennon didn't particularly like the sound of his voice). Release is slated for October 5th, 2018
The resulting project is a complicated, meticulously produced affair that includes a deluxe edition containing 5.1 and stereo 96/24 album and singles remixes, a remaster for the first time in 50 years of the original QUADRASONIC mix by Allan Steckler (who worked for British Decca when it was run by Arthur Haddy) with Roy Cicala engineering, stereo outtakes from the album and singles sessions "faithfully remixed in a style similar to the originals", "ELEMENTS" mixes, that open up and expand upon heretofore buried in the mix elements including "mono'd" string arrangements here expanded to stereo and other items of interest including for instance Nicky Hopkins' piano plus bass and drums only on "Jealous Guy" among others, and "RAW STUDIO" mixes, which, along with some other components of this project, I got to hear recently in a New York City studio. These "Raw Studio Mixes" are of live performances of the various takes, some extended, used on the finished album, but presented here in unfinished form. There's also yet another version of the "raw" album built upon outtakes. The box includes a 120 page book and an audio documentary titled "EVOLUTION".
But wait! There's more (though these are NOT included in the box but are separately available) including the the "IMAGINE" film starring John and Yoko with guest stars Fred Astaire (!), Dick Cavett (which will have a limited theatrical run), and the "GIMME SOME TRUTH" film, edited from outtakes of the "IMAGINE" film..
All of the material (in the deluxe box only) is divided thusly: BluRay 1 contains the original album 96/24 remixes in 5.1, stereo and the original Quad mix, the singles and extras in new 96/24 5.1, and stereo and outtakes in new 96/24 5.1 and new stereo. BluRay 2 contains the RAW STUDIO extended album LIVE 96/24 extended album 5.1 and stereo mixes, 5.1 and stereo outtakes live, ELEMENTS 96/24 5.1 and stereo, the EVOLUTION documentary mono 96/24 and the ELLIOT MINTZ documentary mono 96/24. I'll skip what's on the 4 CDs, which is much of the same stereo material at "red book" resolution.
The only thing not presented here is the original 1971 master tape transferred at 96/24 to provide a grounded reference for all of these remixes. Perhaps that's because the producers figure anyone interested in this set already has that?
You will find interesting and probably heartening (assuming you are not completely turned off by revisionism) the meticulous production methodology, which is best covered in a full review, (should Geffen/UMe generously provide a review copy).
I got to hear some of the ULTIMATE "original album remixes" in stereo and 5.1 and some of the RAW mixes in 5.1 and stereo. One interesting factoid contained in the PDF file I got with the announcement was that Phil Spector "…tended to record instruments directly onto the tape with all the reverb effects included (as was the case with George Harrison's All Things Must Pass album"). But here, John and Yoko insisted that all tracks be recorded "dry", which made easier the remixes here as well as the production of the "raw" edition.
By far, my favorite track at the listening session was the "raw" version of the Paul attack, "How Do You Sleep?", where minus the reverb and other production elements, the vicious condescension can be heard fairly dripping from the instruments! Et tu, George?
The project credits are: "Produced by Yoko Ono, Mixed and Engineered by Paul Hicks at Abbey Road Studios and Sear Sound (the "ULTIMATE" remixes) and Rob Stevens (the "RAW" mixes). The EVOLUTION documentary/Evolution mix was by Sam Gannon. Mastered by Gavin Lurrsen, Reuben Cohen and Paul Hicks at Lurssen Mastering, Vinyl Mastering Ron McMaster at Capitol Studio".
What I go to hear in a small recording studio played from files through Genelec speakers did not sound "smashed". Let's hope the final versions are not as well. Whether or not this record is deserving of such a thorough dissection and re-assembly is something only you, the music consumer can decide. I'd like to see (and hear) the John Lennon/Plastic Ono album reissued from tape. When I play the original UK pressing for visitors, they go bonkers!
Where were you on December 8th 1980 when you heard the awful news that John Lennon had been assassinated (assuming you'd been born and were old enough to remember anything)? When the phono rang I was having dinner with my then girlfriend, another couple and Arnold Schwarzenneger and Maria Shriver. Bryan Ferry's achingly melancholic "Jealous Guy"issued shortly thereafter, musically put it best, at least for me, and still brings me to tears.
<!- ------------------------------------>